Local Lawmakers Oppose Controversial Tax Abatement Program For Developers (Corrected)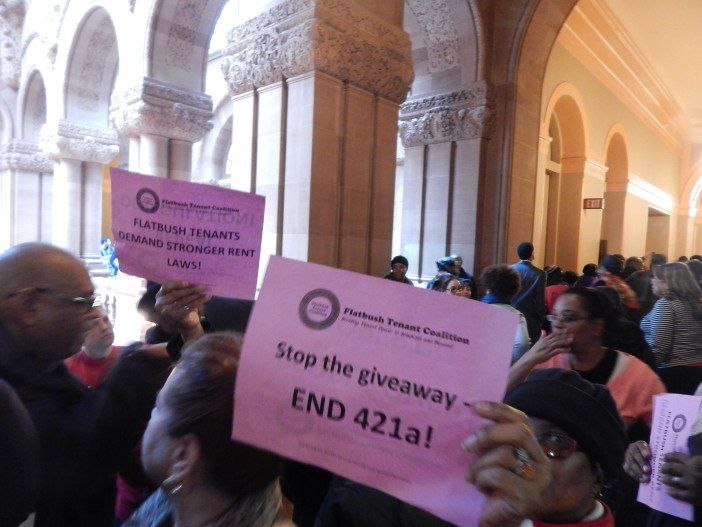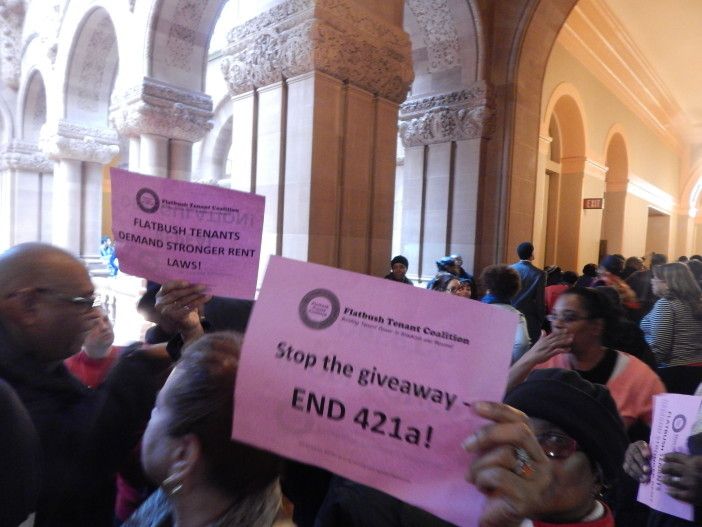 This June, state lawmakers are expected to vote on renewing a 40-year-old tax exemption program, called 421-a, that tenants and some local legislators have slammed as a complete debacle that has helped to line the pockets of large developers and pave the way for rapid gentrification.
There are varying opinions on what to do with 421-a, which will expire on June 15 – meaning lawmakers will have to vote on it in order for the program to continue – with tenant groups, including the Flatbush Tenant Coalition, wanting it to be eliminated altogether and others, including some legislators, saying it should be reformed but not wiped out.
The 421-a tax abatement was set up in the 1970s recession to incentivize development at a time when residents were fleeing the city. As part of the program, developers are offered a tax abatement allowing them to pay real estate taxes on the assessed value of the land before construction for 10 to 25 years, depending on the project.
Today, developers of almost all residential developments of five units or more can receive the 421-a tax abatement in all but the wealthiest areas of New York City.
Critics have said 421-a has resulted in developers landing big tax breaks and not enough affordable housing being built. According to a new report from the Association for Neighborhood and Housing Development, the 421-a program in the fiscal year 2013 cost the city $1.1 billion in forgone tax revenue but resulted in only a little more than 13,000 affordable rental apartments.
Local State Senator Marty Golden has taken flak for being behind one of the most criticized applications of the 421-a program. Though midtown Manhattan has been excluded from 421-a since the area is already comprised of tony residential skyscrapers, a bill sponsored by Golden inexplicably waived the exemption for five luxury developments. The Daily News noted that the developers and their affiliates doled out $1.5 million in state-level campaign contributions.
Such questionable applications are fueling the charge to abolish the program altogether.
So, what do lawmakers who met with the Flatbush Tenant Coalition last week think of 421-a?
While the above legislators met with individuals to talk about 421-a and other tenant issues, State Sen. Jeff Klein, who represents portions of the Bronx and West Chester, refused to even see the FTC, or the other tenant groups on Tuesday, and more than 100 individuals rallied outside his door, calling on him to re-think his stance on 421-a, which he has vehemently defended.
However, after chants of, "Hey, hey! Ho, ho! 421-a has got to go!" Klein's office shut his door and security was stationed outside the office, dissolving the crowd.
While some of the Flatbush Tenant Coalition members said they were disappointed that not all lawmakers were on board for ending 421-a altogether, Aga Trojniak, of the FTC, stressed that, with pressure from neighbors, the legislators could change their tune.
"Yes, they have these positions but that doesn't mean that's the end," Trojniak said. "It's them seeing you repeatedly talk to them that's going to make the difference.
The 421-a program was last renewed – with reforms – in 2011.
With additional reporting by Ned Berke and Rachel Silberstein.
CORRECTION (March 9, 2015, at 5:05pm): The original version of this article's headline erroneously characterized the 421-a program as "Senator Golden's controversial tax abatement program for developers." While Senator Golden appears to support the program, and has authored bills expanding it to certain properties, he is not the original author or architect of the 421-a abatement. Additionally, the article mistakenly indicated that Golden "backed" the program in 2013. In fact, the program was last renewed in 2011; in 2013, he introduced legislation (later passed) that expanded it to several previously exempt developments. The article above has been amended to more accurately portray the senator's role, and we apologize to Senator Golden and our readers for any potential confusion it may have caused.