Local Fast Food Workers Plan To Join City-Wide Strike Against Low Wages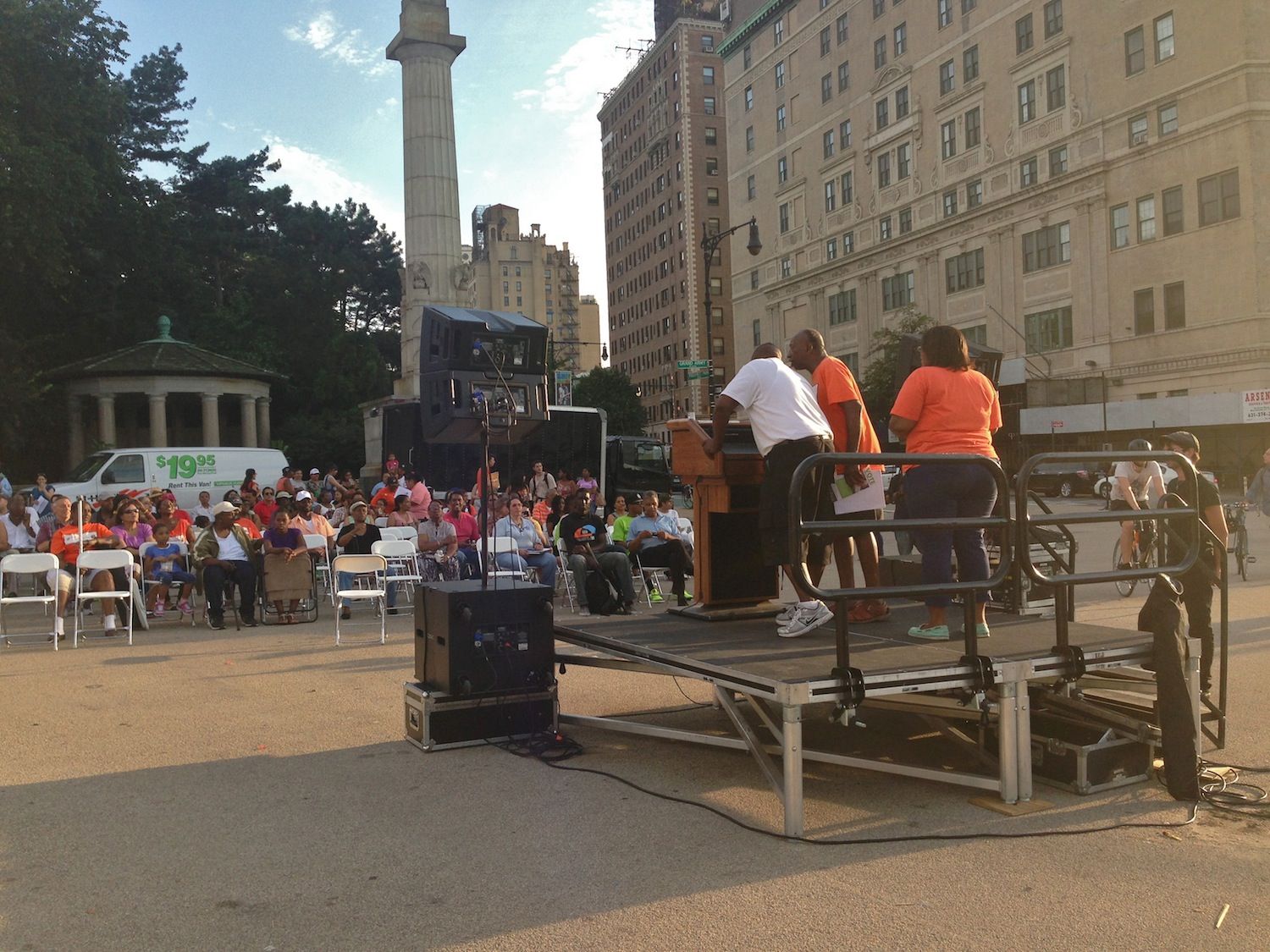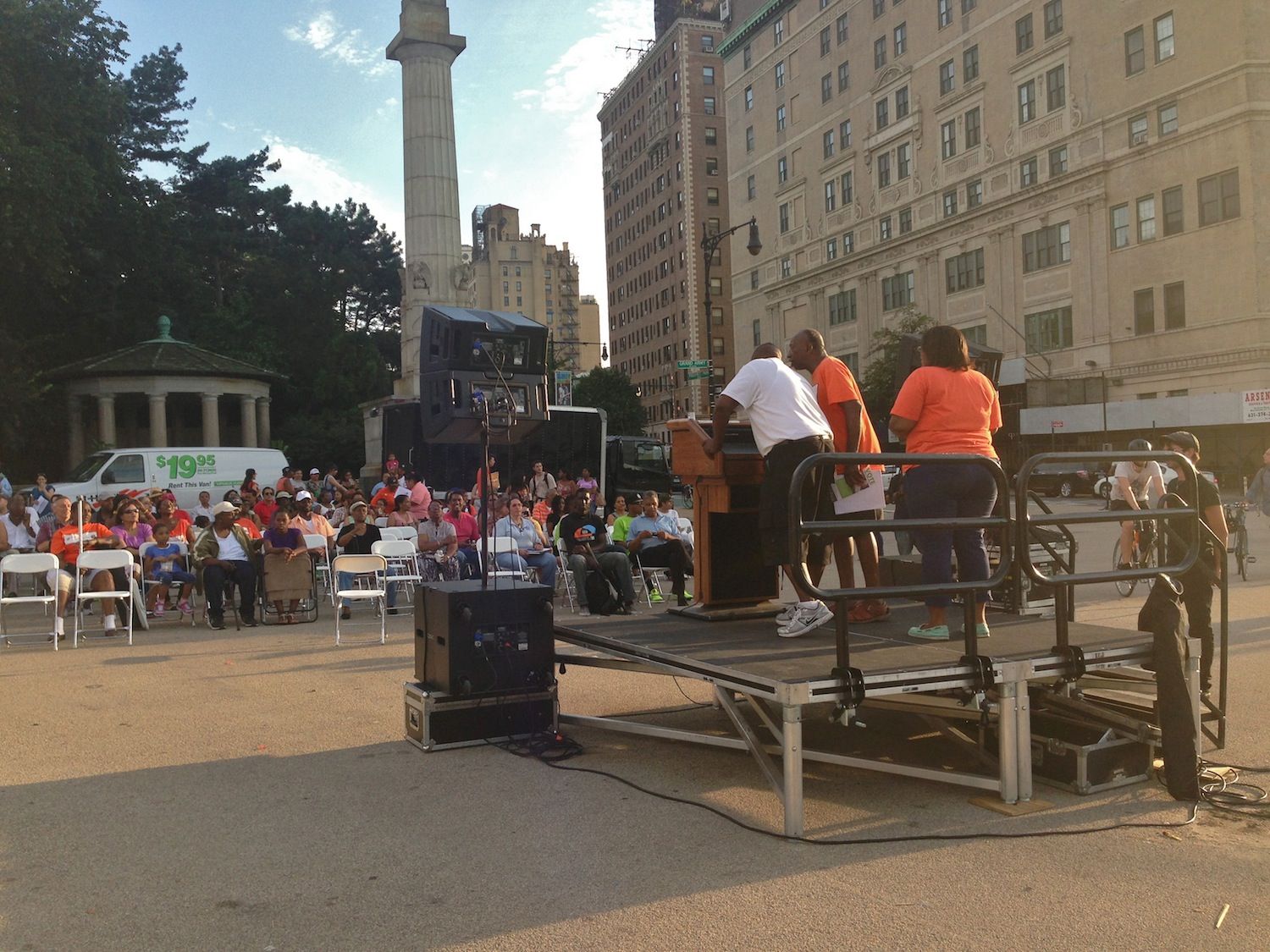 Late yesterday afternoon, fast food and other low wage workers, clergy members, elected officials, and supporters and organizers from New York Communities for Change turned out en masse for a demonstration in Grand Army Plaza to authorize strikes at McDonald's, Wendy's, Burger King, KFC, Taco Bell, Papa John's, and Domino's stores across the city.
Many of the workers involved in NYCC's Fast Food Forward campaign, who will be striking for the third time in less than a year, are from Flatbush, working in restaurants and supermarkets for minimum or close to minimum wage–and at yesterday's demonstration, they vowed to keep fighting for fair pay, benefits, work environments without intimidation, and better workplace conditions.
Jonathan Westin, Fast Food Forward campaign director, said restaurants being owned by separate franchise holders is not an excuse for corporations to shrug off how workers are being treated.
"The first response from McDonald's is, 'It's a franchise location; these aren't our decisions,'" he said. "But if they can control how much sauce goes on a Big Mac, how much profit comes out of individual stores, and where those franchise stores get their napkins, they can take responsibility for the other end of things, too."
Westin explained this campaign was unique as a full-on "low wage service sector collaboration," emphasizing inclusiveness across fast food stores and companies in multiple boroughs, and including Walmart employees, airport workers, and restaurant workers outside of the fast food industry as well.
He said their goal could be reached in multiple ways, be it legislation or support from the employers themselves. "People need higher wages to raise their families," he said. "They should have a chance of climbing the rungs, to break into the middle class."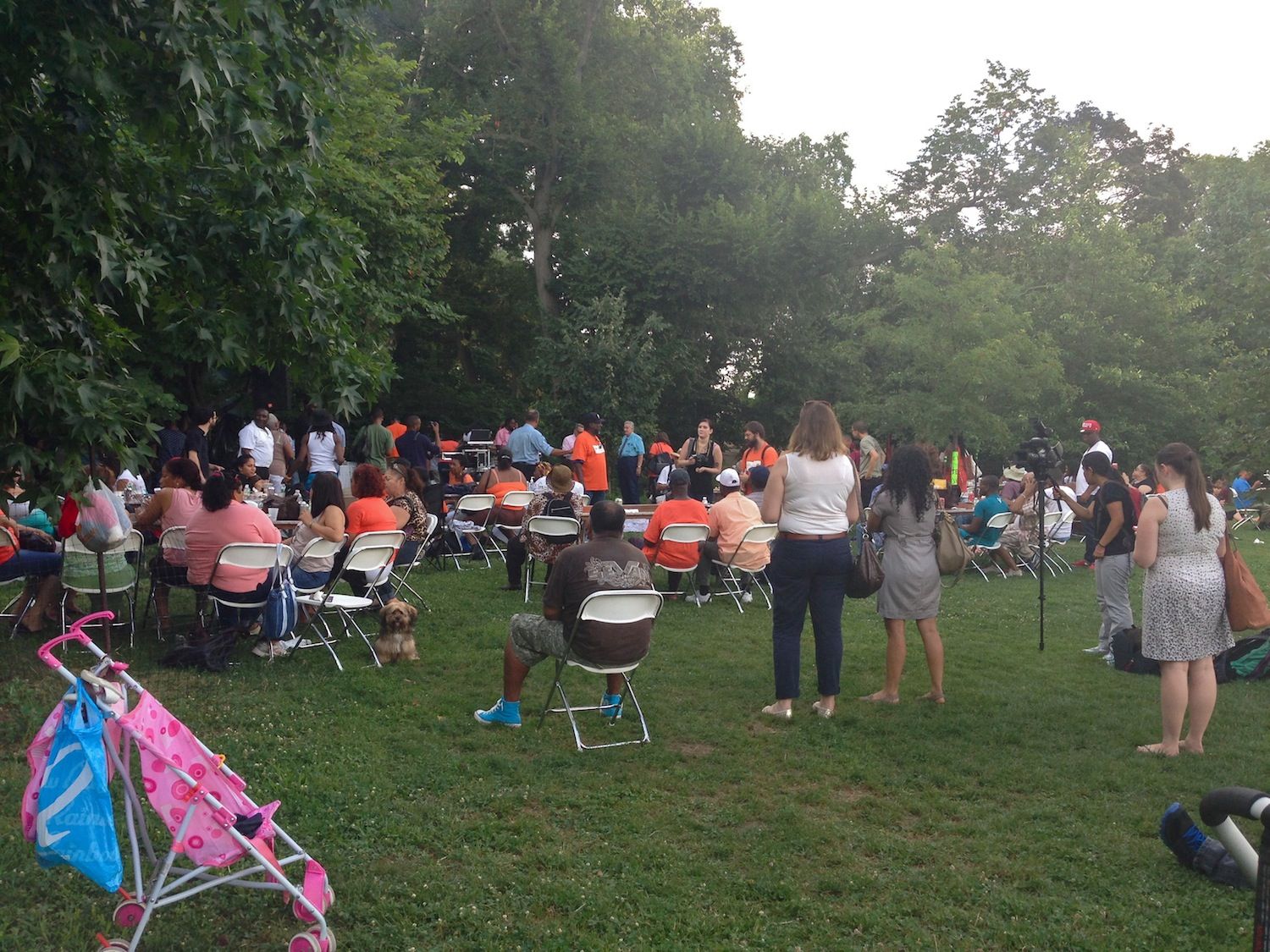 "You work so hard, and any time you finally get a raise, the price of eggs goes up, the milk goes up, the toilet paper goes up," said Bishop Angelo Rosario of the Bronx-based Church of God's Children, who addressed attendees of the BBQ held before the demonstration, explaining how unreasonable an hourly wage $7.25 is.
"My family came from Puerto Rico to work on farms in New Jersey, and they died before ever getting the benefits they should have had."
We talked to Arianna, who has been working at KFC in East Flatbush for about nine months and earns $7.50 an hour. In addition to striking against low wages, she said is fighting the verbal abuse of employees in her workplace.
"The managers pick on younger people," she said, "and there's a lot of racism." She added that while at first she thought she might have been the only one who noticed, now she realizes it's a widespread problem.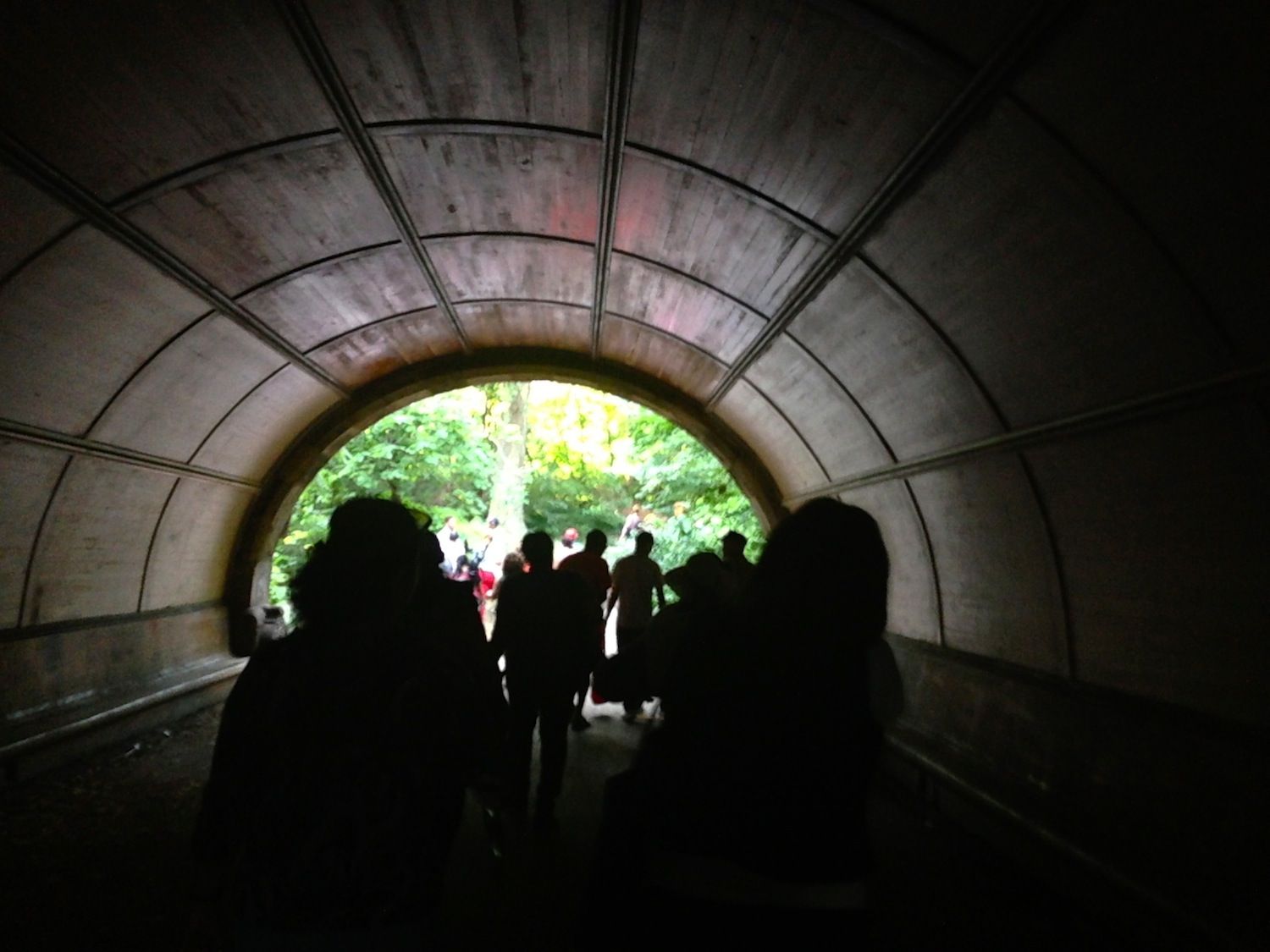 Once the group moved to the plaza, they were greeted by speakers including Kareem Starks (below, left), a McDonald's employee and father of two who works 40-50 hours a week–and for far too little. Kareem's store voted last week to officially go on strike.
"I was nervous about it at first," he said, "but every day I think about making $7.25 and not paying my bills, I realize this is something I have to do.
"My cousin just started working at Wendy's," he added. "His first paycheck was $30."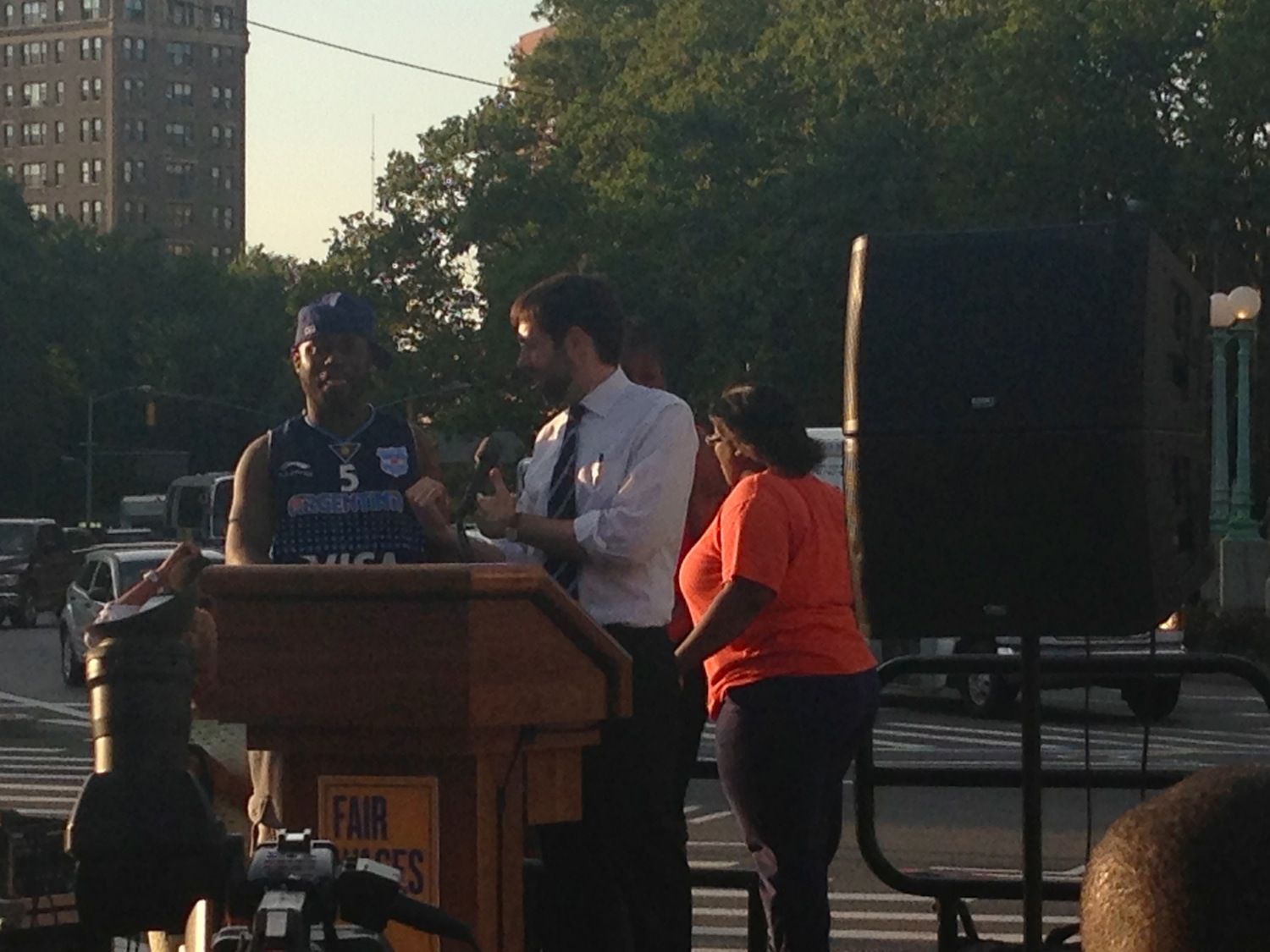 State Senator Daniel Squadron is one elected official taking "The $7.25 Challenge," keeping himself to Kareem's budget for a week. He calls managing that "another full-time job," and that's on top of the second job McDonald's employees are already expected to have.
"The idea that full-time work in this city still means choosing between being with your child when he breaks his arm and putting food on the table is a great injustice," Squadron said.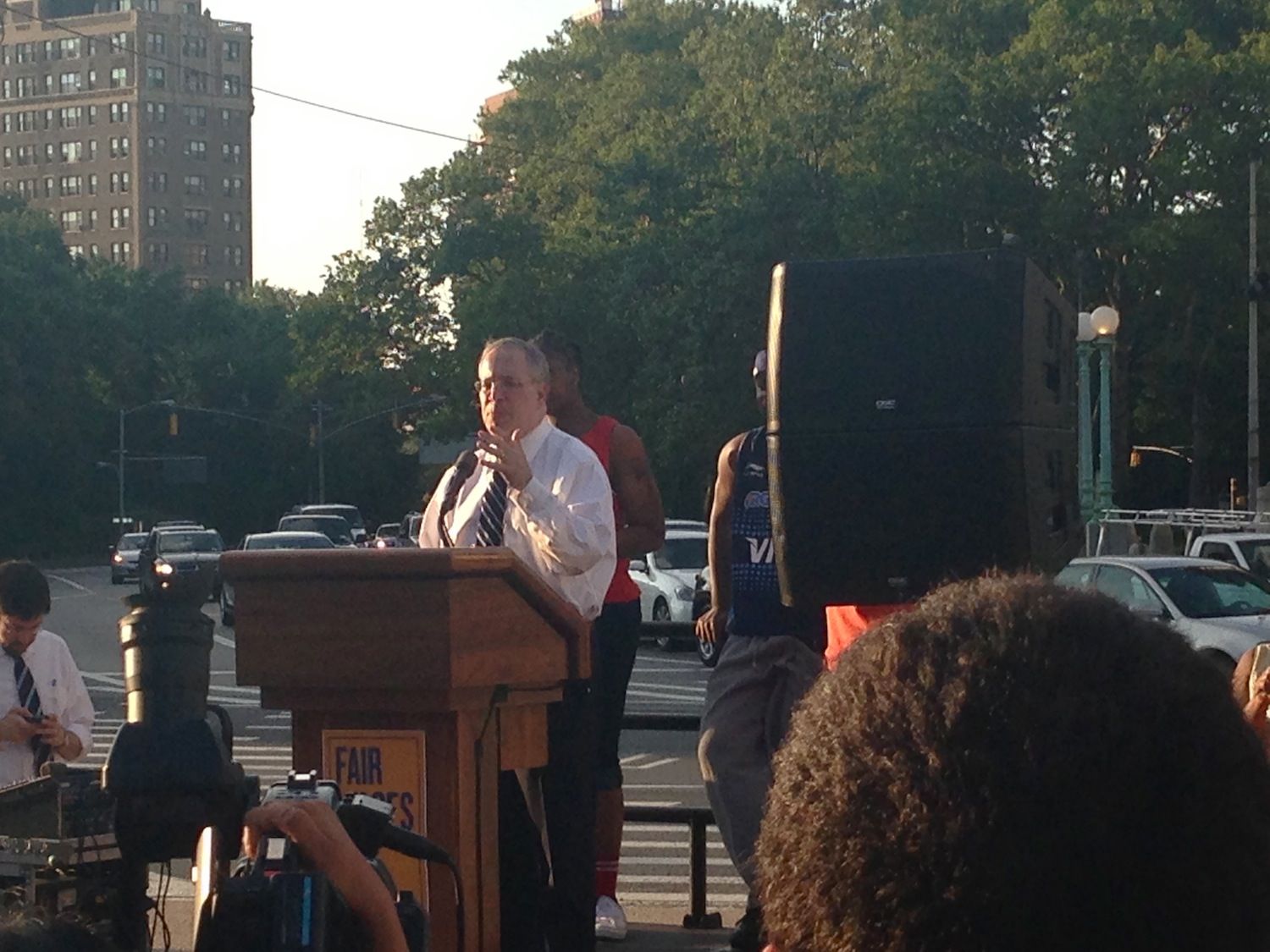 He and Manhattan Borough President Scott Stringer vowed to stand shoulder to shoulder with workers to help them get $15 per hour and to form unions without retaliation.
"You are creating a progressive movement that will finally create a level playing field," Stringer said, "where the people make the decisions." He said workers' efforts were paving the way to stop the ever-widening gap between New York's richest, and everyone in the city struggling to make ends meet.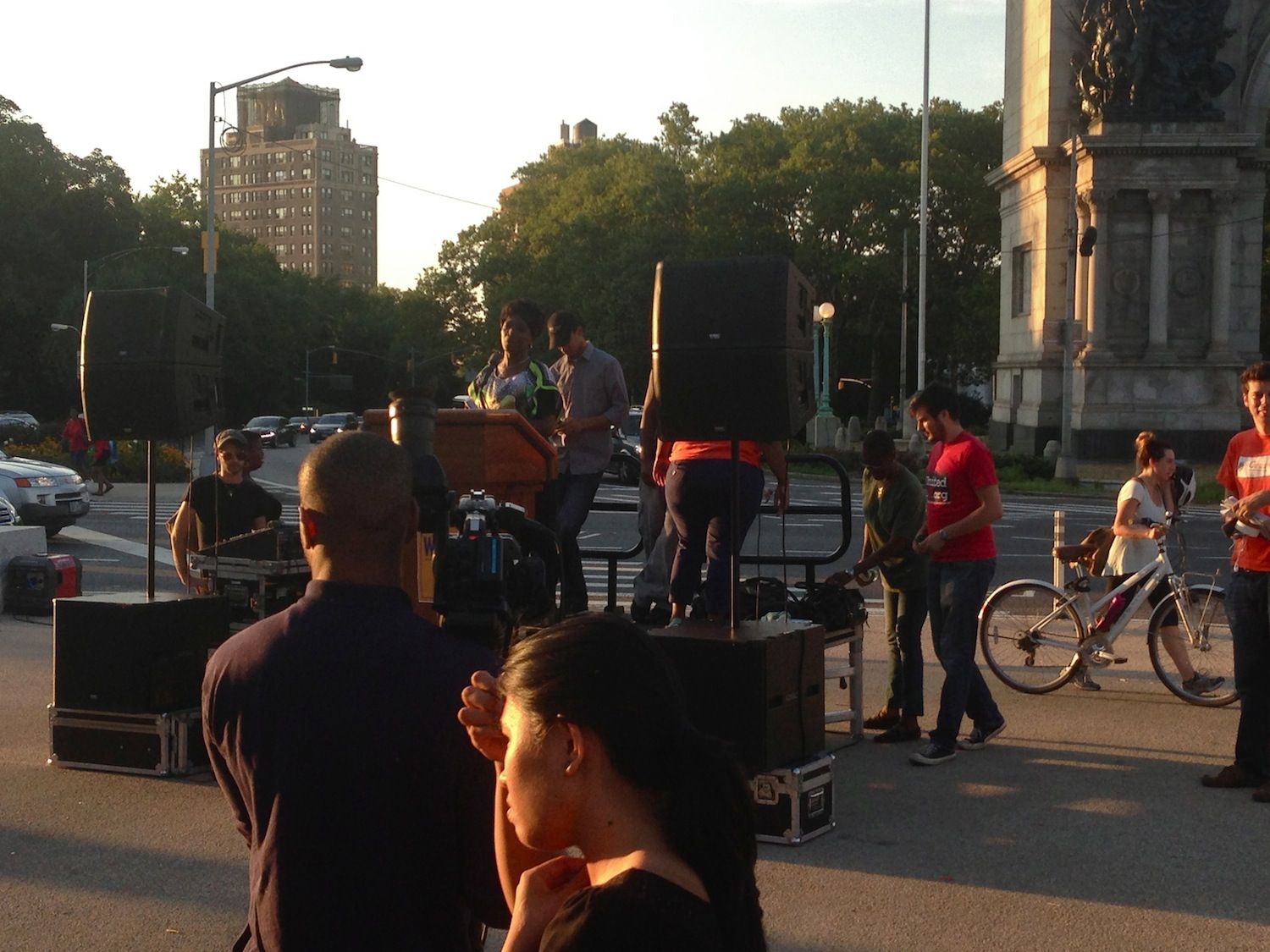 Minister Princess Anderson, a longtime ally of the workers, was hopeful that Stringer's "level playing field" would actually come to be.
"I remember when Martin Luther King died," she said, referring to the civil rights luminary's assassination during the Memphis Sanitation Strike in 1968, "and I can't believe that 45 years later, you still have to fight to make a livable wage."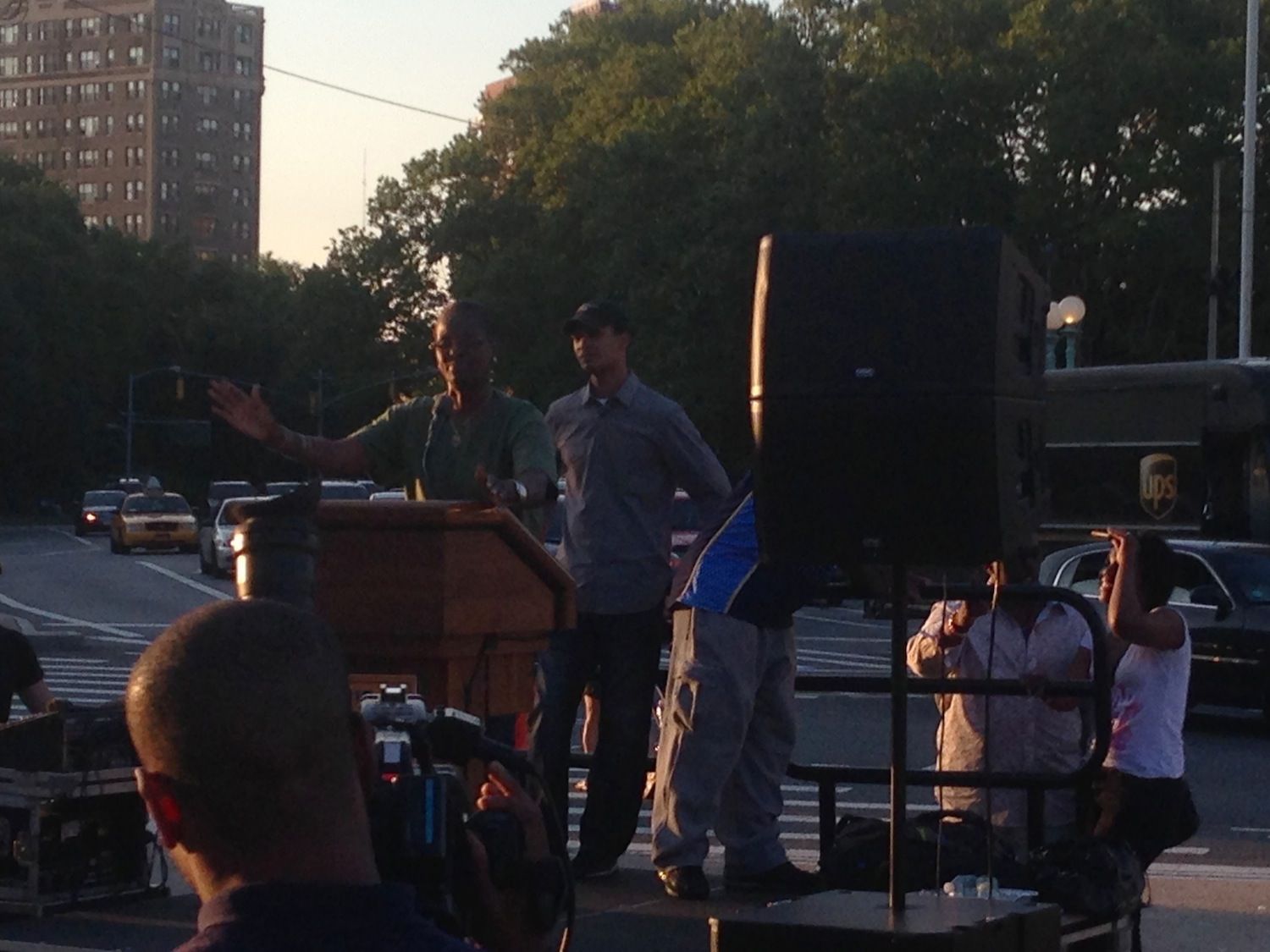 And while she said prayer was important in the fight for fair treatment and wages, Minister Patricia Malcolm suggested taking things a step further.
"Faith without work is dead," she said, quoting the Bible. "Nothing comes easy. If your life has been easy, God bless you, but mine has not.
"Some of us are going to pray," she said. "Some of us are going to fight."
Other workers involved in the campaign included Gregory Reynoso, a Domino's employee who addressed the crowd in Spanish and English. He said after trying other strategies unsuccessfully, he and his coworkers "know striking is the only way to get ahead in the fast food industry."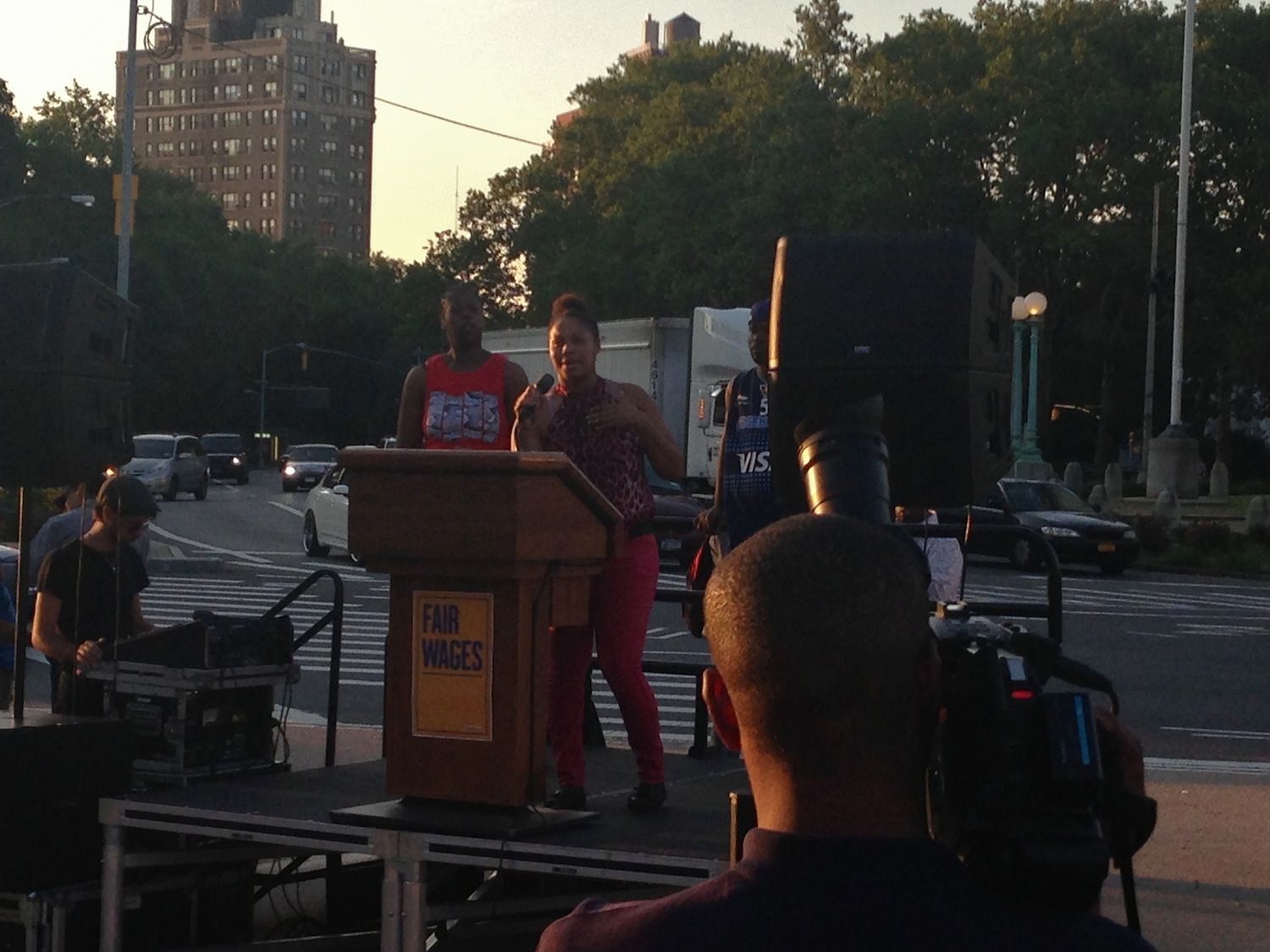 Ronetta, an employee from Wendy's in the Financial District who's also going on strike, says there's no air conditioning in the store, and that management has been attempting to intimidate workers who want to make a change. And Ronetta's store isn't alone–just last week, McDonald's employees from a Hudson Heights store without air conditioning walked out after their coworker collapsed.
Anthony Roman, a McDonald's employee of two and a half years who will be taking part in strikes, says only now is he earning $7.70 an hour.
"I am damn proud to be up here with all my brothers and sisters," he said, amidst calls from the audience of, "We've got your back!"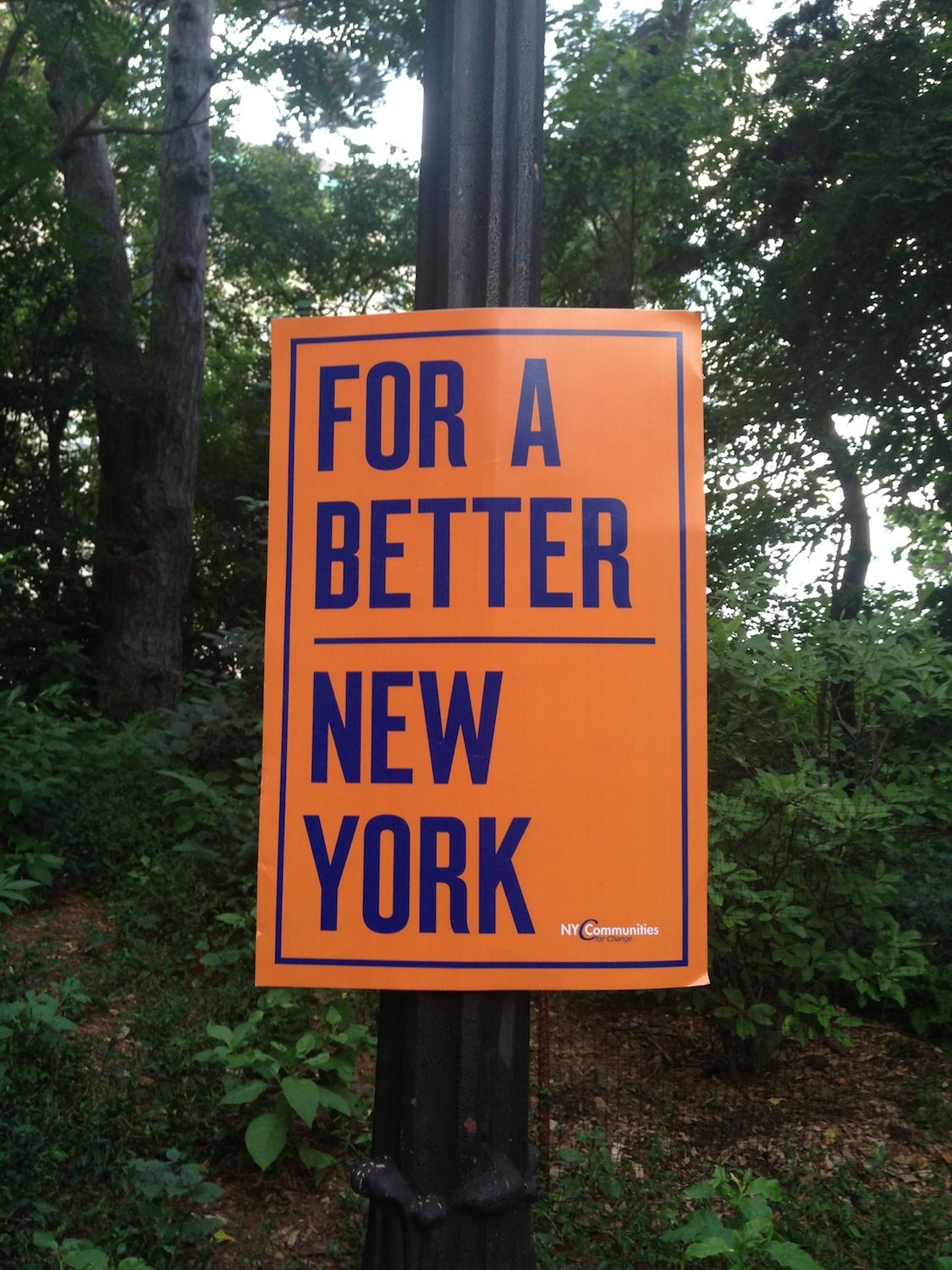 "We're about providing opportunity," McDonald's CEO Don Thompson told Bloomberg Television yesterday, a National Day of Action, in response to criticisms about the fast food giant, which made $5.5 billion last year, providing unlivable wages for their employees. "When we can help people to be able to have viable income, we're going to continue to do that and we are going to provide opportunities so that a person can rise through the system and gain greater and greater wealth."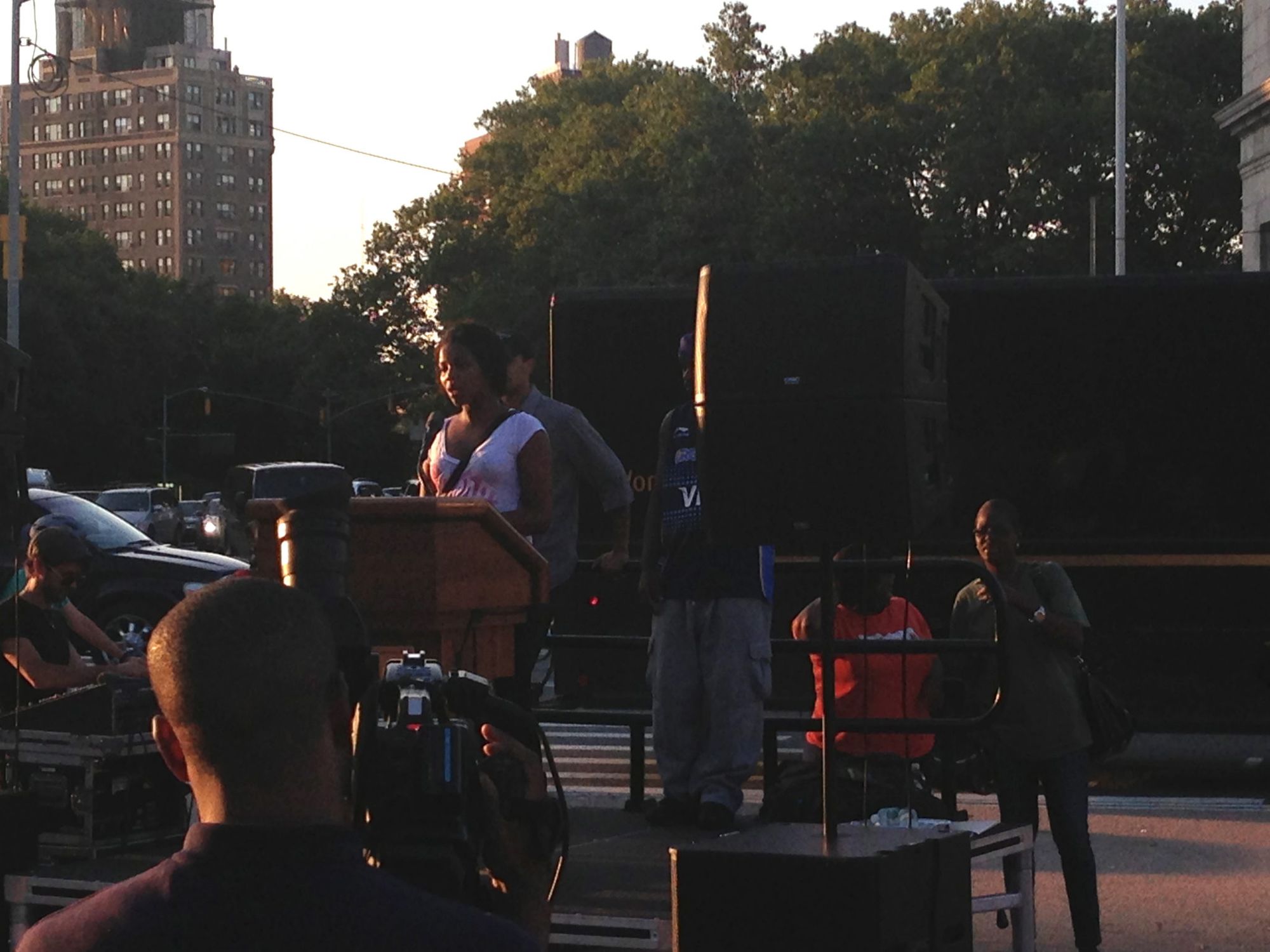 Chanel, a McDonald's employee and student, doesn't see Thompson's idea of "opportunity" in quite the same way. She said if she goes to school instead of working all the time, she can't afford to pay her bills–and not being able to take advantage of her education, the chances of her ascending from the industry aren't good. Like Gregory, Ronetta, and Anthony, Chanel is going on strike.
Naquashia Legrant, a longtime participant in the campaign, related to Chanel's ideas by talking about the importance of not giving up now. She said the distant future of the industry is just as important as the immediate one, and that it's crucial to keep new generations from getting stuck in a perpetual cycle of low wages and oppression.
"I don't want my kids to suffer," she said. "I want them to have a better life than I do."
Omar, a former Wendy's employee who now works at a McDonald's on Nostrand and Avenue D, agreed with Naquashia's point about perseverance.
"This is strike notice to managers, district managers, owners, and corporations," he said. "We will fight every week, month, and year until things change."
At 8am this Monday, July 29, employees from a Burger King at 971 Flatbush Avenue will go on strike, as they did on April 4 of this year on the 45th anniversary of Martin Luther King Jr's assassination. Later in the afternoon, they will join other workers at the Wendy's located at 425 Fulton Street.