Local Families Of 9/11 Victims Gather In Wake Of Bin Laden's Death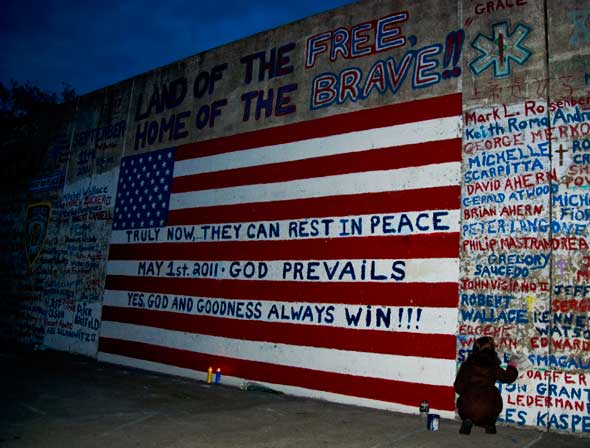 New words grace the American flag painted on the handball courts of Bill Brown Park, a mural which pays tribute to victims of the September 11 attacks.
"Truly now, they can rest in peace. May 1st, 2011 – God prevails. Yes, God and goodness always win," the flag now reads.
Just hours after President Barack Obama announced to the world that members of the nation's armed forces exacted vengeance upon the world's most wanted criminal, Osama Bin Laden, local artist and activist Ray Fiore bought paint and made his way to the park on Bedford Avenue and Avenue X. Just as he did in the days after September 11, 2001, Rockin' Ray – as neighbors know him – waited there for inspiration, dipped paint into bucket, and began his work.
He began with the date. Then "God prevails." After that, he took a seat.
"I just sat here meditating, waiting for God to give me ideas," he said. He also spent the downtime touching up the paint on the hundreds of names of victims that adorn the wall, a list growing at the demand of neighbors who lost friends and loved ones. "When I'm touching up names, it's like their spirit is reaching out to me. They're my guardian angels." And with their advice, Fiore said, he completed the rest of the mural.
As the sun went down on the park, about 30 others began trickling in, embracing each other, trading words about Bin Laden's final breaths, and alternating between laughs and somber glances. They were mostly members of the Brooklyn/Bedford Park 9/11 Memorial Committee – a rough-hewn group of neighbors that annually organize a colorful, unpretentious memorial. They came Monday evening to share the moment not just with each other, but with fathers and sons and brothers and mothers and daughters and sisters. Most here had a relative's name upon the wall.
"We just decided we had to come here," said organizer Tina Gray. "It was the right thing to do."
"It's a family," agreed Mary Bracken, who lost her daughter in the attack. "We felt a need to be with everybody."
The sentiment flowed freely. These were neighbors who, before 2001, may not have known each other. But in the months that followed 9/11, they drew close, bonded by grief.
"It started as us neighborhood people just coming together to help each other," said Angela Sapino. "It's our place, our cemetery to come."
When it came to light that a classified tactical operation some 7,000 miles away placed a bullet in the head of a murderer of nearly 3,000 people, these families came to the park. But it would be hard to say they were there to celebrate. They brought a bottle of champagne, but there was no cheering, no wild laughing, none of the shenanigans broadcast on television the night of the announcement. The champagne was quietly passed around, and the observers flitted back and forth between exaltation and rumination.
It appeared they couldn't decide whether to celebrate or mourn.
"It's bittersweet justice," Gray explained. "No matter what happened, the 2,749 people that the bastard murdered won't come back."
As the gathering wound down, "God Bless America" moaned from Fiore's car speakers. Fiore's 7-year-old daughter, Amelia Brooklyn Fiore, who had never until now known a world without Osama Bin Laden, picked a name she painted on the wall earlier in the day, and everyone crowded. Raymond York. Firefighter. Despite injury, rushed to Ground Zero to volunteer. Never returned to his wife or four children. And never will, whether Bin Laden walks the earth or not.
"Yes, we got [Bin Laden]," said Mary Bracken. "It was a happy day. But it doesn't bring them back. It's another wound opened."
Photos by Eddie Velinskie and Tina Grey.