Local Dads — And Moms — Walked Their Kids To School In Solidarity (PHOTOS)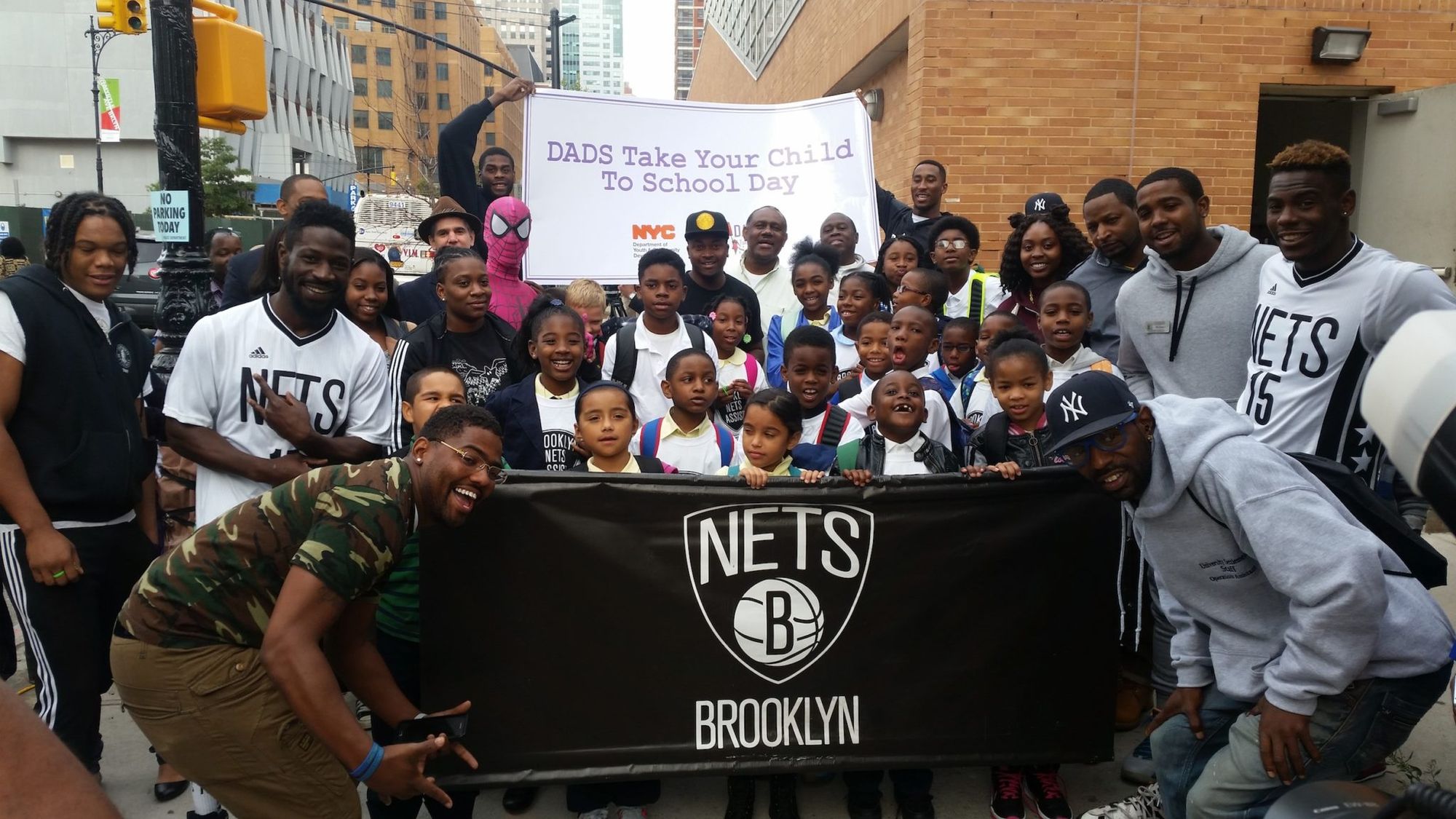 "My Dad Is My MVP; School Is The Place To Be!"
This was the chant that echoed up and down Myrtle Avenue between Flatbush and Clermont Avenues this morning (Tuesday, September 22) as dozens of grade schoolers and middle schoolers marched together with their parents, cousins, godparents, and other role models — like Brooklyn Nets players Rondae Hollis Jefferson and Willie Reed — to mark Dads Take Your Child To School Day.
A national effort to encourage fathers and father figures to take advantage of even the briefest — yet incredibly meaningful — moments with their kids, the Day was celebrated for the fourth year in Fort Greene with a joyful community march of solidarity, sponsored by the Ingersoll Community Center, along with the city Department of Youth and Community Development (DYCD), Healthfirst, Brooklyn Nets, and Modell's.
We chatted with the dozens of families gathered at Ingersoll for a community breakfast and meet-and-greet with the Nets players (and a pink Spiderman) and asked them what they love about spending time with one another, and why they make sure to commute to school together. Here is what they had to say.
"She's my niece, but I came today because her dad couldn't do it," said Saul, here with nine-year-old Joemy, who said that she enjoys spending time with him because "he's a fun uncle."
"I walk her to school as much as I can and when we do, it's our time to catch up on things because in the house, she's running around or doing homework," said dad Reggie, seen here with daughter Saniyah, 9, and Ryan, 1.
"He takes the bus most days, but I wanted to come and see the community because he's starting at a new school, Fort Greene Preparatory, so I wanted to show we're all in," said dad Ian McGrath with son Washington, 11. "There's a tendency for school with be with moms doing a lot of stuff. I like to get a feel for what his trip is like."
"It's just me, so I make sure I go with her," said Mabil Viano, mom to Amee, seen here with her best friend Angel Cheyenne. "I like the talk we get to have because by the time I get home from work, she's already sleeping."
For Amee's part, she said she "like[s] holding hands and she's funny and will tickle me when I go to sleep."
"It's important to support our kids. We usually drive to school or she catches the train because I get off at night," said dad Charles, with daughter Lindsey, 12, who just moved to Bed-Stuy from Detroit.
"We walk everyday together. Mornings are very special," said Guo Xiong Zhong, here with his daughter, Jessica, 10. For her part, Jessica said that she likes that "he wants to keep me safe from strangers."
"We walk most times because it's part of togetherness. I like being with him, so when he grows up, he remembers. And I like to be part of his school life, to know what's going on," said Lamar Void of Fort Greene, seen here with his son Tishawn, 8, and godsons Thomas, 11, and George, 14.
"I usually leave at around 5:15 or 5:30 in the morning so we don't walk together every day, but I did it last year and enjoyed it. I like to spend time with her and I like to see other parents, too. It's unity. Unfortunately, not many dads are around, so while it's encouraging for fathers to step up, it's also sad for kids who don't have dads." — Joseph Bayron, dad to Angel Cheyenne, seven
"My dad is the best person to win [the Father MVP award this year] because he shows love," said six-year-old Naiem of dad Eric Manson. "When me or my brothers are hurt, he will help them and make it better."