Local Cop Showered With Appreciation For Helping Deliver A Baby Boy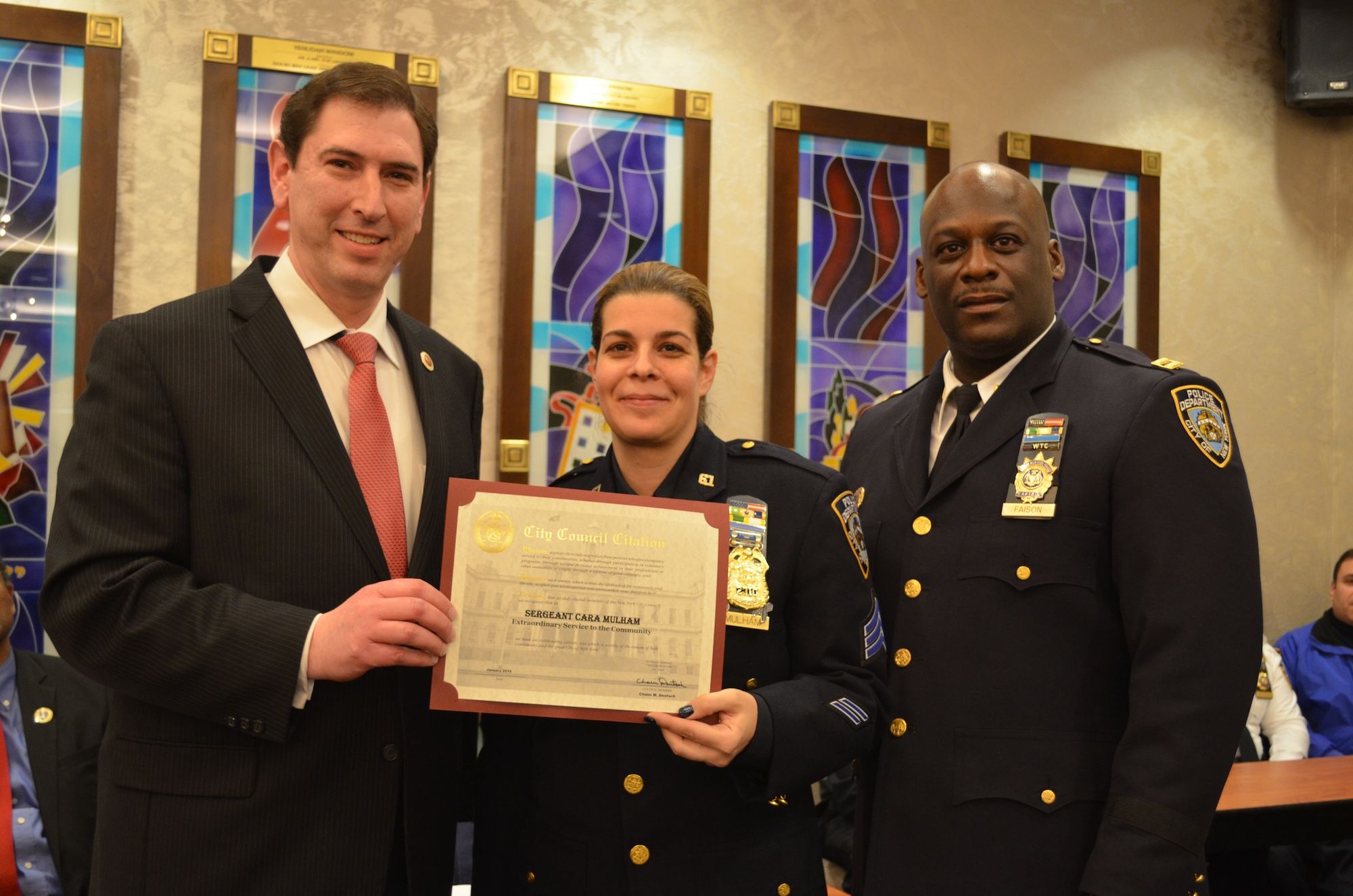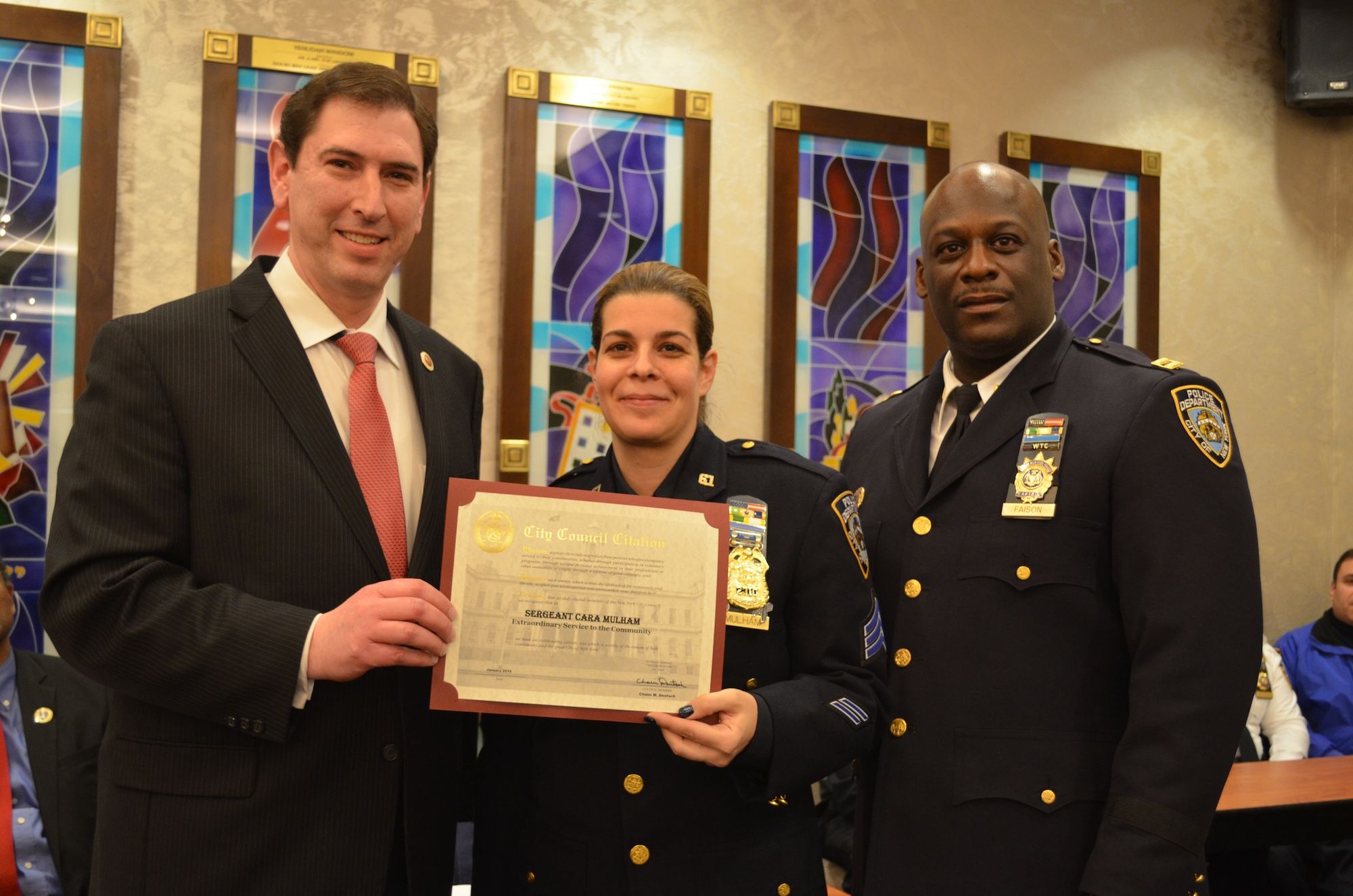 A local cop received heaps of gratitude Wednesday night at the 61st Precinct's community council meeting for helping deliver a baby boy while riding in an ambulance on the way to the hospital.
"A lot of times, we get criticized for taking a life — sometimes we have to — but this is an example of helping to deliver life," the precinct's commanding officer, Winston Faison, said while awarding "Cop of the Month" to Sergeant Cara Mulham.
In the early morning on January 2, Mulham, a graduate nurse, was called to a home near East 14th Street and Avenue R, where a woman needed to be rushed to the hospital to give birth. After she and her partner helped two EMTs load the pregnant woman into an ambulance, Mulham hopped inside the vehicle and they sped off for Coney Island Hospital.
"I knew she wasn't going to make it to the hospital from the time we put her on the stretcher," Mulham recalled.
The ambulance made it two blocks before they were forced to pull over to the side of the road and deliver the baby. Mulham said she was the first to hold the newborn.
"It was the highlight of my career. I can't even put it into words," she said.
The healthy baby and his mother were taken to Coney Island Hospital after the roadside delivery.
City Councilman Chaim Deutsch, along with representatives for Councilman Mark Treyger and state senators Simcha Felder, Marty Golden, and Roxanne Persaud, crowded around Mulham at the meeting to pose for photos and present her with awards.
Deutsch said that he has known Mulham since he walked into the 70th Precinct with her on her first day as a police officer.
"We go way back. So this is nothing new to me because this is who she is: Delivering babies, stopping crime, jumping perpetrators, it's nothing for her. She does everything," Deutsch said.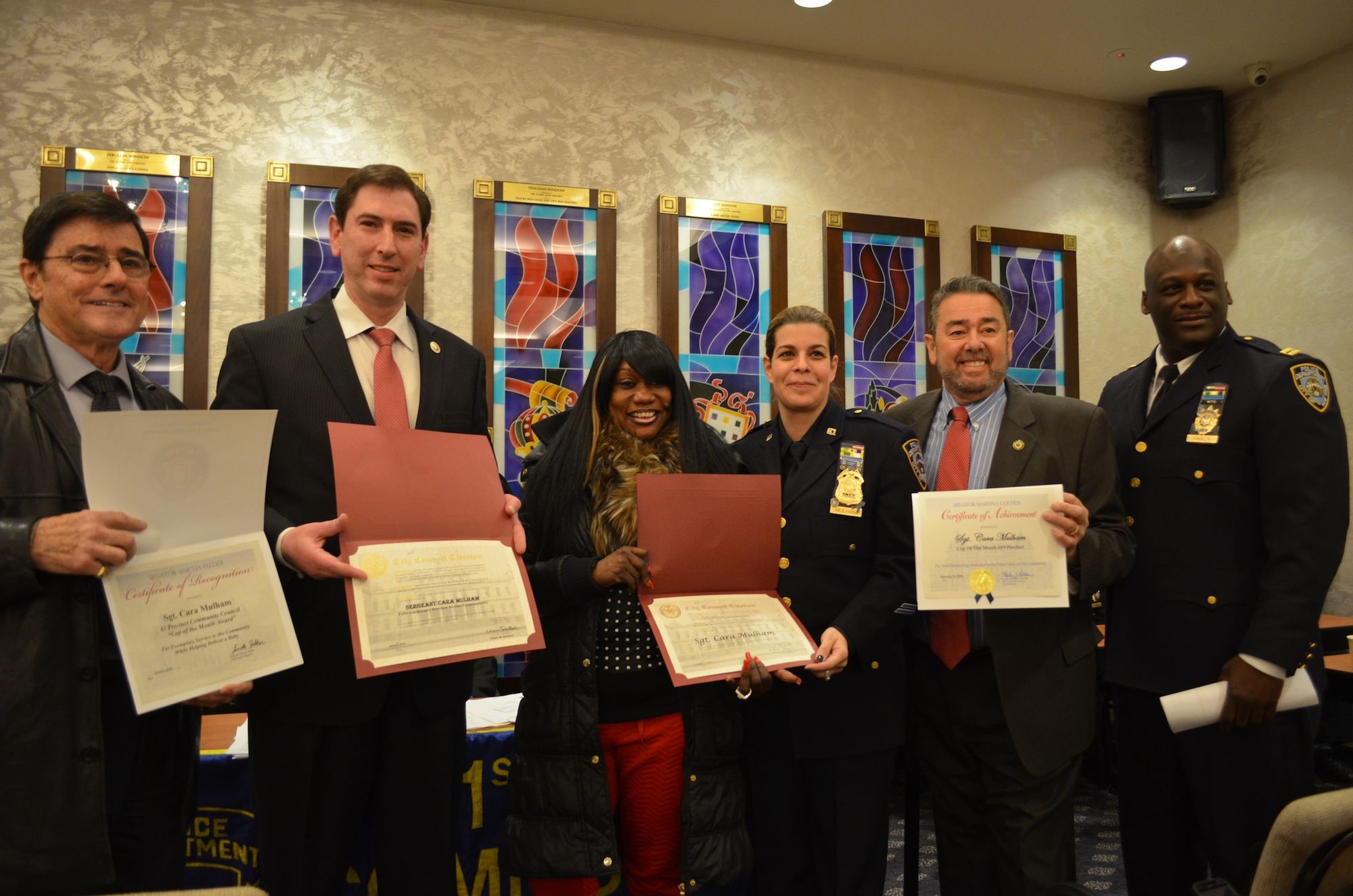 At the council meeting, the precinct's commanding officer also revealed that Mulham was involved in the arrest of a notorious burglar who robbed at least 16 local business during a two-month crime spree. The thief was caught last month trying to break into a Mexican deli on East 15th Street. Faison also revealed that a search warrant of the burglar's home turned up three illegal guns.
Mulham said that both incidents — the arrest and baby delivery — were the only times she had gone on patrol that month. She normally performs administrative duties at the precinct, she explained. Of the two experiences, she seemed to favor bringing new life into the world.
"That's why I say [delivering the baby] was the highlight of my career," Mulham said. "Because I've seen the other side: The violence, the guns, the negative things. And now I have the opportunity to do something positive. It just felt very, very good."