LIU Faculty To Protest Against Lockout By Campus Administration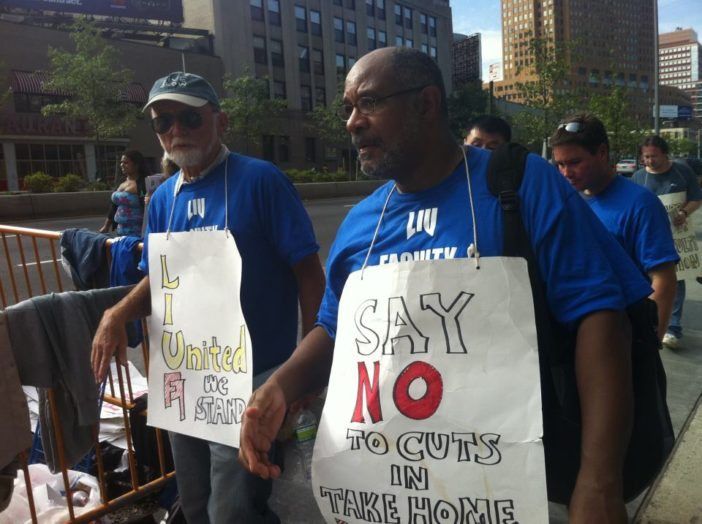 Long Island University faculty members are outraged at the school's plan to bar them from entering the campus after their union contracts expired in August, and are planning a protest on the first day of classes to call attention to labor injustices.
According to the Long Island University Faculty Federation (LIUFF) — a union representing both full-time and adjunct faculty throughout all LIU campuses — the administration took an aggressive step to prohibit members, "from stepping onto campus and conducting their work," after their contracts were up on August 31.
"The Administration has taken an unprecedented act of aggression and hostility against our faculty and students by preemptively locking the faculty out of coming to work effective Friday, September 2 at midnight," said Jessica Rosenberg, an LIU professor and union president. "This action was taken against us while we continue to negotiate in good faith."
Rosenberg said the union requested to negotiate a deal with the LIU administration since April but instead were notified through email of a "possibility" of being locked out. The next negotiating session is scheduled for Thursday, September 8.
The union told its members they would not have access to their offices, and to gather their personal belongings, including computer files before the midnight September 2 deadline.
Under a lockout, the administration has the right to replace a worker temporarily, not permanently, but at the conclusion of the lockout, they are entitled to return to work, the union said.
"We anticipate that LIU will take steps to cancel health care coverage," the union said, and it encouraged its members to apply for unemployment benefits here. "They (LIU) will send out information about COBRA if they do in fact, cancel health care."
In addition, LIUFF states:
"The lockout is the culmination of a series of actions taken by the administration over the summer that include advertising for replacement workers, unilaterally canceling classes, and uploading erroneous materials to course management websites. The Brooklyn Faculty Senate has submitted two official complaints to the Middle States Commission on Higher Education alleging non-compliance with accreditation standards regarding shared governance, integrity and academic practices."
The University seeks to eliminate a parity clause despite a long history of greater resources and compensation for suburban LIU Post; continues to offer Brooklyn a lower salary increase; seeks onerous changes such as post-tenure review; and aims to impose harsh new exploitative conditions on part-time adjunct faculty, including elimination of its benefit trust fund.
A protest will take place in front of LIU's Brooklyn campus on Flatbush and DeKalb Avenues at 10 a.m. on Wednesday, September 7, which is also the first day of classes, Rosenberg said.
"A lockout is different from a strike," Rosenberg said. "We are not on strike, and therefore we cannot be permanently replaced."