Let The Music Play – Introducing The Sheepshead Bites Birthday Party Bands
Tomorrow's the night, folks. All of us swinging hep cats are going to take over the pier at the Baron de Kalb – Knights of Columbus (3000 Emmons Avenue) for Sheepshead Bites' Fourth Birthday Party! There will be cheap beer, cheap booze and free food while it lasts. The party starts at 8:00 p.m. and goes until the Knights kick us out.
After an intense search, we've secured two very different bands to fill the night with music. Both will get your feet a tapping to both originals and covers of your favorites songs. Tomorrow night Curbside Hustle and Melting Point will dominate the music scene of Sheepshead Bay!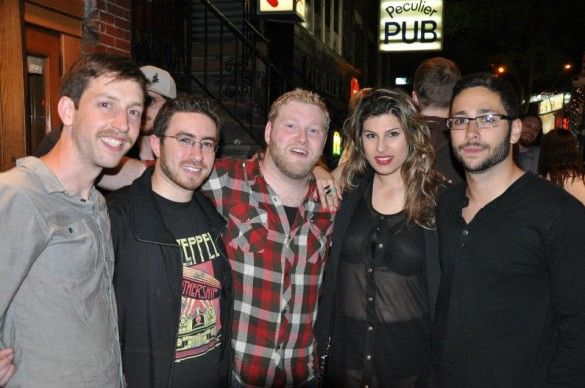 First up is Curbside Hustle. Based in Rockland County, New York, the band was formed in 2004 with core members Zach Silverman (Guitar), Dan Rappaport (Bass) and Kevin Weinberger (Drums). Curbside Hustle has the sound of classic rock with heavy riffs of bands like Led Zeppelin and Rage Against the Machine, but also throws in funky jams from bands like Red Hot Chilli Peppers to Phish.
Each member has their own musical influences and when combined you get the sweet sounds of Curbside Hustle.
You can preview their music on their website.
Melting point is a Bluegrass/Americana duo consisting of Calvin Bennet, guitar and vocals, and Terry Klemensen, bass and vocals. Calvin hails from the state of Kansas and has traveled the world playing bass and guitar. He now resides in Brooklyn playing bass with the Brooklyn Conservatory Community Orchestra, the Giant Flying Turtles, the Amazing Klemtones and guitar in Melting Point.
Terry moved to Brooklyn after traveling the world as a member of the USAF band that eventually landed him in Anchorage, Alaska. After 23 years in Alaska he now lives in Brooklyn and spends his time playing with the Brooklyn Conservatory Community Orchestra, the Amazing Klemtones (playing sax), the Zombie Flanders, and Melting Point.
Melting Point is a true Band of Bassplayers! You can check out Melting Point on MySpace.