Learning The Joys Of Indian Cooking At Mukti's Kitchen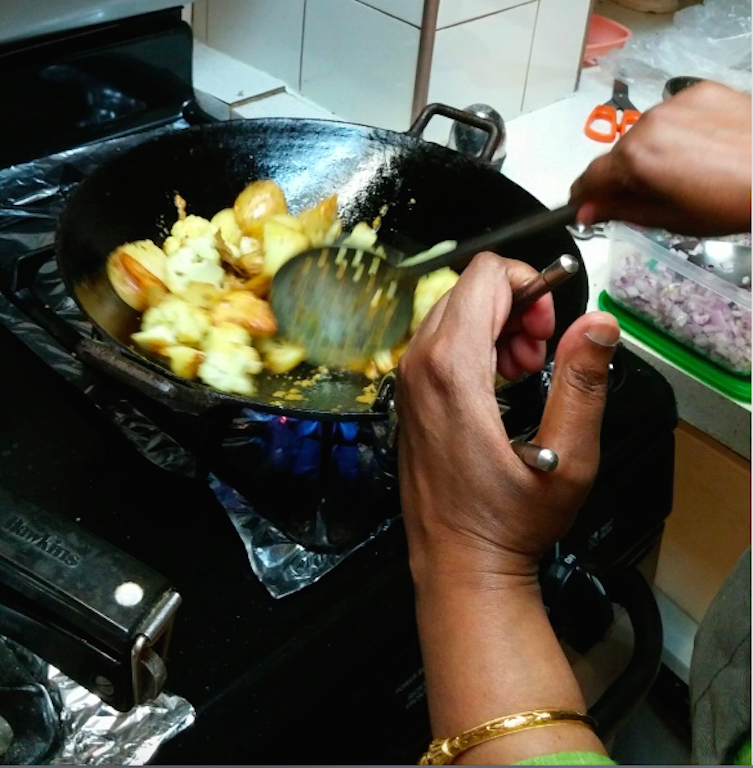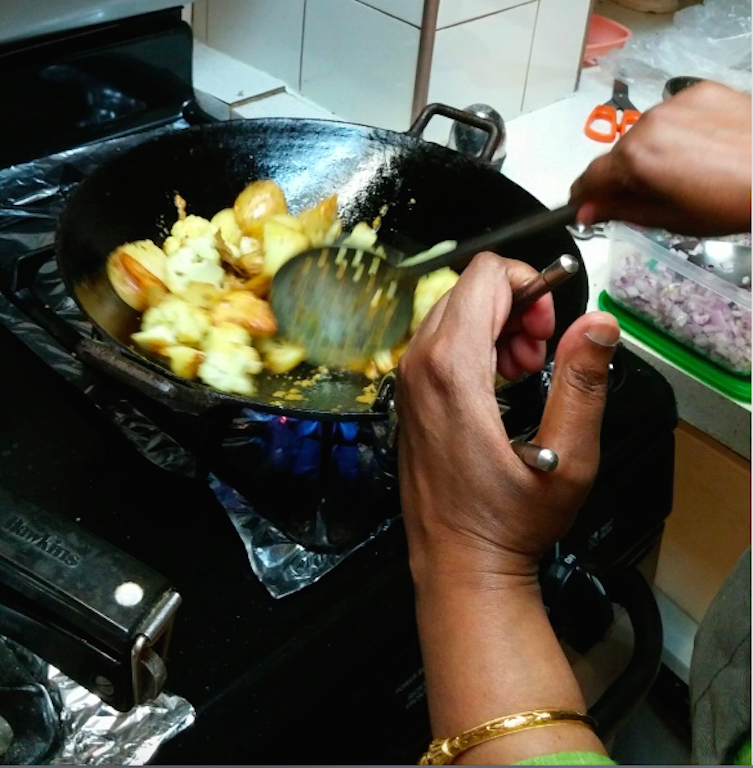 It's not hard for those living in Ditmas Park and Kensington to satisfy their cravings for authentic South Asian food.
Whether it's at a fancier sit-down restaurant like Asya on Cortelyou Road, Anarkali on Church Avenue, or one of the numerous Indian, Bangladeshi, and Pakistani places on Coney Island Avenue, there are lots of great options. But what about those times you don't feel like eating out or taking out? Well, Indian home cooking is not quite as hard as you might think. All you need are some basic ingredients, a few pots and pans, and a bit of confidence.
After taking a group cooking class at Mukti's Kitchen in Kensington, you will know what key spices to use with meats and which to use with vegetables, and you will be anxious to test your newfound culinary skills. Mukti Banerjee, who literally runs her classes out of her Beverley Road home's kitchen, is more than happy to demystify her native cuisine and promote the benefits of healthy eating.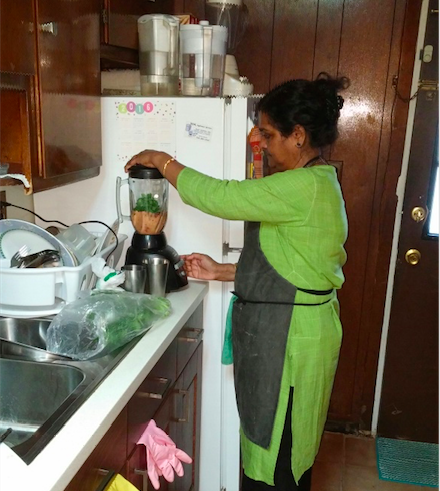 Mukti's website proclaims, "Healthy, delicious Indian food" and her concern with health is obvious.
That was the first thing she talked about with our class of five one recent weekend evening. There's the obvious benefit of choosing your own fresh and preferably local, organic, and non-GMO ingredients, but there's also the added benefit of cooking itself, which Mukti, a former biologist with a Ph.D. in botany, finds therapeutic, stress-relieving, and empowering.
The nodding of several students' heads signaled agreement.
After Mukti's brief pep talk, we headed to the kitchen and were greeted by a hot pot of freshly brewed chai, home-made of course, and a store-bought (still delicious) trail mix made from chickpea flour, dried peas, and spices.
We put on our aprons and began preparations for the menu of Pakora (onion fritters) with coriander-mint chutney, Chana Masala (chickpea curry), Vegetable Pulao (a basmati rice dish), Chana Dal with Coconut (another chickpea dish but with the outer layer removed and kernel split), and Aloo Gobi Matar Rasha (a cauliflower, pea and potato curry). This vegetarian meal turned out to be vegan out of respect for one of Mukti's students who couldn't eat ghee (clarified butter), but it didn't suffer for it.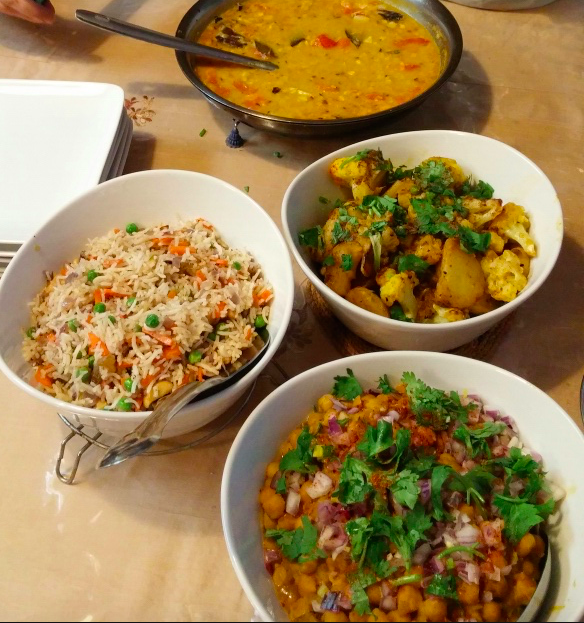 Spices literally are the foundation of every Indian meal, and Mukti had her collection on display in two groupings of seven spices each, the more strongly flavored group (cardamom, cinnamon, star anise, etc.) are primarily meant for non-vegetables, for example robust meats and fishes, while the subtler spices (mustard seeds, fennel, nigella seeds, etc.) are best suited for milder vegetables — though some spices are good with both.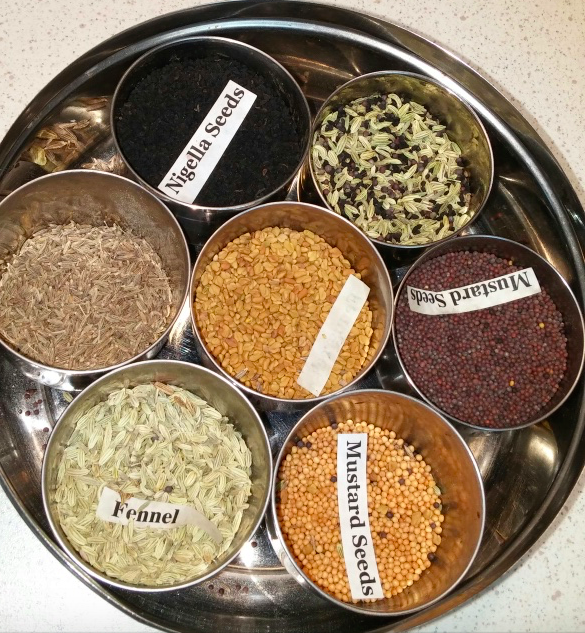 Five of these fourteen spices make up Mukti's versatile five spices mix, used in the recipes above, and several others, along with some tomatoes, onion, cilantro and other ingredients whose secrecy I am sworn to uphold, are the heart and soul of Mukti's famous masala. Mukti's masala is not a mere dry spice mix to be stored in a drawer, but a freshly blended, and on this occasion, thickly golden liquid, which can be frozen into ice cubes for future use.
Mukti's class is hands-on — you'll do some chopping, cutting, and stirring, but Mukti clearly runs the show, making sure that the food comes out right.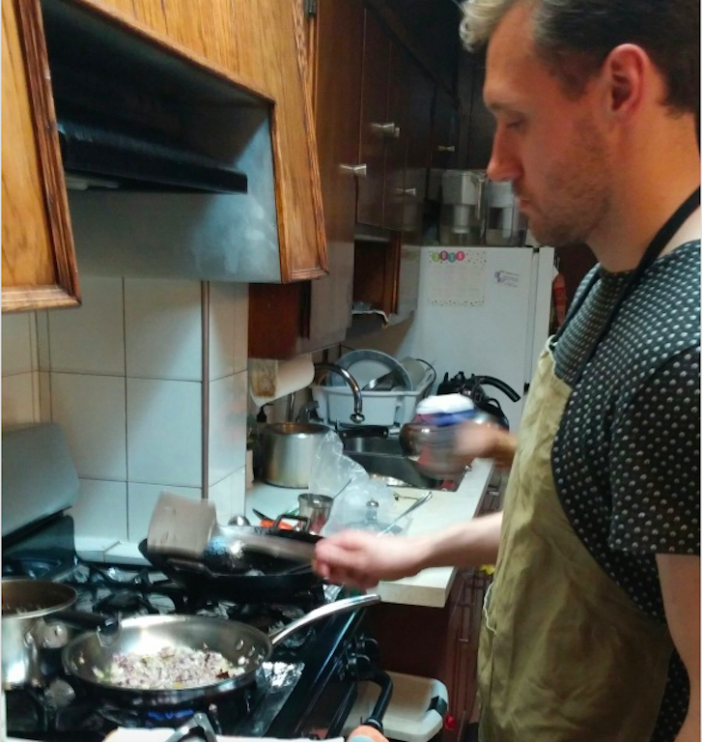 She's ably assisted by her apprentice Michelle, a high school student studying the culinary arts who had never had Indian food before but now loves it. However, the real benefit of taking the class is not to follow step-by-step directions, something you should do at home later, recipe in-hand. Rather it is to observe, ask questions, and learn from an expert who grew up in India watching her own mother, grandmother, and aunt make their ways around their kitchens.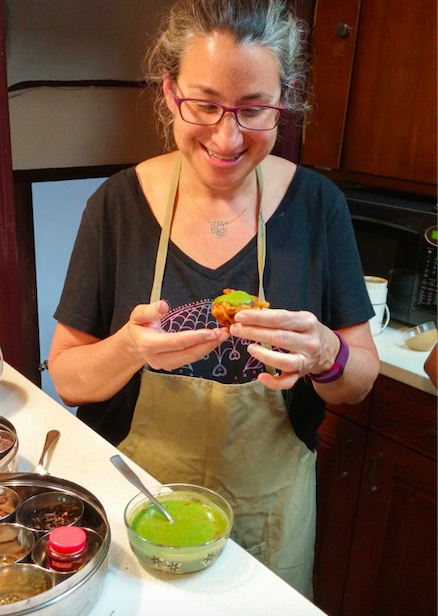 In just a few hours in Mukti's kitchen, in the company of a friendly, knowledgeable hostess and admiring guests, I discovered that tomatoes with stems most likely contain GMOs; that nigella seed is just another name for black-caraway; along with a really cool way of cooking basmati rice that does not involve a Japanese rice-cooker, and an intimidating Indian utensil that resembles a torture device.
Cooking concluded, we headed back to Mukti's living room to sit down and enjoy the fruits of our creation. We hailed from as far away as Manhattan's Upper West Side and Astoria, Queens, as well as more local addresses. Yet we all agreed, this was one of the best Indian meals we had ever had. Mukti had done her job well.
We could hardly wait to try out our newfound skills and knowledge — in our own kitchens.
(All photos by Adam Rabiner.)