Learn the Art of the Tequila Cocktail at Sycamore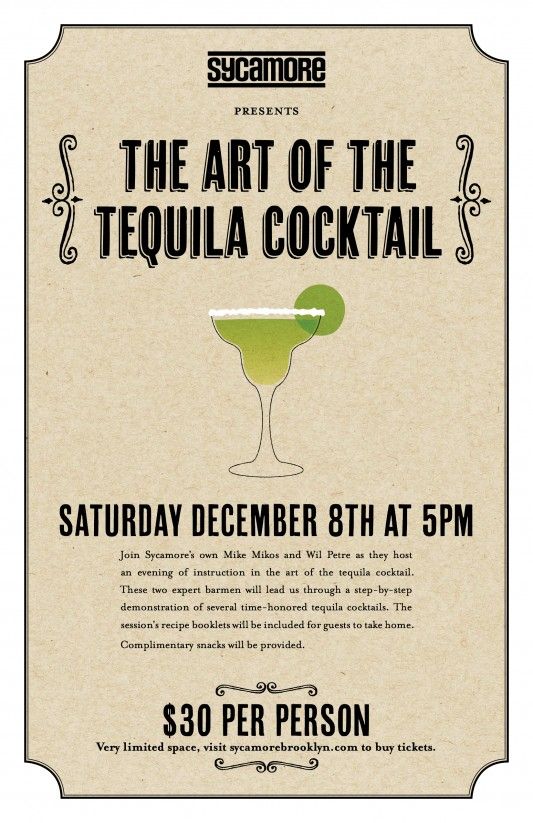 Sycamore is hosting The Art of the Tequila Cocktail, a $30 class by The Cocktail Weenies on Saturday, December 8th at 5 p.m. Sycamore's Mike Mikos and Wil Petre will lead a step-by-step demonstration of several time-honored tequila cocktails just in time for holiday party season. The session's recipe booklets will be included for guests to take home. You can buy tickets here.
The class will also include a number of snacks to go with the cocktails. In order to give potential cocktail students an idea of what they can look forward to, we asked Wil and Mike to recommend a few complementary snacks for the cocktails they'll be getting.
"Wil from the Cocktail Weenies recommends the chicken and mole tamales from La Nueva Union Bakery on Cortelyou Rd while enjoying a Tequila Daisy," wrote the pair of teachers. "If it's warm outside, relax with a Paloma and Tostada al Pastor from Cinco de Mayo. While pairing tequila and mezcal cocktails with Mexican cuisine is not a rule, I feel like it's an experience. Also, contrasts are always nice. If you're eating greasy foods, choose a cocktail with a nice bit of acidity or citrus, to cut through the fat. If you're eating something light and delicate, choose a drink that hits a different flavor profile, but be careful not to overwhelm your food with your drink."
You can buy tickets here. It's a pretty good time to begin your cocktail Ph.D.