Learn About Two Homeless Shelters Coming To 4th Avenue At May 1st Meeting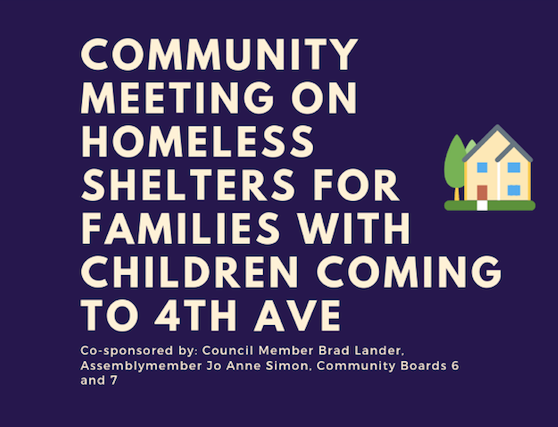 PARK SLOPE – The community is encouraged to attend a meeting scheduled for Wednesday, May 1 at the John Jay Educational Campus (237 7th Avenue) to discuss two new homeless shelters planned for 535 and 555 4th Avenue in Park Slope.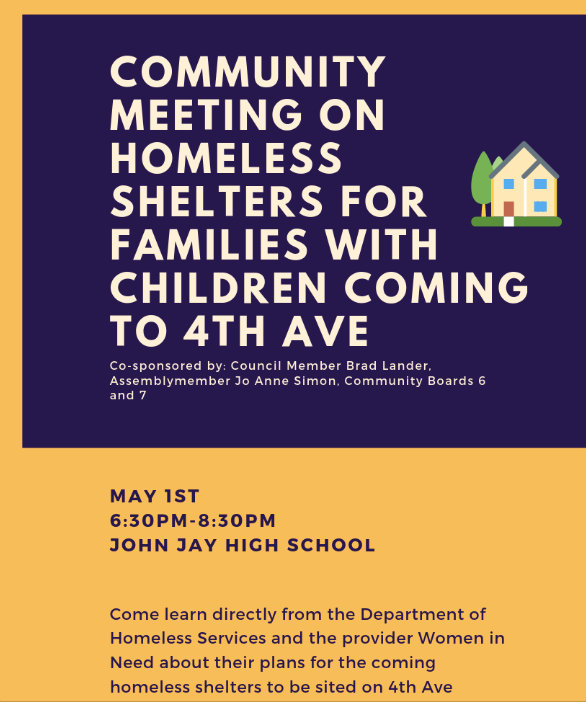 Council Member Brad Lander is co-hosting the community meeting with Congress Member Nydia Velazquez, Assembly Member Jo Anne Simon, and Community Boards 6 and 7. (535 4th Avenue, between 14th & 15th Streets, is part of CB6 while 555 4th Avenue, one block south between 15th & 16th Streets, is part of CB7.)
"Conversations around new shelters are not always easy," Council Member Lander said in an email. "We all wish for a city where no one is homeless. But providing safe, decent shelter for the 60,000 New Yorkers—including 24,000 kids—who will be homeless tonight requires opening new shelters, operated by quality social service organizations, in neighborhoods across the city, including ours." The Council Member noted that the two planned shelters "are just steps" away from his home.
The two facilities, currently under construction, will be operated by Women in Need (WIN). According to NYC Department of Buildings, a 12-story mixed-use development with residential units was originally planned for 535 4th Avenue while a similar building was planned for 555 4th Avenue.
Current plans for 535 4th Avenue include a 148-unit shelter for homeless families which is scheduled to be completed in September 2019. An additional 105 shelter units will be provided at 555 4th Avenue as well as 29 permanent housing units. This facility is expected to be completed in November 2019.
Representatives from WIN and the NYC Department of Homeless Services (DHS) will be on hand at the May 1st meeting to answer any questions and address concerns from community members about the two 4th Avenue shelters.
About a mile away at 601 Sackett Street (between 3rd & 4th Avenues), a shelter for 200 men is planned for 2020. This Gowanus facility is located in Council Member Stephen Levin's district. Bklyner reached out to Levin on Wednesday afternoon to inquire whether he will host community meetings regarding the facility but did not receive a response prior to posting.
In June 2017, the NYC Department of Social Services discussed Mayor Bill de Blasio's "Turning the Tide on Homelessness in New York City" plan with Community Board 6. In February of that year the mayor announced the plan which aims to close the 360 cluster sites and commercial hotels across the city that are currently used to house the homeless. The borough-based plan includes replacing these sites with 90 new shelter facilities— opening 20 new shelters annually for five years and renovating existing facilities— and placing homeless New Yorkers closer to their communities, schools, jobs, places of worship, etc.
Park Slope currently has one shelter, CAMBA's 100-bed women's shelter located at 1402 8th Avenue (between 14th & 15th Streets).
In December 2018, DHS opened a temporary shelter in a hotel at 17 Seabring Street in Red Hook. That facility provides 152 beds for adult males, the Red Hook Star reported.
"CB6 is committed to shouldering our fair share in responding to this citywide homeless crisis," said Michael Racioppo, the community board's District Manager. "This meeting is a good and early start, to ensure that we safely house those in need of shelter and provide them with those services that integrate them into our community and move them toward permanent homes. Of course, there are always legitimate questions about how to design the locations, the support services and the qualifications of providers, and this is an opportunity to start asking those questions."
"I hope Park Slope residents will join us at the community meeting on May 1st, so we can get our questions answered, and make plans together both to address any concerns and to welcome our new neighbors," Council Member Lander added.
Community Meeting To Discuss 535 & 555 4th Avenue Shelters
Wednesday, May 1, 6:30pm to 8:30pm
John Jay Educational Campus, 237 7th Avenue