Latest on Nemo, Where to Snag a Sled and More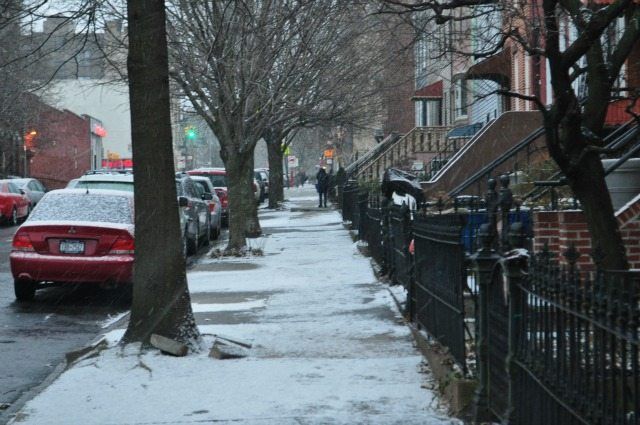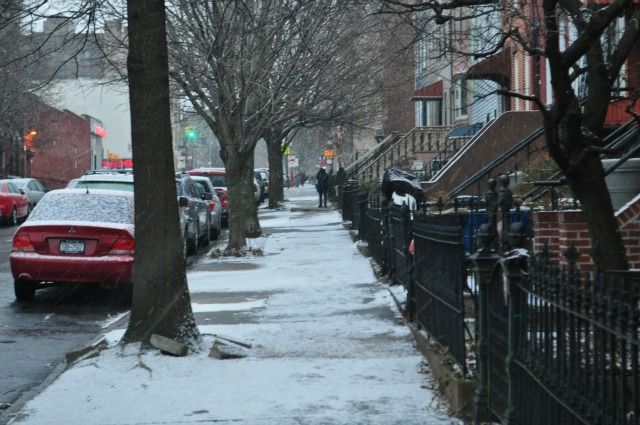 It doesn't look like much here in South Slope, but according to forecasts, we could get about 5-8 inches by the time this storm is finished tomorrow afternoon. We'll keep you posted if there are important updates throughout the day, but for now, here's what to expect:
FORECAST: We're currently under a blizzard warning, which means heavy snow and strong winds that will make driving dangerous. Also watch out for possible falling tree limbs. It will stay light and icy through this afternoon, but should pick up around 7pm, and at the height of the storm, we could see 1-2 inches accumulate per hour.
PARKING: Alternate side of the street parking is suspended through Sunday, but you still have to feed the muni-meter.
SUPPLIES: Have you stocked up on milk and bread and salt and sleds? A brief survey yesterday afternoon showed that local hardware stores and 99 cent shops had plenty of salt for your sidewalks, and shelves were stocked at Key Food, the Met, and Steve's C-Town. We snagged a great sled at CNS Hardware (584 5th Ave) for $12, and they even included a nice, thick rope so we could pull the little moppet around town. Park Slope Hardware (593 5th Ave), and G&E .99 and Up (542 5th Ave) also had sleds at the ready. Let your neighbors know in the comments what you're seeing today in stores in the area.
SCHOOLS: Although school is in session today, all afterschool activities and PSAL games have been CANCELLED. The DOE website will report on Saturday programs later this afternoon.
TRANSIT: The MTA has been prepping its fleet of snow and ice-busting equipment, but note that we could face changes to local service. With 5 or more inches of snow,they warn that B service could end early, and that the Q could run express. They also recommend you leave work early (snow day!).
AIRPORTS: If you were planning on flying today or tomorrow, you'll probably want to call ahead to see if you're flight has been delayed and/or cancelled. As of this morning, there have already been over 1,700 flight cancellations at the three NYC airports.
ROADS: The Department of Sanitation is prepared for the storm, but that doesn't mean you should be out driving if you don't have to. Visibility may be near zero at times. If you get stuck, and you're blocking a plow's path, the city says you'll be towed at your own expense. You can track plowing progress online here.
SANITATION: At the moment, trash collection scheduled for Saturday has not been cancelled.
SNOW REMOVAL: Are you, or do you know, an industrious and strong young person who wants to shovel your neighbor's sidewalk? Feel free to start up suggestions with contact info in the comments. The city also has a volunteer matching program.
SLEDDING: When it's safe to do so, lace up your snow boots and head to Prospect Park. There's a good hill by the Tennis House near Prospect Park West and 9th Street.
PICTURES: If you take any photos of the storm, tag them on Instagram with #southslopeblizzard, and we'll put together a rotating, constantly updating slideshow! You can email pictures to editor@bklyner.com, add it to the South Slope News Flickr Group, and we'll post it to the site.