LaRouche Supporters Nazi It Up In Sheepshead Bay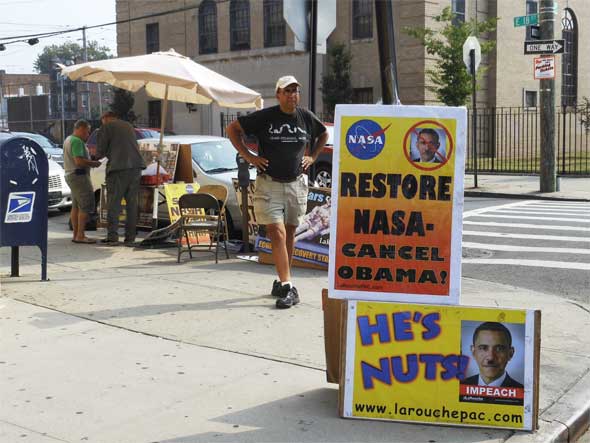 Followers of Lyndon LaRouche are prattling the day away in front of the Bill Brown Post Office (2628 East 18th Street), collecting donations for their strange political movement and carrying signs with President Barack Obama sporting a Hitler mustache.
The group's members say they have stationed tables all around the city today, each trying to raise at least $1,000 for LaRouche.
Wondering who LaRouche is? The perennial presidential candidate is often described as an extremist, conspiracy theorist and even a cult leader. He ran for presidency in every race from 1976 to 2004, even commanding political campaigns from behind bars, after being imprisoned for conspiracy to commit mail fraud and tax code violations.
Now the LaRouche followers are asking for financial support and mailing list sign-ups to help. They say they're attempting to get Obama impeached by the end of the summer, reinstate the Depression-era banking regulations of Glass-Steagall and, well, that's all they say. When asked where the money goes, they said it was to the publications – which depict Obama embracing Hitler, among other images – and to fund the Worldwide LaRouche Youth Movement. The youth arm formed in 2000, with their first major campaign being in 2003, when it distributed over a million leaflets across the country picturing Arnold Schwarzenegger alongside Adolf Hitler (sense a theme here?). The youth arm is described by critics as a college recruiting arm for the larger organization, that uses high-pressure, strong arm tactics.
Unfortunately, that bit isn't being discussed at their table outside of the post office, and dozens of residents opposed to the Obama administration donated money based on their claims that it would be used to unseat the president before the end of the summer.