LPC Approves Changes To Historic Dime Savings Bank To Make Way For 'Tallest Tower'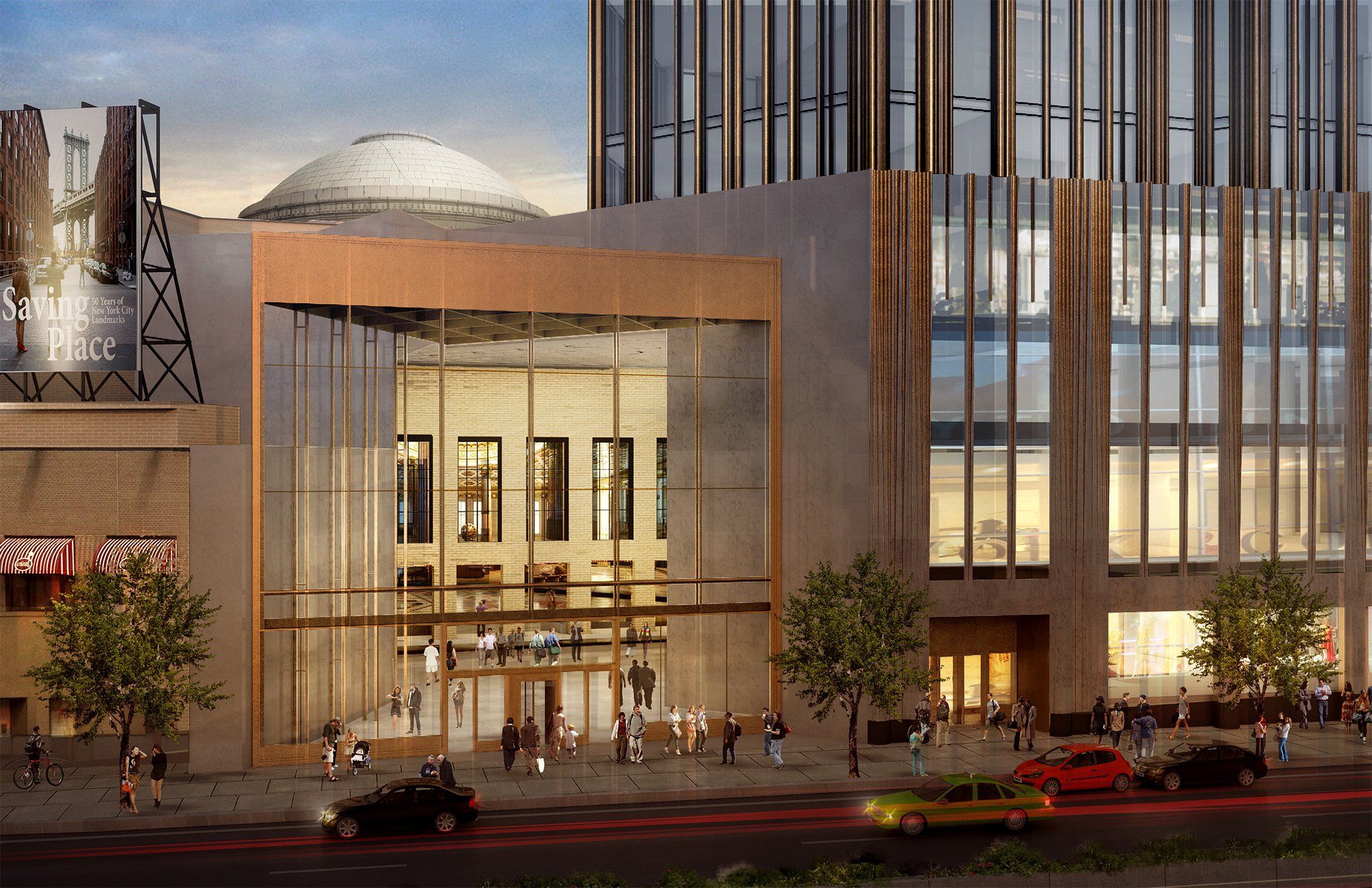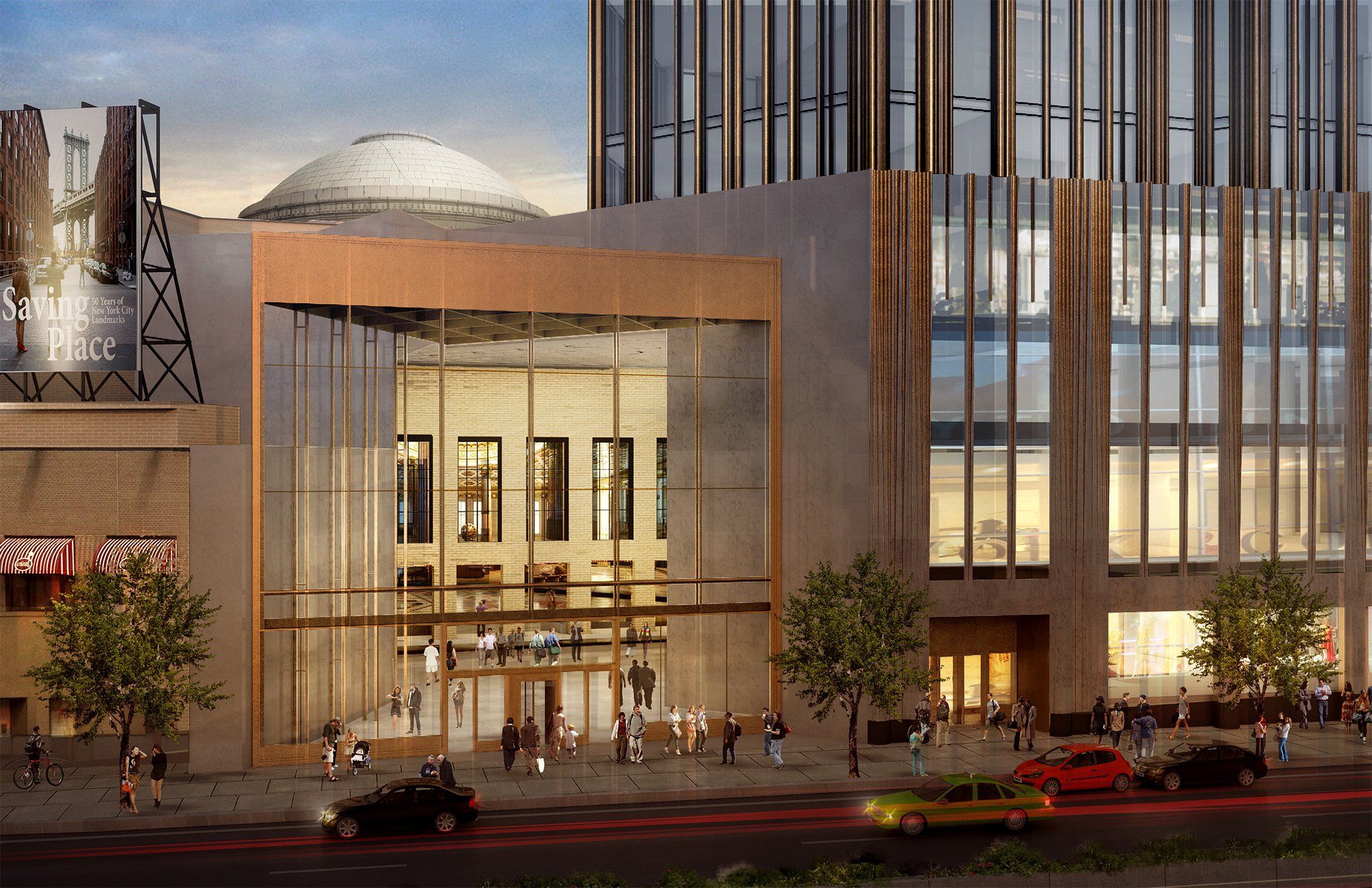 It's a done deal: the historic and landmarked Dime Savings Bank will be partially demolished in order to facilitate the construction of Brooklyn's tallest tower, in Downtown Brooklyn.
The city Landmarks Preservation Commission (LPC) voted to approve the changes — with the exception of the suggested removal of Bank teller stations — which would remove a wall and part of the dome in order to connect the mixed-use tower to the bank, which is slated to serve as a retail and restaurant space.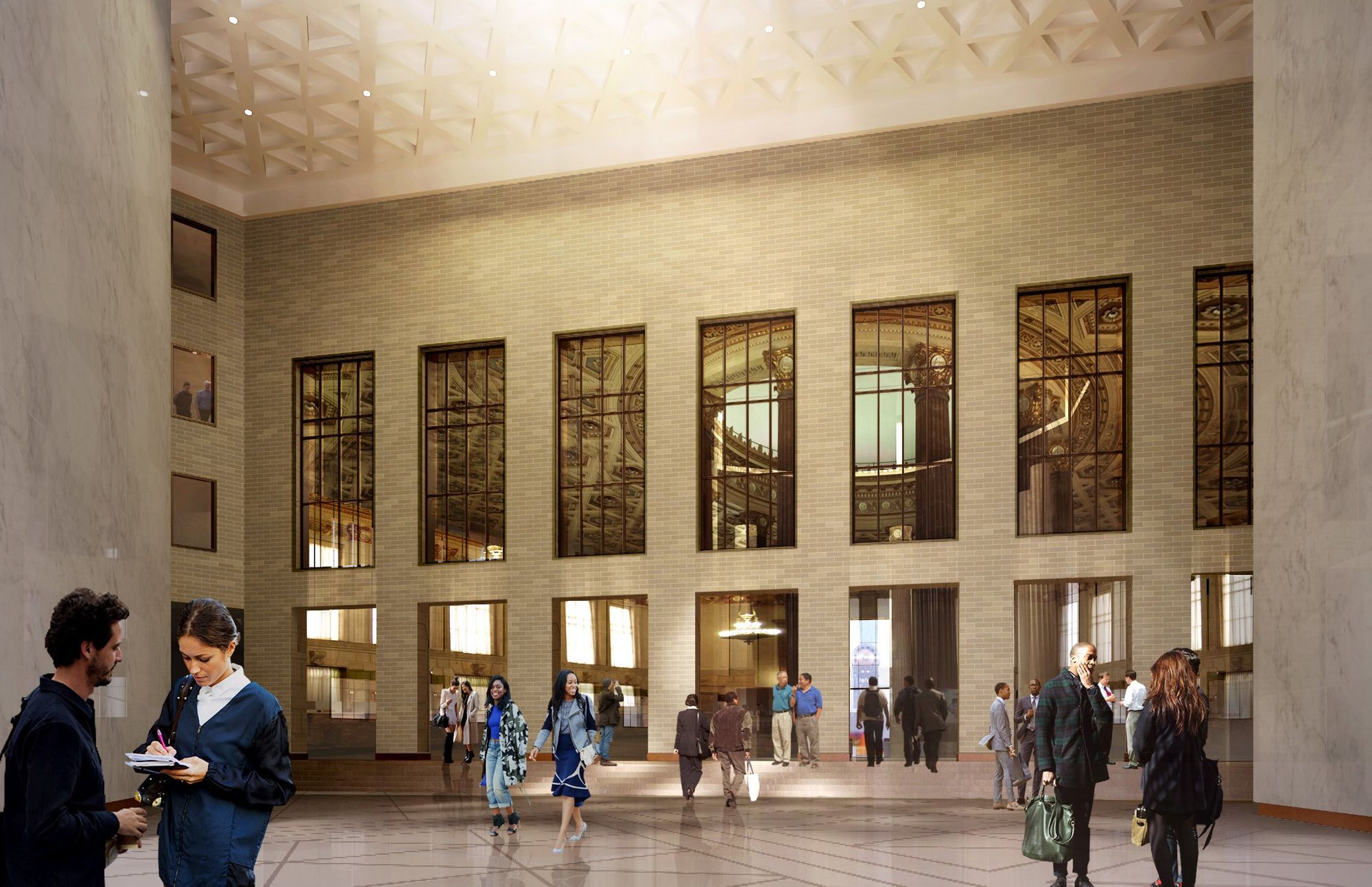 According to New York YIMBY, Commissioner Frederick Bland described the project as "exhilarating" and an example of "enlightened urbanism at its best." Commissioner Diana Chapin considered it "elegant and beautiful" and "respectful," with Commissioner Michael Goldblum echoing the sentiment, calling the tower "compatible" and "complementary" to the bank, which was built in 1906-1908 (byMowbray & Uffinger) and then expanded (by Halsey, McCormack & Helmer) in 1931-1932.
Not all the LPC commissioners agreed, though, with Commissioner Adi Shamir-Baron saying the project is an almost "complete departure from the historic," although he also voted to approve the changes.
The bank is located at 9 DeKalb Avenue and the planned tower will sit next door at 340 Flatbush Avenue Extension.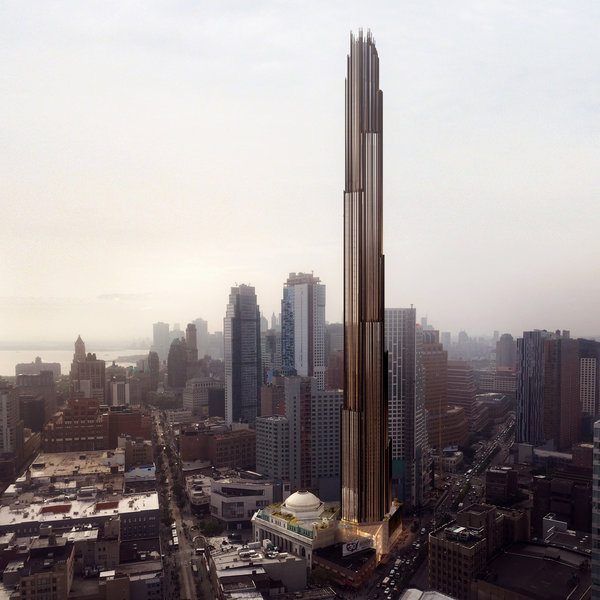 As we reported last month, the tower stand 1,066 feet tall with 73 stories and 90 floors (we're not sure how that works, exactly, but that's what the plans say), with 550 residential units across 466,000 square feet of space, plus 140,000 square feet of commercial space.
It is being designed by SHoP Architects (of Barclays Center fame), developed by JDS Development, and is slated to be complete by some time in 2019.
The bank building is on a triangular lot, but uses a hexagon to resolve its space. His supertall will use hexagons to shape its setbacks, and you'll always be able to see three faces. It will be more stone at the base and more metal at the top.
The bank modifications will include removal of some annex portions and ATM and teller build-outs at the main entrance and the addition of two entrances, one of them ADA, on Fleet Street. A one-story annex that faces Flatbush Avenue will also be removed. That will open up the space for construction of a glassy atrium (seen above) that will be part of the banking hall retail tenant (which has not yet been signed).
The project also includes restoration of the bank building. Richard Piper said the bulk of the work involves marble fracturing, copper repair, and window work.
[SHoP Architects' Gregg] Pasquarelli [also mentioned] the removal of teller stations, which, while they are marble in front, are mostly 1970s Formica behind. The purpose of their removal would be for added retail space, though one bay would have been left in place.