Poll: Should This Sunset Park Landmark Be Torn Down To Make A School?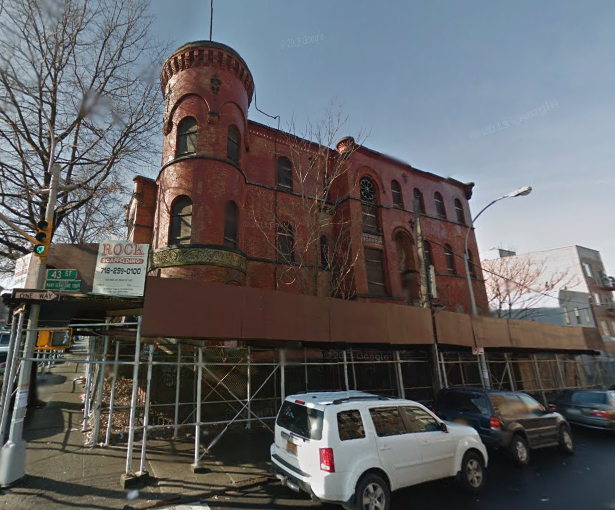 Sunset Park might lose a piece of its history to make room for school children.
As we reported last week, the castle built in 1886 that once housed NYPD precincts, is being considered by the Department of Education [DOE] as a new location for a desperately need school in an over crowded district.
The building located at 4302 Fourth Avenue  and the adjacent plot are being considered for a 12,5000-square-foot elementary school that would hold 300 seats, according to the School Construction Authority [SCA].
Although named a landmark in the 1980s, the building has been vacant since the 1970s, changing hands several times. Its current owner, developer Yosef Streicher, purchased the property in 2015 for $6 million, but was unable to restore it as initially planned.
At the Community Board 7 meeting held on the Monday, City Councilman Carlos Menchaca said that the site would most likely be torn down.
There is no word as to when this might happen, the manager of external affairs for SCA Tamar Smith said Tuesday "we do not have enough information at this time to make a decision regarding the demolition."
Before the project can move forward, the SCA will have to meet with the state Historic Preservation Office and the city's Landmark Preservation Commission.
The community had mixed reactions to the decision; some want them to just convert the building into a school without destroying it, while others are fine with demolishing the old precinct.
The community board and Councilman Menchaca hope that the development will revitalize the area since the castle is decrepit and covered in graffiti.
"We have to try and preserve the building as much as possible," said Elena Romero, 43, a parent and resident of Sunset Park.
She also acknowledged the issue of overcrowding in the schools since she has had to send her children to P.S. 133 in Park Slope due to schools in her area "bursting at the seams."
Officials have been searching for locations to place a new school, but have had issues with properties that are too small and landlords unwilling to sell.
Public comments concerning the proposed demolition will be open until July 15. A group created a petition to save the castle here. Take this poll and let us know what you think!
[poll id="2″]