Knicks Legend John Starks Joins Senator Golden And P.S. 112 To Promote Summer Reading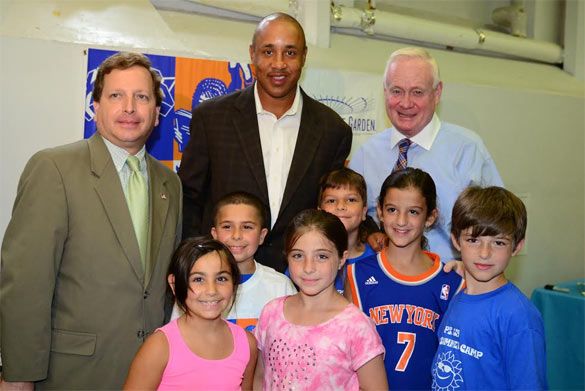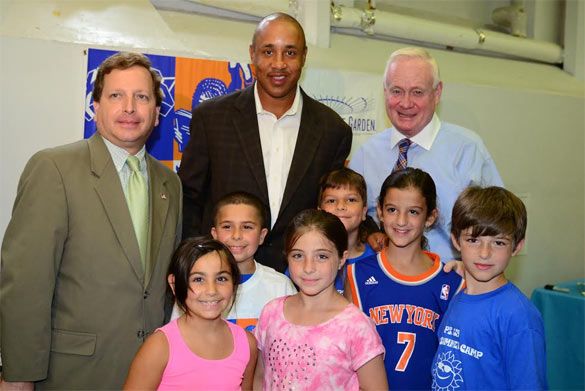 The following is a press release from Cablevision:
With a focus on promoting reading and literacy, Cablevision's Optimum and Madison Square Garden today brought the 8th Annual Knicks Summer Reading Program to P.S. 112 for young campers (ages 6-10) attending the Neighborhood Improvement Association (NIA) Summer Day Camp. Participating in the event was New York State Senator Martin Golden, along with former NBA superstar and Knicks Alumni Relations and Fan Development Advisor John Starks.
After welcoming remarks, Senator Golden and John Starks spoke about the importance of literacy. They also read aloud from the popular children's book, Allie's Basketball Dream by Barbara E. Barber. Following the reading, the children took part in a fun, interactive quiz about the book and participated in a raffle and autograph session. The children were also given a copy of the book discussed.
"Reading not only teaches it stimulates the imagination, strengthens self-confidence and fosters creativity, providing lifelong rewards," said Senator Golden. "I congratulate Optimum and Madison Square Garden for this innovative program that engages young minds in such a positive way and helps instill a love of literature in students from an early age."
"For eight years, Cablevision, in conjunction with Madison Square Garden has promoted reading programs in the communities we serve through its Summer Reading initiative," said Jennifer Ostrager, Cablevision Vice President of Public Affairs. "Programs such as this serve as a catalyst for instilling a lifelong love of reading."
Targeted to children ages 6-12, the Knicks Summer Reading initiative consists of a series of reading events at libraries, camps and community centers throughout the New York/New Jersey metro area. The program encourages reading through the use of incentives and is highlighted by book giveaways, ticket raffles, free t-shirts and read-aloud events with Knicks alumni and elected officials at select locations.