Knapp Street Bagel Cafe: Best Egg And Cheese?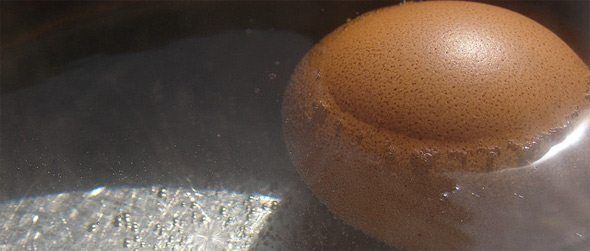 Knapp Street Bagel Cafe (2145 Knapp Street) was named as serving up one of the city's top egg-and-cheese-on-everything-bagels last week by the New York Times, making the rather new dough-boy a quiet-but-confident contender in the city's heated bagel scene. [Corrected: see below.]
Here's what the New York Times had to say, in response to a reader on a quest for the best breakfast sandwich:
The correlation between good bagels and egg sandwiches in New York City is and will always remain low. Good bagels are for schmears. They are for whitefish and belly lox. They are not for making into some kind of goyische morning Dagwood to be eaten in a pickup truck on the way to the hardware store. That is what bad bagels are for.
Still, I love this very sandwich, cooked with ham and Swiss in addition to the egg, at Knapp Street Bagel Cafe in Sheepshead Bay, Brooklyn. You could take a taxi down there from Midtown Manhattan. This would cost you $50, and you'd be furious at me for the rest of your life.
A Sheepshead Bites reader, Patty M., tipped us off to the Times blurb, saying:
Great place, opened dec 09, in the same shopping block as knapp street pizza. I was very impressed, i thought I was the only who had to have my egg and cheese on an everything bagel, everyday ! It's a wonderful place, I actually love the homemade chicken salad too !  Friendly staff, great people, GREAT BAGELS !  Oh and they have an "A" from the health dep displayed in window, can it get any better ! Good for Brooklyn ! great for Sheepshead bay ! We are just a great as these midtown joints!
What do you think? Knapp Street Bagel Cafe is the best for an egg and cheese? Or do we do better at some unknown joint?
Another reader, Corey K., also tipped me off to this. Thanks!
CORRECTION: The original version of this article stated that Knapp Street Bagel at 2771 Knapp Street (by the movie theater) was the business mentioned by the New York Times. This was an error in the address – the actual honoree was Knapp Street Bagel Cafe, at 2145 Knapp Street, near Avenue V. We apologize for the confusion, but, really, come on. Be more original with your name and this stuff won't happen.