Kingsborough President Defends College Against Accusations Of Anti-Semitism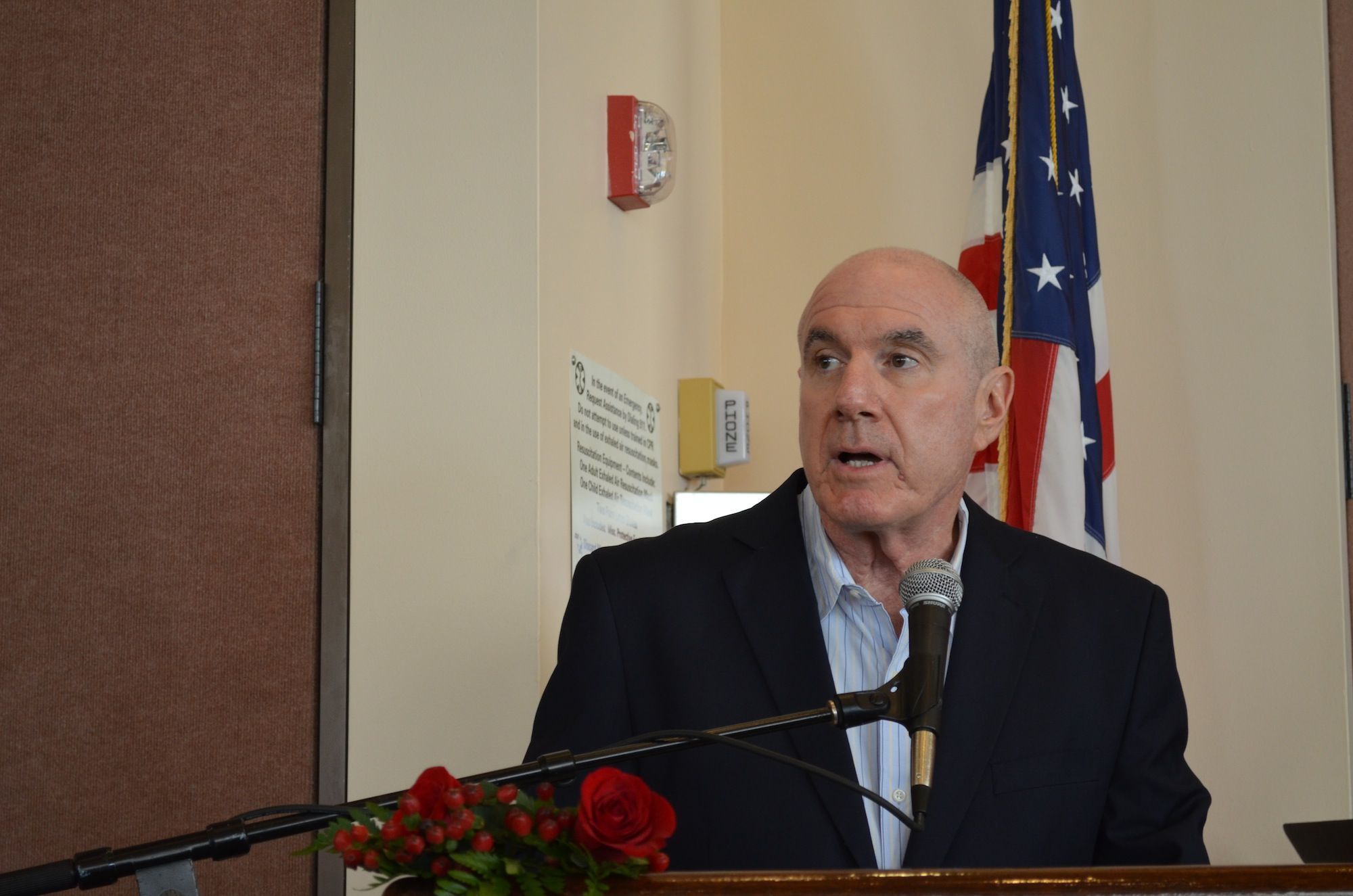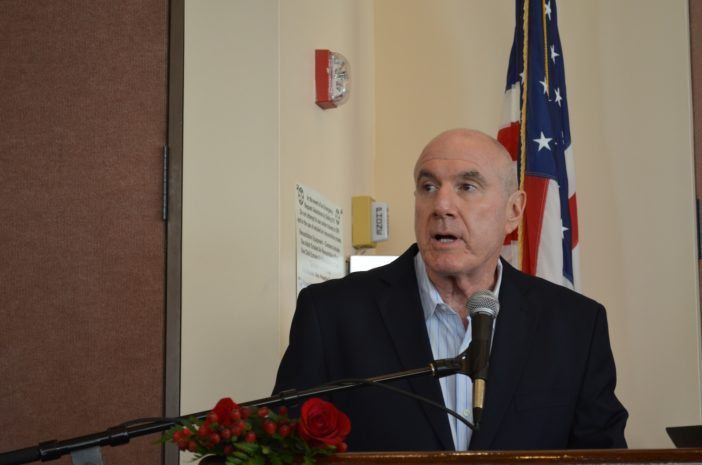 Kingsborough Community College President Farley Herzek waded into the discussion about anti-Semitic behavior on CUNY campuses while speaking Sunday at an event memorializing victims of the Holocaust.
Herzek, the son of a Holocaust survivor, pushed back against accusations of anti-Semitism at Kingsborough. He warned lawmakers and the media that divisive, unsubstantiated statements about discrimination at the campus put the future of the college and its students at risk.
"My father did not survive Auschwitz for his son to walk away when a wrong has been done," said Herzek. "What you do matters. What you don't do sometimes matters even more."
Herzek was the featured speaker at a ceremony honoring the winners of an art competition that asked students in local elementary, middle, and high schools to create projects dedicated to the victims of the Holocaust. The ceremony was hosted by Assemblyman Steven Cymbrowitz, who sponsored the contest along with Manhattan Beach Jewish Center, Holocaust Memorial Committee, the Lena Cymbrowitz Foundation and Project Witness.
"Honoring the survivors and their memories is one way of keeping the Holocaust alive in our hearts and in our minds," said Cymbrowoitz, whose parents survived a Nazi slave labor camp. "If we keep the lessons of the Holocaust alive, I believe we greatly increase our chances of keeping evil at bay."
Herzek tailored his speech to one of the questions the contest posed to students, which asked: "What types of injustice, historical and contemporary, would or will motivate you to take action for change?"
Herzek said the question motivated him to address allegations that his college failed to protect Jewish students and faculty from discrimination. He took aim at a letter — authored by Assemblymembers Dov Hikind and David Weprin — naming Kingsborough among the CUNY campuses with a Students for Justice in Palestine (SJP) Club. Herzek said the letter reported Jewish students being pushed, spat on, and having objects thrown at them.
"Kingsborough Community College does not have a Students for Justice in Palestine chapter," said Herzek, who argued the lawmakers would have known that if they reached out to the college before authoring the letter.
He also took issue with a story published in several media outlets, including Sheepshead Bites, about a Kingsborough professor's lawsuit alleging "systemic anti-Semitism" at the college. He said the media should have at least given the story further scrutiny.
"The press was contacted by a person who told their story and the story was printed," he said.
The consequences of supporting these accusations, he argued, will fall on the students at Kingsborough. Donors could turn their backs on the college, professors might not chose to work there, and students may be pitted against one another.
"So I ask what action should I take? It's pretty difficult. [These are] state leaders, newspapers — people of power who can basically make my life miserable," he said. "But there are 14,000 students that go here. Many of them depend upon the support of very generous people."
Herzek, who recalled seeing his father's arm stamped with a tattoo given by the Nazis, said the lessons from the Holocaust taught him about the consequences of not speaking out against divisive rhetoric.
"The Holocaust did not begin with trains leading to gas chambers," he explained. "It began with words spoken by people— People of authority, elected officials, politicians, academia, people in the medical world, business leaders. These words were printed in newspapers over and over and over again. Nobody checked to see if these words had any truth."
"Those words then turned into action," he said.
Indeed, lawmakers have previously threatened to pull funding from CUNY campuses due to allegations of hate speech directed at Jewish students. And recently, the State Senate threatened to withhold funding from CUNY until it was satisfied with the university's response to allegations of anti-Semitism, according to the Wall Street Journal.
However, Herzek, who also spoke about having family in Israel and serving as president of the Board of Directors for a Hillel in California, was careful to not equate the Holocaust with the CUNY controversy. But said he could not remain silent while the college's future was put in jeopardy.
"We all have to go back to who we are, what we believe in and what we stand for, and what we are willing to do for it," he said. "These are certainly individual choices, but if we choose to do nothing, both history and contemporary times show us what did and can happen."
Cymbrowitz, who has joined other lawmakers speaking out against anti-Semitism at CUNY campuses, said he thought Herzek's speech was "appropriate."
"I think what he brought up was the idea of words. And comparing to what happened before the Holocaust, how words were used, how hatred was used. I think that's exactly what words can do," Cymbrowitz said.