Students Look To A Tasty Future At Kingsborough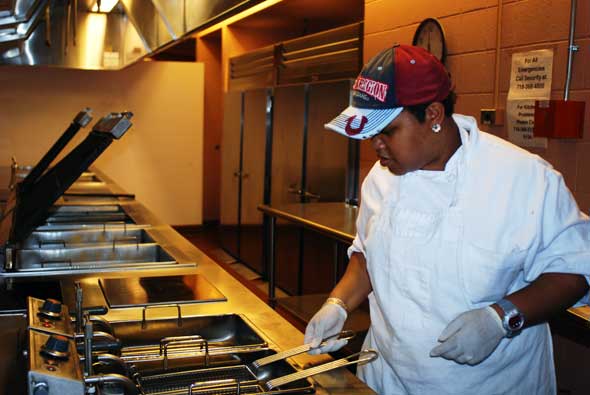 Melisa Carbajal's relationship with Kingsborough Community College is coming around full circle. After finishing an Associates Degree program at the school in 2007, the student is returning to be a teacher. She'll be one of a handful of chef-instructors in the school's budding culinary arts program, where she'll teach healthy cooking for cancer patients and survivors in a partnership with CookforYourLife.org.
"So many good things have happened," Carbajal said in front of a crowd of about 100 people at Kingsborough last night. "I couldn't have started in a better place than Kingsborough Community College."
But had it been a few years earlier, Carbajal never would have had the opportunity.
The group Carbajal spoke to was celebrating the launch of the Associate's Degree in Culinary Arts, the latest – and biggest – step towards maturing a program that was only born in 2001.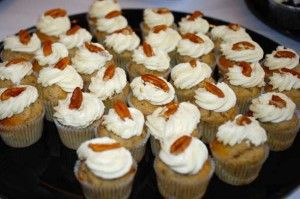 Faculty honored Carbajal as a distinguished alum, having attended the school through NYU's Community College Transfer Opportunity Program, shortly after moving here from Peru. She took some of KBCC's earliest culinary arts classes before moving on to receive her Bachelor of Science in Nutrition from New York University.
Unlike Carbajal, whose only option at KBCC was to receive an Associate's Degree in Tourism and Hospitality with a focus in Culinary Arts, students entering the program now will have the option of pursuing a two-year A.A.S. degree dedicated entirely to culinary arts. The 60-credit program guarantees more than 600 hours in the campus' four learning kitchens, learning by a method-based approach to cooking (as opposed to recipe cooking; think Iron Chef vs. Rachel Ray).
The program is tiny. In March, the school rolled out a soft launch, allowing a handful of students already matriculating at KBCC to switch majors. This September the first class of "off-the-streets" students will enroll in the program, and they've already accepted about 30 applicants. They don't expect to get much larger in the next few years.
"We'll always be a small program, but it will be a small, high quality program," said Jonathan Deutsch, director of the Culinary Arts Program.
The A.A.S. also puts the school amongst a tiny crew of public institutions in the New York Metro area offering degrees in culinary arts. The culinary industry is booming nationwide ("God bless the Food Network for making it look sexy and easy and wonderful," said Dr. Stuart Schulman, executive director of the Center for Economic and Workforce Development.). But degree-granting institutions in culinary arts have so far remained the province of the private.
"It's an industry that's dominated by private enterprises that charge students an enormous amount of money," said KBCC President Regina Peruggi. "We're proud to offer a public program. The teachers that teach here are not only great chefs and great cooks, but also great scholars."
The program is clearly hands-on. At the event last night, students prepped and cooked all the food, then donned waiter outfits and catered to the crowd. As part of the program, students get to experiment with regional cuisines, develop menus and make extra cash catering events on campus. The latest trends in food education are integrated into the curriculum, including teaching about organic, sustainable and local foods.
And for those budding entrepreneurs in the kitchen, students can use the school's facilities as an incubator to develop products for their food business (Non-students can also rent out the facilities for the same purpose through the "Kitchen Innovations" program). Some familiar brands that were born out of KBCC's incubator kitchens include Brooklyn Fudge, People's Pops and Early Bird Granola.
Faculty are looking at the launch of the A.A.S. as a milestone they've been working towards since the first culinary classes were introduced at KBCC in 2001, when some teachers brought their own pots and pans to class. But as they go forward, they look to develop more innovation that puts students ahead of the curve, like the rooftop gardens, green certified kitchens and community outreach programs currently in development at the school.
"We're now asking about where our food comes from, how it's grown. We're exploring urban agriculture and reinvigorating 'food deserts' like Coney Island and Williamsburg," said Dr. Schulman. "[KBCC's Culinary Arts program is] kind of like a weigh station between here and the future."
Find out more about Kingsborough Community College's Culinary Program at its website.