Kings Plaza Parking Garage Still Hazardous, Firefighters Say As They Draft Code Revisions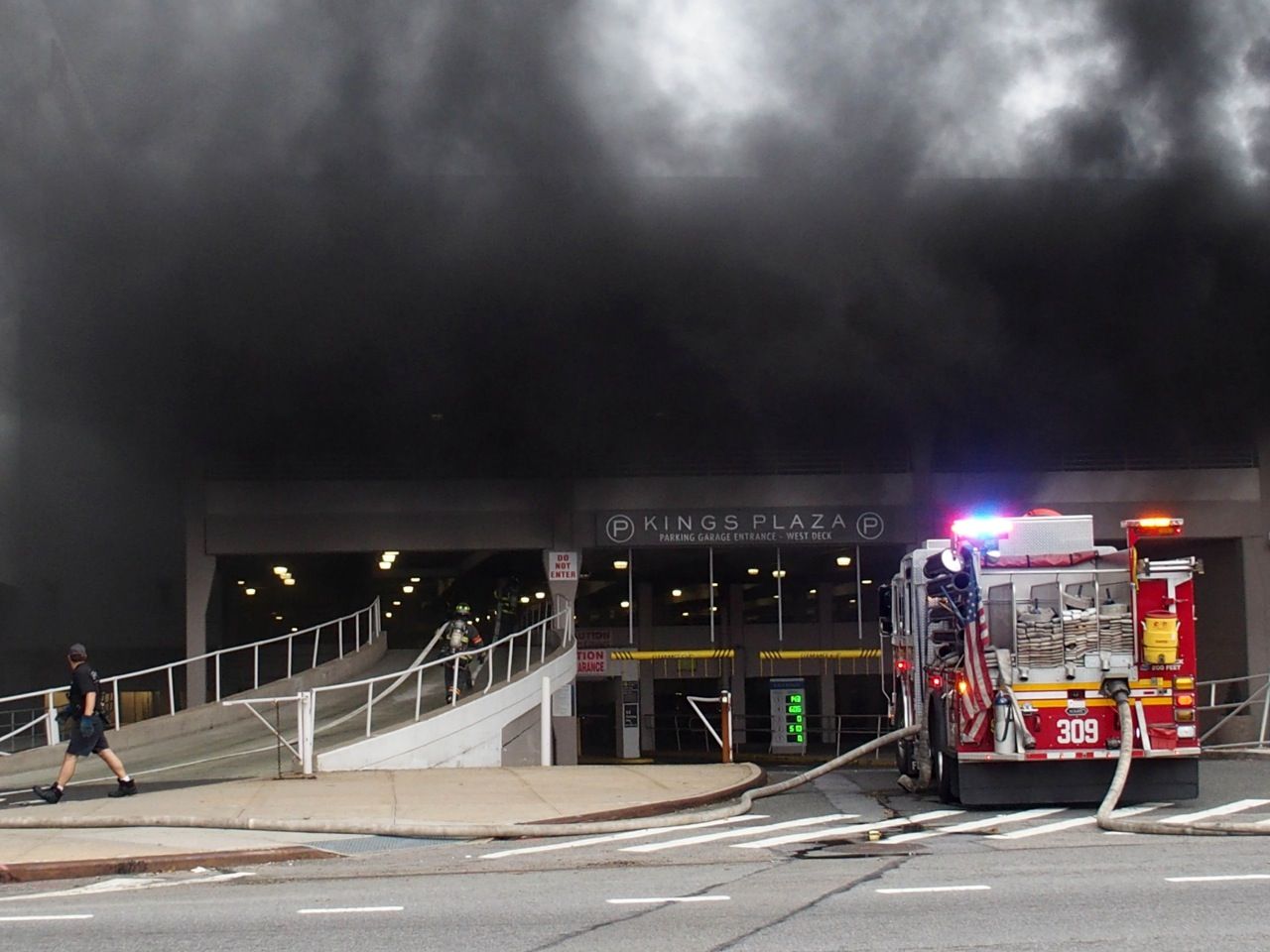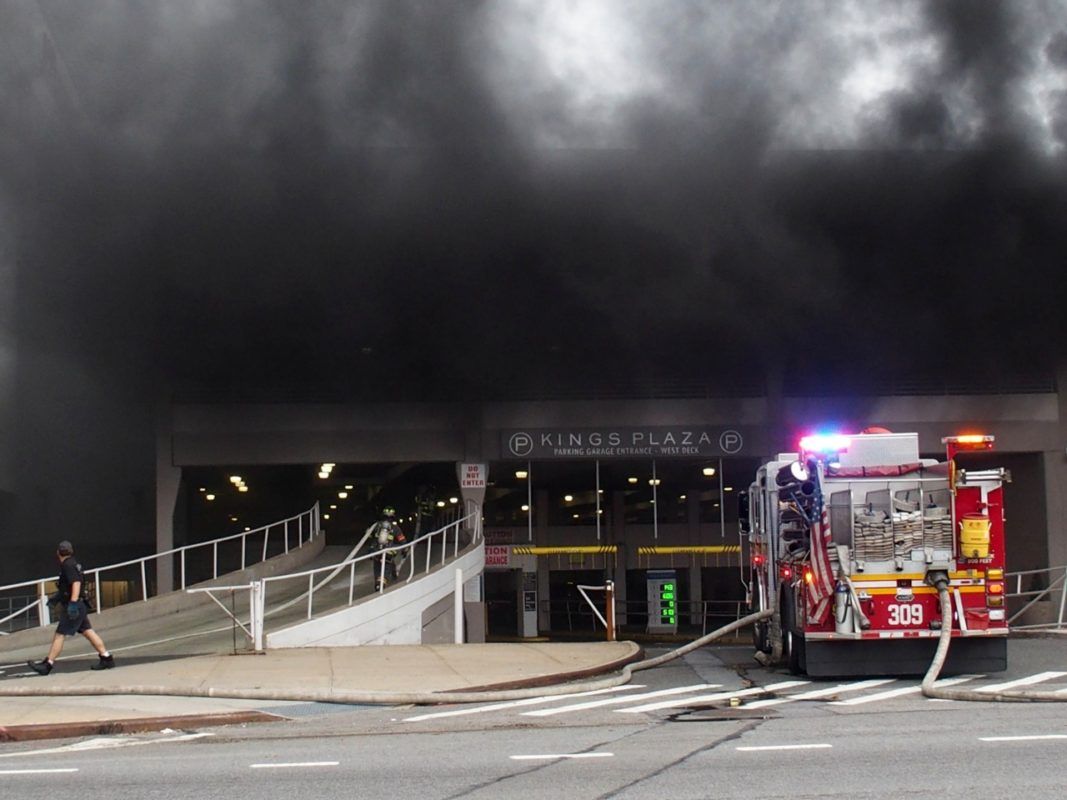 KINGS PLAZA – As the seven-alarm fire engulfed Kings Plaza mall's parking garage, radios used to communicate by firefighters kept going in and out. There were seven "May Day" calls from firefighters during the height of the fire that consumed over a hundred cars on Sept. 17, 2018, whose oxygen tanks were depleting as they were lost in the dense smoke.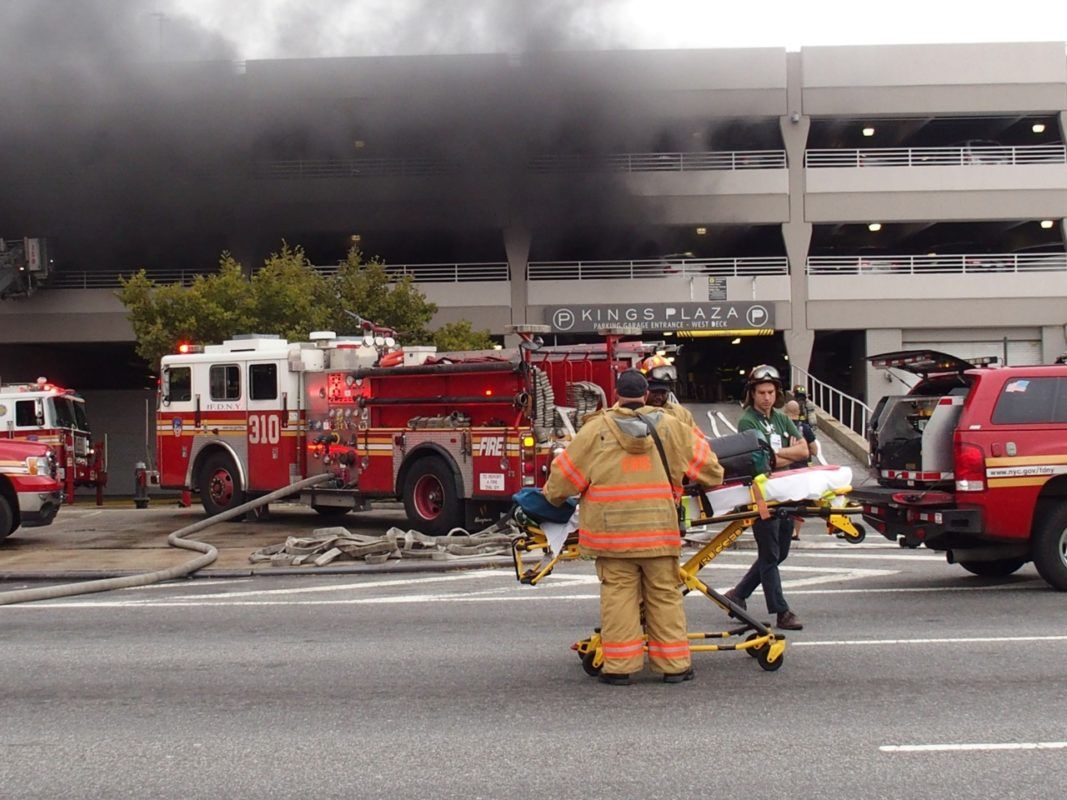 These communication deficits were revealed at an FDNY drill at Kings Plaza over the Memorial Day weekend. Fire officials say the facility has many radio "dead-zones," and simple radio "repeaters" installed in such locations might have mitigated the "dead-zones" protecting many firefighters from injury.
More than 21 people, 18 of whom were firefighters, were injured in the smoky blaze that involved more than 100 vehicles being stored there by a local Jeep dealership.
More than 40 firefighters toured the site on Saturday, May 25, some of whom had battled the fire that September day. Firefighters recounted harrowing tales of desperate men lost in the heavy black smoke, their air tanks running low as they stretched lines and searched for trapped civilians.
Officers said it was lucky that the mall didn't open until 10 a.m., therefore there were few civilians in the mall at the time of the fire. Nonetheless, firefighters needed to stretch lines, sometimes hundreds of feet into the parking garage on the third level where many of the new vehicles that were set on fire were parked.
"It was a very scary moment during the fire, I didn't know where anyone was – you feel helpless," said one officer.
"The radios weren't working in there, and we were getting May Days, (firefighter in trouble) when the radios did work," said another officer. "You didn't know where anyone was. The radios simply weren't working in there."
Repeaters are now required in any new high-rise construction and have been installed in other buildings around the city. Deputy Fire Commissioner Frank Gribbon confirmed that many high-rise buildings installed repeaters after 9-11 to help firefighters deal with communications problems in tall structures.
But the building code does not currently require repeaters in other structures such as mall parking garages, which are often constructed of concrete and cut off radio communications for first responders. A repeater amplifies and extends radio range and is used by emergency services. Gribbon said other buildings have what are called mimic repeaters or ARC systems that allow communications in tall buildings.
"We have our own repeater system we bring in that is used by command," Gribbon said.
While portable repeater systems are brought in by firefighter Field Com units, it is the critical first few minutes that first responders need solid communications that radio continuity is required as firefighters search for civilian casualties and evacuations and make their first attack on the fire. During the Kings Plaza fire, repeaters were eventually put into action. But by then, most of the initial injuries and May Days had already occurred, firefighters say.
Fire officials said they are drafting fire code revisions that involve "low rise buildings, that will include parking garages and shopping malls." The last revision to the fire codes was in 2015, but the changes didn't focus on low rise buildings.
The revisions would impact Kings Plaza, which is more than a million square feet of space commercial space and parking. Fire officials added that the revisions to the fire code would include installation of repeaters.
Subsequent tests by fire commanders at Kings Plaza, officials said, revealed that "handi-talkies" used by firefighters on scenes of fires worked properly at ramp areas and that installation of repeaters in the building constructed of heavy reinforced concrete would help.
"Changes to the code will make it so that firefighters don't need to be near the ramps," an official said.
Despite complaints from Community Board 18 and concerns by the FDNY, Kings Plaza continues to store new cars, stickers still on them in many cases from a Flatbush Avenue Jeep dealership, on several levels of the parking garage.
"They opened the mall to car parking for 24-hours, that may be their way around it – but they are not good neighbors – at Kings Plaza, they are slick," said Dottie Turano, district manager for Community Board 18, who maintained that storing the cars in the garage was "illegal."
However, she understood that the reason the cars are stored there is because of 2009 Hurricane Sandy having flooded the neighborhood and the dealerships, and their insurance requiring them to protect the cars from potential flooding. A new GM dealership was constructed on a hill on Flatbush Avenue across from NYPD Highway 2 headquarters to avoid exposing vehicles to flooding from any potential storm surge.
Turano said that if improving communications in parking garages is "not mandated, they will not do it."
"Kings Plaza is a money-making place," Turano said. "They are not going to accommodate anyone and we are frustrated because they are still storing cars there – the problem still exists. The Department of Buildings was giving them summonses, but they shouldn't only be fined. They had a 7-alarm fire."
The Department of Buildings said they issued violations to the owners of 5100 Kings Plaza for "Illegal Occupancy Contrary to the Certificate of Occupancy," both following the September 2018 fire, and during subsequent inspections. These violations were issued because DOB found numerous vehicles without license plates or registrations at the time of the DOB inspection, being stored in the parking garage.
Officials for the Department of Buildings issued a statement saying the Certificate of Occupancy (CofO), for the Kings Plaza Mall garage "allows only parking that is accessory to the mall and does not allow for vehicle storage." In order for Kings Plaza to legally use the space for vehicle storage they would have to apply for a change of CofO.
While scores of cars are still being stored at the Kings Plaza's parking garage, firefighters fear that communications without repeaters should there be another fire might be extremely hazardous.
Fire marshals later arrested 23-year-old Avon Stephens, 23, who told a federal judge that he lit a car on fire with matches as he entered his guilty plea on May 5 to charges of use of fire to damage property. Stephens, apparently homeless, was previously warned by security not to sleep in the garage, but he later allegedly managed to break into one of the cars and set the fire. He faces at least five years in prison for the conviction when he is sentenced on August 20.
Repeated calls to Kings Plaza officials were referred to the property manager Steve DeClara who was not available for comment.