Kids Say the Darndest Things: A Guide to the Slope's Kid-Friendly Restaurants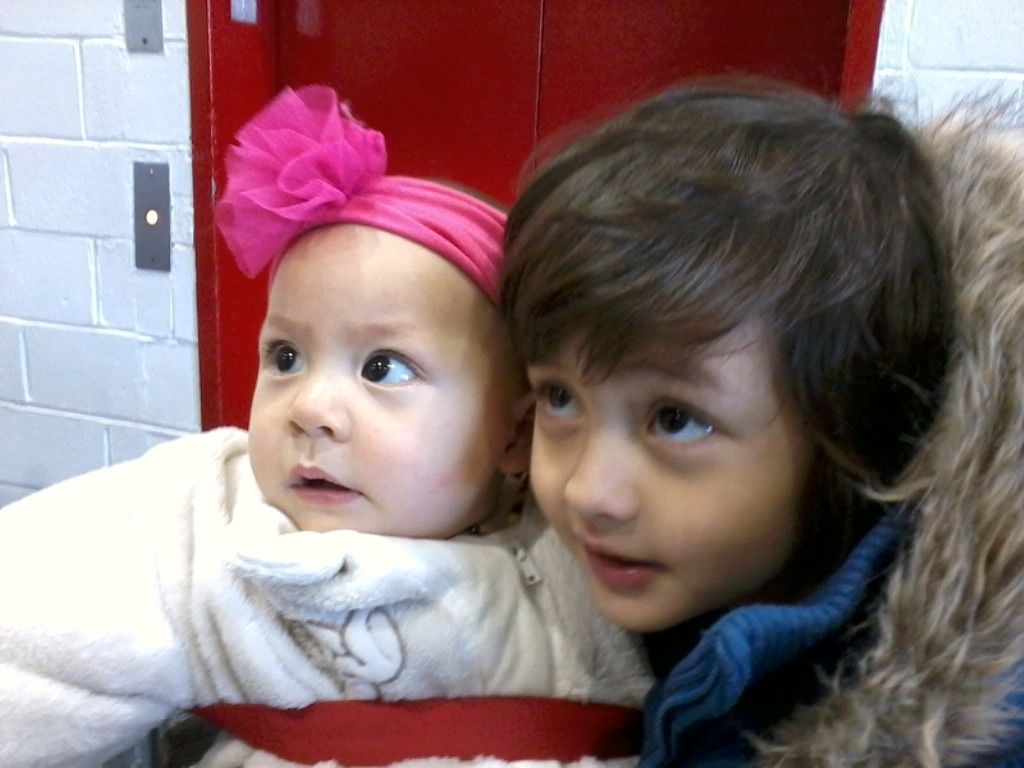 Endearing conversations and childish laughter are part of the background music in Park Slope, a town populated with happy families. Like little kangaroos, bunny-eared babies smile (or bawl) from Mommy's front pouch, while teenagers converge at the local pizza joint to grab a slice and the latest gossip after school. I saw an actual stroller traffic jam on my corner yesterday.
Demand from our young– and ever-growing– demographic calls for some of Park Slope's enterprising restaurants and cafes to become a haven for parents to bring the little ones for a welcome and much-needed respite. A place besides home to laugh, cry, spill, deliver an Oscar-worthy temper-tantrum, and run around unattended without Mommy having a heart attack, these businesses are part of the reason Park Slope parents maintain a shred of sanity.
Coming from the heart, Park Slope thanks and salutes all of you brave business owners and employees. You are the wind beneath our wings.
(Photo via Saya Velasquez)
La Villa, 261 5th Avenue (Garfield Place), (718) 499-9888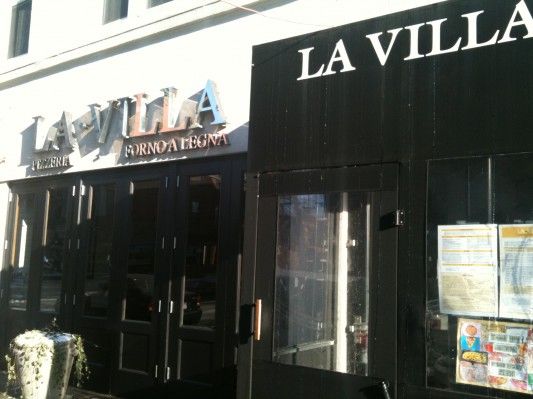 "You promised we could go to La Villa, Mommy!" – Jackie, age 4
Kids love La Villa. Perfect for family gatherings or a stress-free Sunday night dinner, La Villa is known in the Slope for their sinfully cheesy brick oven pizza and first-rate staff. With a spacious interior and plentiful seating, kids are entertained with coloring books, crayons, and oozing slices, as parents enjoy the elegant Italian menu, extensive wine list, and generous portions. La Villa serves a communal dinner with family-style plates, pizza pies delivered to the table, and plenty of room to spread out and be (reasonably) loud. Family favorites include Focaccia della Nonna (Grandma's pizza) with mozzarella, crushed tomatoes, fresh garlic, basil, and tuscan olive oil ($14) and Caprese deep-dish pizza with layers of buffalo mozzarella and vine-ripened tomatoes ($13), or pasta dishes like Linguini Marinara ($12) and Lasagna Bolognese Al Forni with ricotta and meat sauce ($13.50). No one leaves La Villa hungry.
Da Nonna Rosa, 140 7th Avenue (Carroll & Garfield Place), (718) 788-6225
"I like it because there's food and there's special menus to play with." – Samara, age 3
A casual Italian cafe with spacious booths, crayons, and coloring sheets, kids can make a guilt and hassle-free mess at Nonna Rosa over buttery garlic knots and pizza. Great for take out or a quick and delicious dinner on the way home, the friendly staff provides attentive service while leaving the family to eat and play without a fuss. Whether dining in the casual and spacious back room, or taking out an affordable Italian meal to bring home, Nonna Rosa = easy night for parents. Add veggies to their plate with Nonna's Pasta with butter, carrots and peas ($7). Favorites for parents include: the Penne Vodka Classico ($11) or Grilled Eggplant & Spinach Lasagna ($13). Bellisima!
Yamato, 168 7th Avenue (Garfield & 1st Street), (718) 840-0099
"I like the fish part, the rice part, and the outside part." – Maddie, age 8
Leave it to our Park Slope kids to appreciate the delicacy of raw fish. Mini sushi connossieurs congregate at Yamato, where everyone is treated like a grown-up. With child-friendly chopsticks, coloring books, spacious booth seating, and yummy California rolls ($4), Yamato combines elegant dining with affordable prices. A healthy meal and chopstick lesson rolled into one, kids learn to expertly lift their sushi while nibbling on a nutritious Edamame appetizer ($4). In warmer weather, set them free in the backyard jade garden, complete with waterfall and shiny rocks.
Purity Diner, 289 7th Avenue (7th Street), (718) 840-0881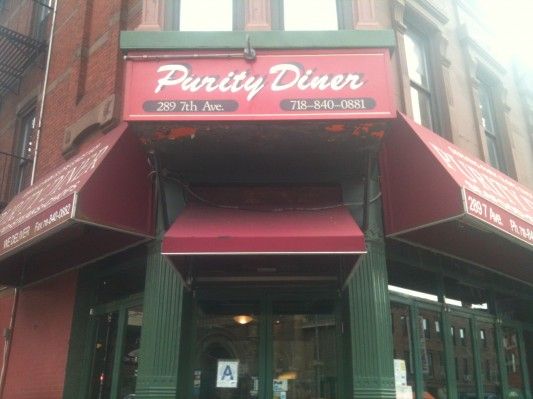 "It's the only place I like." – Ariel, age 7
At Purity Diner, kids have license to make some noise, and the inevitable mess. With booster seats, coloring books, crayons, and a staff that that knows their little customers, this no-frills diner is an ideal destination for a weekend brunch or casual meal. If you sense a tantrum brewing, never fear: Blueberry or Chocolate Chip Pancakes  ($7.75) and Hot Chocolate with Whipped Cream ($1.75) to the rescue! Whether stopping in for a plate of delightfully greasy french fries or a healthy wrap, Purity's laid-back ambiance and child-friendly staff make life easy.
Smiling Pizza, 323 7th Avenue (9th Street), (718) 788-2137
"Let's grab a slice on the way home." – Eli, age 14
A well-known pizza establishment for Park Slope veterans, Smiling Pizza brings back nostalgic memories of chummy high-school days, after-school sports, and broken hearts for some parents. The "it" spot for midday lunch or a 3pm snack, Smiling offers delightfully greasy pepperoni slices of "za"  ($3) and booth seating for teens or families looking for a quick bite. Delivery or take out is available for no-cook Friday movie nights, too.
Scottadito, 788 Union Street (7th & 8th Avenue), (718) 636-4800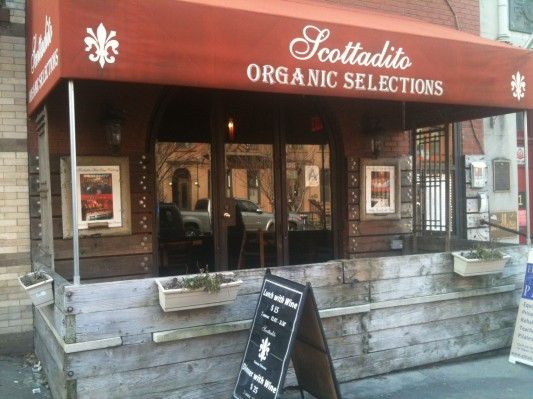 "Pasta pesto! YAAAY!!!!!" – Chloe & Maddie in unison, ages 10 & 8
Consistent with the community spirit of Park Slope, Scottadito welcomes and invites children; on Tuesday nights kids eat for free in this warm, inviting, and organic Italian bistro. With fireside dining and a sophisticated menu, Scottadito gracefully manages to maintain an elegant and romantic ambiance for adults while accommodating their little patrons. Parents can relax with a plate of Bucatini Carbonara ($16) and a glass of Chianti as the kids become placemat Picassos under bottomless bowls of pasta. Perfect for a large family gathering, I watched my niece daintily polish off three helpings of pasta pesto as the adults shared a bottle of wine. Everyone left happy.
Two Boots, 514 2nd Street (7th & 8th Avenue), (718) 99-3253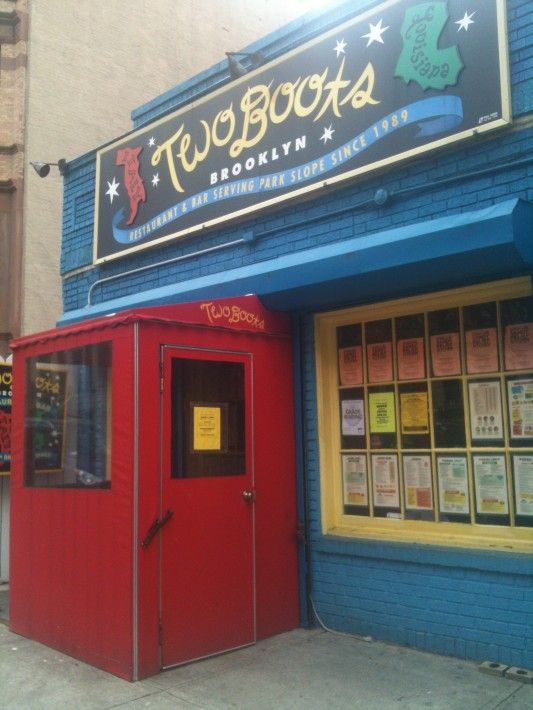 "Look Mommy, I'm making pizza." – Santiago, age 6
With a special called Pizza Face (a smiling pie with pepperoni and black olive eyes, a broccoli nose and sliced red pepper lips for $7.95), parents can't go wrong at Two Boots. A festive dining experience for the whole family, enjoy a night of dinner and dancing with a funky live music schedule ranging from jazz and world music, to samba and rock n'roll. Kids can dance, color, and have a pizza-tossing lesson while Dad feasts on the Cornmeal-fried Oyster Po'Boy ($10.95) and Mom sips a frozen margarita. It's impossible not to have fun at Two Boots.
El Viejo Yayo, 36 5th Avenue (between Bergen & Dean Streets), (718) 622-8922
"Can we dance at Yoyo?" – Liza, age 5
Yayo is the spot for kids to PARTY. With roomy booth seating, a casual ambiance, great food, and local live music, kids can let loose and dance the night away while parents feast on Yayo's authentic and affordable menu. With dishes ranging from Mar y Tierra (the Dominican version of Surf n' Turf for $22.95) to Beef Oxtail Stew ($12.95), El Viejo Yayo is the real deal when it comes to Latin American fare. But never fear, breaded chicken or pasta with butter is available for the little ones (although they'll be busy hanging out with the band). So dive into a bowl of Paella ($26.95) and set the kids free. An added bonus: free parking!
(Photo via Here's Park Slope)
Culture, 331 5th Avenue (3rd & 4th Street), (718) 499-0207
"So many different toppings, right mommy?" – Sakura, age 4
A favorite stop for kids and parents alike, Culture serves up in-house homemade fresh and frozen yogurt with all natural ingredients and plentiful fresh and artisanal toppings. The owners of Culture care about serving a nutritious product to their community, and it shows. Culture yogurt is made from 100% Hudson Valley organic milk and contains probiotics—or healthy bacteria that your body needs—known for supporting digestive health while possibly delaying development of allergies in children. Generally packed with parents and kids getting their daily fix, this family-friendly yogurt bar also serves as a lively social destination. Everyone wins at Culture.