Kensington & Boro Park Rank Top 5 In Lack Of Internet Access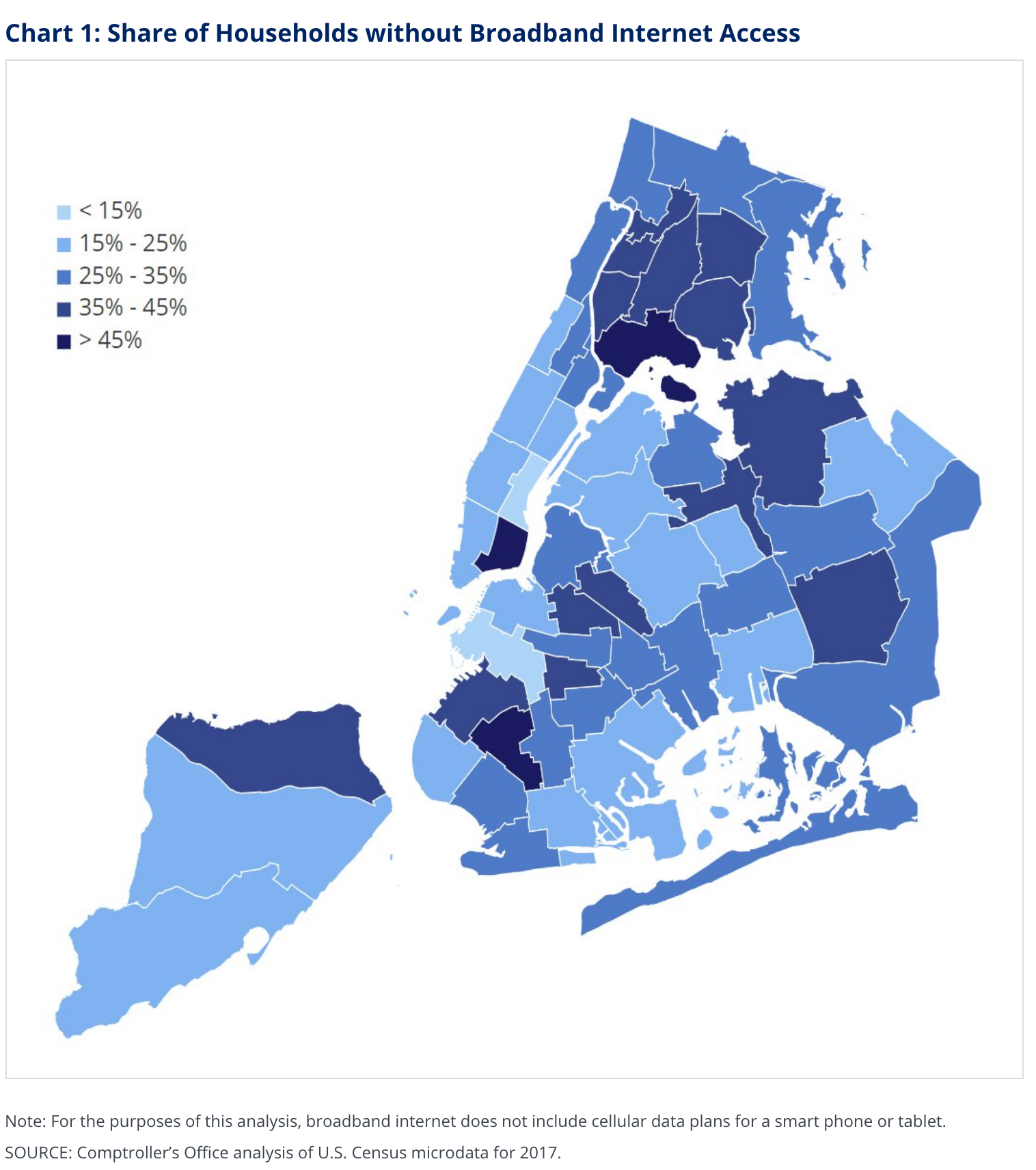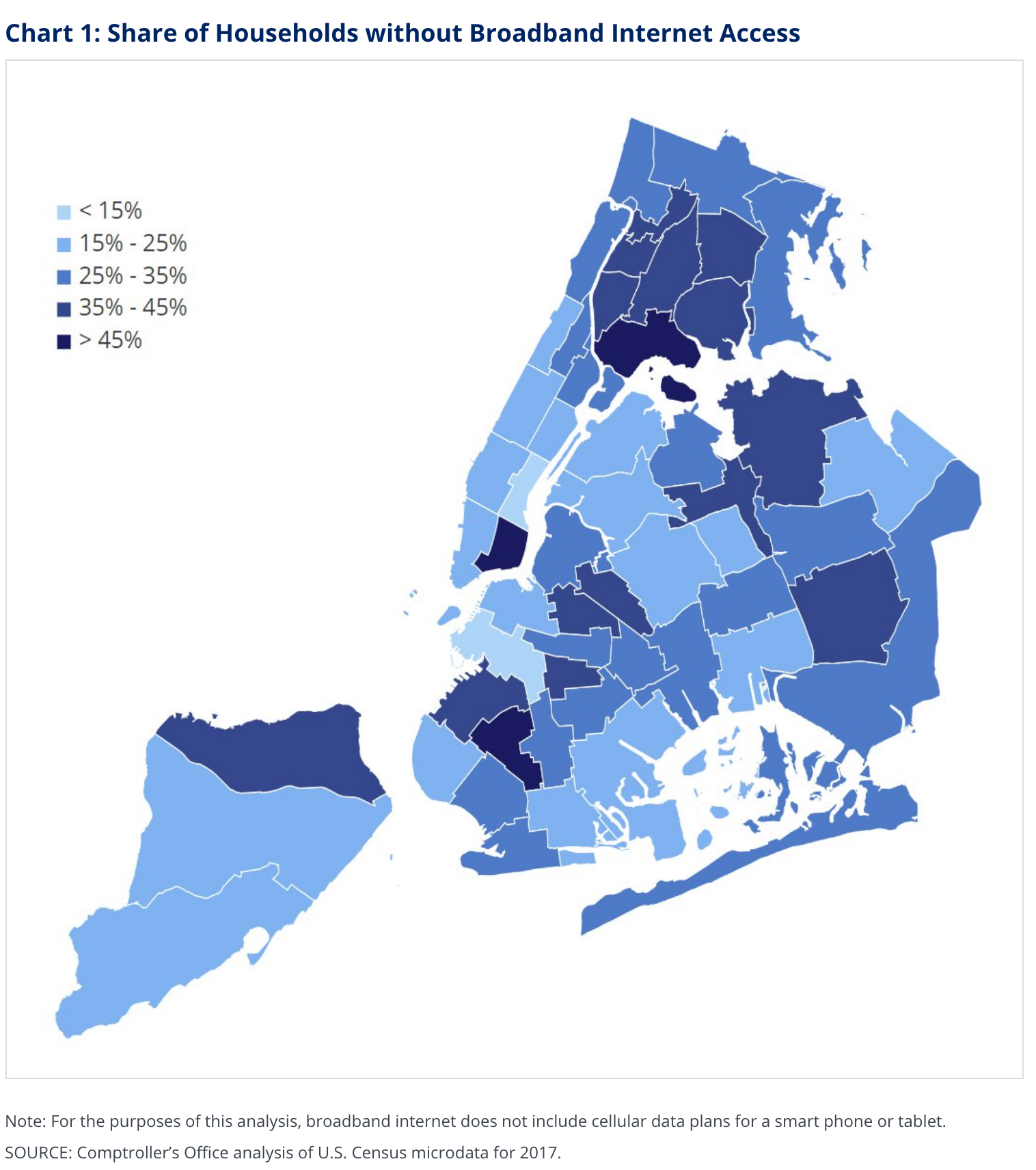 KENSINGTON/BORO PARK – In a report studying internet access in various neighborhoods across the city ahead of the 2020 census that will mostly be conducted online, Kensington and Boro Park are in the top five lacking access to the internet.
According to NYC Comptroller Scott Stringer's analysis, 46 percent of households in Kensington, Boro Park, and along Ocean Parkway do not have access to the broadband internet. Other neighborhoods include Chinatown & the Lower East Side (50 percent without access), Hunts Point, Longwood & Melrose (48 percent), Morris Heights, Fordham South & Mount Hope (44 percent), Belmont, Crotona Park East & East Tremont (43 percent), and Jamaica, Hollis & Street Albans (43 percent). Socioeconomic factors play into these numbers, the report says.
"Internet disparities track closely to socioeconomic factors like poverty and are most apparent in traditionally marginalized communities. 44 percent of New Yorkers in poverty lack broadband internet access, as opposed to 22 percent above the poverty line," the report states.
"About 30 percent of Hispanic and Black New Yorkers, respectively, lack broadband internet access, compared to 20 percent of White New Yorkers and 22 percent of Asian residents."
"Comptroller Scott Stringer's new report today shows the digital divide across our city runs deep," State Senator Jessica Ramos said. "This report shows that targeted outreach is absolutely necessary to ensure that we get a full, accurate count in the 2020 Census. We must work to ensure that our immigrant and low-income communities know the census is happening, understand the importance of being counted, and are being counted so that they receive the resources and representation they need."
To try and close that gap before the 2020 Census, Stringer is proposing the following recommendations:
Send paper forms to communities with low rates of broadband internet connectivity.
Ensure that community-based organizations, libraries, and other groups are adequately resourced for the unique challenges of a digital Census.
Expand digital resources at public libraries.
Expand public awareness campaigns.
Leverage city assets.
Install Census kiosks.
Enlist Census workers with appropriate translation abilities and cultural competencies, regardless of citizenship status.
Prepare for problems.
"When it comes to the Census, the Trump Administration has pursued an all-out assault on non-white communities in a paper-thin effort to intimidate immigrants into invisibility," Stringer said. "They've failed but we can't allow the digital divide to contribute to the President's heinous efforts to undercount communities of color and compromise the Census."
"A complete and accurate count is essential for New Yorkers to receive the resources they need – for many residents, programs that are lifelines are in jeopardy. Data is power, which is why duplicitous forces are intently focused on using the count to hold back marginalized communities," he continued. "We have to do everything in our power to ensure they fail. The Census comes once every ten years – and we get one chance to get it right. Let's ensure digital access doesn't end up being an obstacle to a full Census count."