KCC Shuttle Buses In Jeopardy As Students Abuse Emergency Exits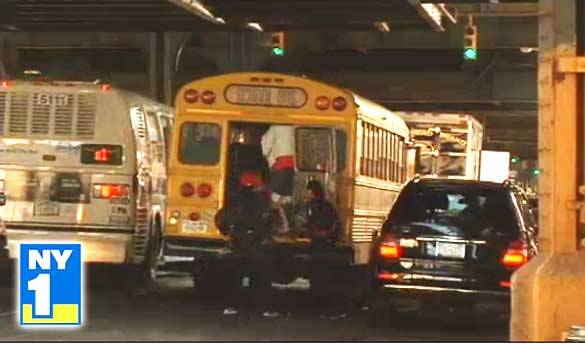 The Kingsborough Community College yellow buses that have been shuttling students from the campus to the Brighton Beach subway station is now in jeopardy, as school officials threaten to cut the program following complaints that students are using the rear emergency exit to disembark.
NY 1 reports that locals are complaining about students dangerously jumping from the rear door in the packed shuttle buses, rather than make their way to the front when the buses arrive at the station.
The school launched the shuttle program several years ago to alleviate crowding on the B1 and B49, by providing an alternate way for students to get to the station. A cancellation of the program would put hundreds of students back on city buses.
But the school isn't giving the ax to the shuttle buses, operated by SAFE Coach Bus Company, just yet. In the face of complaints, they've placed school safety officers on the buses and are warning students of the risks of using the back door.
The bus company, though, is also coming under fire from the MTA, which claims that the yellow buses are pulling into city bus stops, forcing the B1 to pull two car's widths away from the curb, discharging passengers and disabled riders into the street rather than the sidewalk. The school said SAFE is now working with the MTA and the NYPD to find a better place to let passengers out.
The MTA said they're also adding more B1 and B49 buses to the route, beginning next week.