KBCC Cooks Up Free Job Training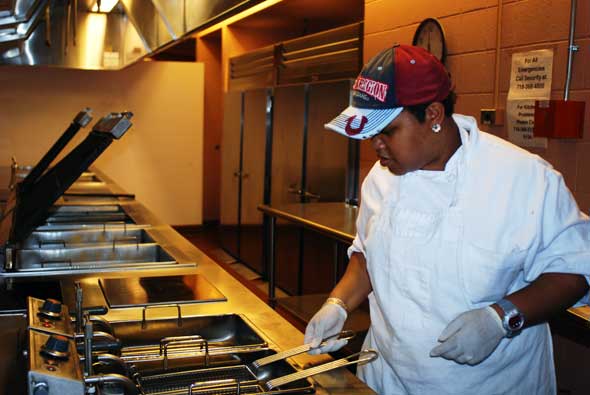 If you've ever watched Hell's Kitchen or Top Chef and said to yourself, "I wish that was me" – this is your chance to develop some real culinary skills for free!
It goes without saying that our economy is in a difficult time. With so many qualified applicants flooding the job market, younger and less experienced job applicants can find the search daunting. If you're not currently employed or a full-time student, then the CUNY Young Adult Program has a wonderful opportunity for you to add to your skill set and open up a career path. The program is providing free Food Service/Culinary Arts training to eligible people at KBCC. The program is being advertised via Facebook and Craigslist in an apparent bid to appeal directly to 18- to 24-year-olds.
We told you about Kingsborough's newly-launched Culinary Arts major back in May. The new kitchens, expert faculty and innovative program make this a bargain for young adults.
Here's the text from the ad:
SPACE IS LIMITED! APPLY NOW! Call 718-368-5775 to sign up for an information session now!
ARE YOU COMMITTED TO GETTING A JOB IN CULINARY ARTS/FOOD SERVICE?
Let the CUNY Young Adult Program at Kingsborough help you get the skills you need to land a job in the booming food service business!
If you are a NYC resident, 18-24 years old, looking to break into the growing field of food service, you may be eligible to take part in Kingsborough Community College's CUNY Young Adult Program, a FREE food service job training program.
Once accepted, students will receive intensive hands-on training and certification in food service AT NO COST. The 14-week program includes full-time instruction; chef uniform, books and supplies; Metrocards;
internship opportunities; certification test fees; job placement and college application assistance; and up to 12 college credits.
Applicants MUST NOT be enrolled in college or employed full time and must be legally permitted to work in the U.S. Applicants MUST HAVE a HS Diploma or GED and MEET FINANCIAL ELIGIBILITY REQUIREMENTS.
Call 718-368-5775 to sign up for an information session now! Space is limited!
Training begins September 7, 2010.