Kagan Revives Call For DOT To Improve Traffic Safety At Coney Island Ave, Guider Ave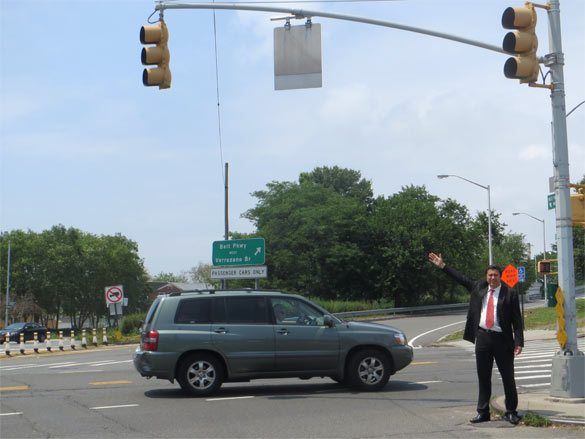 City Council candidate Ari Kagan is reviving a several-year-old demand made by other local leaders, including one of his opponents, to improve traffic and safety conditions at the congested intersection of Coney Island Avenue, Guider Avenue and Banner Avenue on the Sheepshead Bay – Brighton Beach border.
The candidate issued a press release on Friday saying that cars making a left turn on the Belt Parkway on-ramp at Guider Avenue, from northbound Coney Island Avenue, are causing congestion and dangerous conditions.
"For drivers using Coney Island Avenue or the Belt Parkway, the intersection of Coney Island Avenue, Guider Avenue and Banner Avenue is a dangerous mess, and we are fortunate that no one has yet been badly injured in an accident at this location," said Kagan. "Cars seeking to make a left turn must wait for cars going southbound on Coney Island Avenue to clear the intersection. Cars coming southbound that want to make a left turn onto Guider Avenue are often completely blocked off by cars waiting to turn onto the Belt Parkway. And all this happens while pedestrians are looking to cross!"
Kagan is calling on the Department of Transportation to install a left turn signal on the northbound side of Coney Island Avenue, and a clearly marked left turn lane.
"This will give northbound traffic a safe opportunity to turn left, and the marked lanes should help traffic clear the intersection quickly and safely," he said in the press release.
The proposal puts him on common ground with one of his opponents in the race to replace term-limited Councilman Michael Nelson: Community Board 15 Chairperson Theresa Scavo.
The intersection has been a sore point for local leaders at least since 2009, when Scavo and leaders from the Manhattan Beach Community Group led the fight and blasted the DOT for releasing a study that they said would unleash havoc at an already problematic location.
The DOT at the time wrapped up a seven-year study to clear up "roadway confusion" and improve safety. The proposals included eliminating left turns on the southbound side, forcing cars to drive to Neptune Avenue in order to make a left to the Belt Parkway, eliminating parking on Coney Island Avenue to install a dedicated turn lane, and a traffic signal on the northbound side.
However, that proposal appears to have been successfully defeated, as critics including Scavo and then-Congressman Anthony Weiner fought the plan, saying it was overly-complicated and would cause more congestion. They also said it would restrict access for a local firehouse, car wash and gas station as well as endanger students near Bay Academy. Lastly, the suggestion to eliminate parking would hurt businesses, Scavo said at the time.
(The DOT did ultimately install a No-Turn sign on the southbound side, disallowing vehicles to turn onto Banner Avenue, although it still allows turns onto Guider Avenue. That was quickly ignored by motorists, as we noted in this video.)
"They kept coming up with recommendations, but all we needed was a left turn signal and everything would have been fixed," Scavo told Sheepshead Bites today, reflecting on the plan. She added that the situation still needs to be improved. "Now you've got everybody going to Neptune and traffic is all backed up on Neptune Avenue. So how does that make any sense?"
To fix the problem, she proposes a similar, though slightly more extensive, fix to Kagan's – a left turn signal and dedicated turn lane on both the north- and south-bound sides, without eliminating any parking for the creation of the lane.
But the DOT has told Community Board 15 that the avenue is not wide enough to make it a turn lane. That, she said, is baffling since it's already a de facto turn lane.
"If you go there right now, with everybody going left automatically lining up in the left lane, it's already a left hand lane anyway. Driving over that bridge [southbound], everyone already has their blinker on," she said. "So DOT said it wasn't wide enough there … but why does it have to be any wider than the two lanes that it is?"
"All we needed was a left turn signal and they knew it, and they ignored it," she added.
A call to the Kagan campaign seeking clarification on whether his proposal meant removing parking from Coney Island Avenue to accommodate the creation of a lane could not be answered by press time. It will be updated when we hear back from the candidate.
UPDATE (4:21 p.m.): The Kagan campaign has clarified, saying they do not seek the elimination of parking to create the lane. However, they added if congestion persists after the lane is created then they would consider advocating for the removal of parking to create an extra driving lane.