Join Local Leaders & Neighbors In Protest Against Mass Expulsion of Dominico-Haitians From Dominican Republic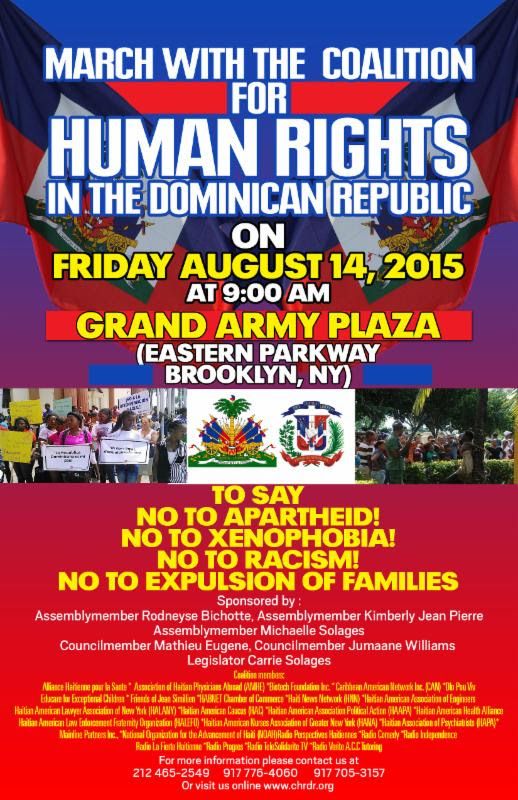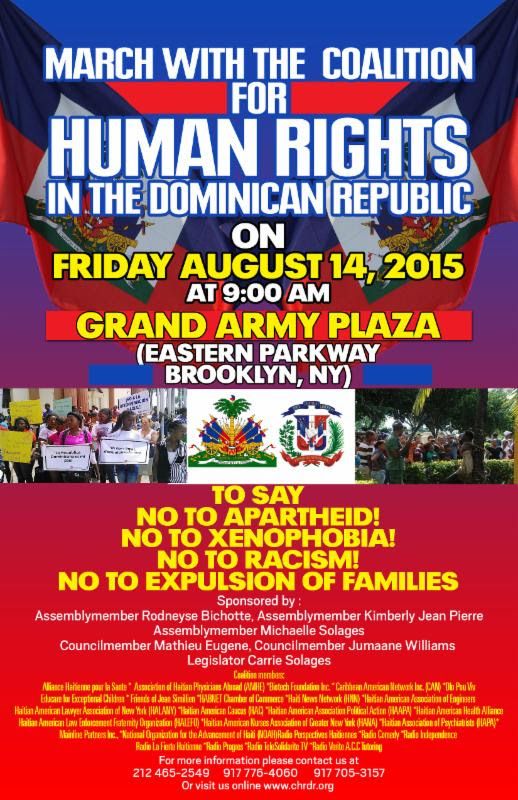 This Friday, August 14, you can join Assemblywoman Rodneyse Bichotte, Councilman Jumaane Williams, Councilman Mathieu Eugene, and other members of our community for a protest against widespread human rights abuses against Dominico-Haitians in the Dominican Republic — an issue close to the hearts of many Haitian neighbors who have family living in the Dominican Republic.
Bichotte, Williams and Eugene will join fellow elected officials, Diaspora organizations and others for a march that will begin at 9am at Prospect Park's Grand Army Plaza and proceed over the Brooklyn Bridge into Manhattan.
Organizers said the march is meant as a vehement condemnation of the recent expulsion of thousands of Dominico-Haitians who had been living in the Dominican Republic. Thousands of Haitians or people of Haitian descent have fled the D.R. following the Dominican Republic's June 17 deadline for immigrants to register with authorities. The move, according to the D.R., was a way to address unchecked immigration, but human rights groups across the world have denounced the registration as a racist policy meant to push black Dominico-Haitians from the country.
According to the Associated Press, more than 288,000 people have applied for residency via this registration process, but just 25,000 have received documents to remain and work there.
This immigration registration drive also follows a 2013 ruling by the Dominican Constitution Court that individuals would not be granted citizenship solely on the basis of being born in the D.R., leaving generations of Dominicans who have Haitian roots to all of a sudden be declared non-Dominicans. To find out more about the history of Haitians in the D.R., you can watch this video that the Human Rights Watch recently published.
"This same act was attempted before in 1937 when Dominican dictator Raphael Trujillo ordered the massacre of thousand of Haitians living near the border, and it's happening again," The Coalition for Human Rights In The Dominican Republic said in a press release issued by Bichotte. "They want to expel black people, even those born in the country."
Eugene, a Haitian immigrant and the first Haitian-born elected official to serve in the New York City Council, has encouraged people throughout our community — and city — to take a stand against the D.R. uprooting thousands of people.
"The treatment of Dominicans of Haitian descent in the Dominican Republic is despicable," Eugene said in a previous press release. "Hundreds of thousands of families are being torn apart because of this inhumane mass deportation."
For more information about Friday's march, you can reach Jennings Louis, the director of activism and community awareness for the Haitian American Caucus, by emailing info@chdr.org or calling 617-224-7527.