John Sampson Threatened To Silence Witnesses In Corruption Scandal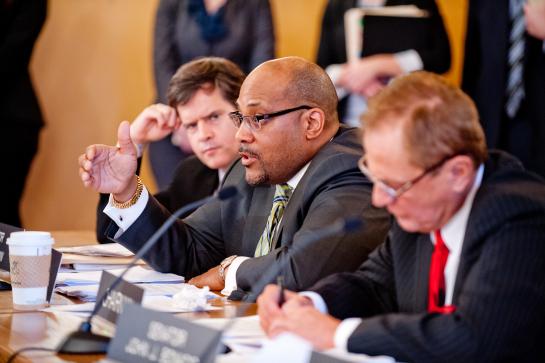 State Senator John Sampson, who is the latest local politician to be embroiled in a serious corruption scandal, is now accused of threatening the witnesses lined up against him, according to a New York Times report.
The accusations now cast upon Sampson are growing in seriousness and scope. In the earliest reports released this week, Sampson was accused of soliciting advice from another New York politician, Queens State Senator Shirley Huntley, on how to arrange accommodations for a businessman seeking to use bribes to help his business at JFK airport.
Now Sampson is being fingered for stealing $400,000 from the sale of foreclosed homes and attempting to thwart the federal inquiry surrounding these crimes.
Federal prosecutors say that Sampson approached a friend in the office of the US Attorney for the Eastern District, asking for a list of all cooperating witnesses so that he could figure out a way to "take them out."
Sampson used the $400,000 on an unsuccessful bid for the Brooklyn District Attorney's office in 2005. The Times then described what Sampson did next:
The next year, prosecutors said, he persuaded a prominent real estate developer to give him nearly $200,000 help cover up the thefts. When the developer was arrested on unrelated charges, Mr. Sampson feared his crimes would be uncovered and turned to his friend in the United States attorney's office.
The developer was not named in court documents, but law enforcement officials with knowledge of the matter identified him as Edul Ahmad, who pleaded guilty to mortgage fraud in 2012. The employee in the United States attorney's office also was not named. Prosecutors said the person, identified by a law enforcement official as Sam Noel, had been fired after being found with a list of the witnesses' names that Mr. Sampson had requested.
Loretta Lynch, an attorney for the Eastern District of New York told the Times that this case represented, "one of the most extreme examples of political hubris we have yet seen."
So far Sampson, who surrendered to federal authorities on Monday, has pleaded not guilty to two counts of embezzlement, five counts of obstruction of justice and two counts of making false statements to the FBI.
Prosecutors have offered Sampson a plea agreement in which he would have to plead guilty to embezzlement and accept a sentence of 37 to 46 months. If Sampson is found guilty at trial, he faces up to 20 years. Sampson has until the end of the month to accept the offer.