John Mosloskie Talks To Us About Gutter Sparrow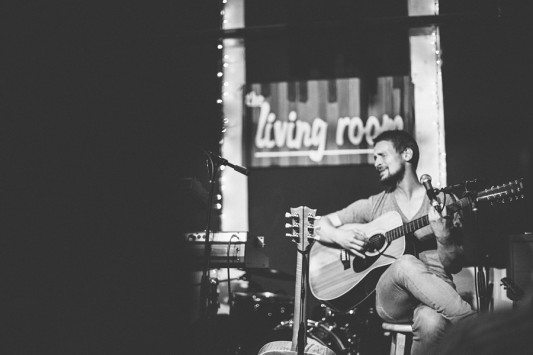 Meet neighbor, musician, and fig scone-lover John Mosloskie. John, who plays under the name Gutter Sparrow, will be performing with Primary Records' Pony of Good Tidings at Sycamore on Friday, April 19, at 9pm. Come to the show to see John and guests play in an appropriately-intimate setting, or just to meet someone who shares your passion for Ficus carica-filled pastries.
Who are you, and what is Gutter Sparrow?
I'm John Mosloskie, originally from North Jersey but now residing in Ditmas Park. Gutter Sparrow is my solo performing identity; I also write and record with my band Holler Wild Rose. Gutter Sparrow has many strands of meaning for me, but it's origin is an experience I had at sunrise, watching the sparrow flock emerge from the holly bushes, casting themselves skywards. They bathe in dirt and their coats are plainly colored. I'm fascinated by the way they are as fully of the earth as they are of the air.
When did you start making music?
I've been a singer since I was a kid. I grew up in an innately musical family, though not of the trained variety. My parents both have natural melody, and that trickled down to me and my sisters. I failed miserably at piano lessons during elementary school: in high school I picked up bass guitar and began writing melodies and lyrics in a pop punk band called Giving Way. Post-high school I taught myself how to play guitar and really immersed myself in the possibilities effect pedals can reveal.
Describe your music.
The music that I write for Gutter Sparrow is intentionally spare, my voice and an accompanying instrument- usually of the acoustic variety. I heard an interview with Indian singer Aruna Sairam, in which she described how each instrument is striving to imitate the tonality and nuance of the human voice, and that has stuck with me. A simple instrumental arrangement can be a wonderful vehicle for the power of the voice, and can also draw us deeper into the lyric. The words that I sing are borne out of landscape, relationship, flora and fauna and dreams.
What can we expect at your Sycamore show?
I love the space at Sycamore–it lends itself to the intimate proximity that I hope to call each listener to. Expect an autoharp, a banjo, and a twelve string acoustic to make guest appearances!