John McKane: Sheepshead Bay's Autocrat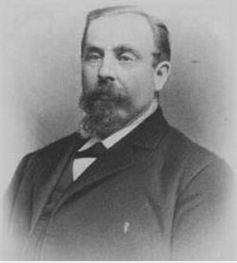 The "autocrat of Gravesend" John Y. McKane did it all when this area was known as Gravesend, postcards were addressed to Long Island, and Brooklyn was to the north.
The Brooklyn Eagle just wrote a piece recapping all of McKane's achievements and his rise and fall in and around the areas we are familiar with today – Coney Island, Brighton Beach, and of course, Sheepshead Bay.
McKane began as a carpenter, was elected town commissioner, followed by town supervisor, head of the town board of health, the water board, and eventually was in charge of all tax collections. McKane was also superintendent of the Sheepshead Bay Methodist Episcopal Sunday school and eventually became the chief of police. Throughout it all, though, he was a blend between visionary and crook.
The more power he got, the more trouble he got himself into.  The Eagle reported that "just every theater, hotel, resort, restaurant, saloon and racetrack that set up shop in Gravesend had to pay McKane for 'protection' or 'favors,' and he found all sorts of self-aggrandizing reasons to charge 'fees.'  For example, after he established his own artificial ice plant on Coney Island, he imposed a license fee of $200 on every wagon peddling natural ice, putting them all out of business."
However, there's no denying McKane did great things for Coney Island.  The Eagle reported that when railroad developer Austin Corbin wanted to expand one of his resorts in Coney Island, McKane arranged for 200 of his thugs to come to the town meeting to vote for it. Corbin was able to purchase 100 acres of waterfront property worth $100,000 in Coney Island for only $1,500. Sure, sounds like a slimeball move, but it was also the definitive moment that shaped the four neighborhoods collectively known as Brooklyn's Gold Coast – and spurred development that made the region a global destination.
But that kind of power corrupts absolutely, we hear. McKane's rule took dark turns down a road marked by fraud, extortion and gross financial misconduct. He tampered with elections, adding as many as 1,000 or even more fake names to ballots. And that eventually brought scrutiny.
He was sentenced to six years hard labor but was let out two years early for good behavior, arriving back home on April 27, 1898. John Y. McKane never again held public office. He died – nearly penniless – of a stroke at his Voorhees Avenue and East 25th Street home in 1899.
"He was feared and to a certain extent beloved," the Eagle reported.  Sure, and he also set quite a precedent for corruption that some seem eager to match.