Jody Baty Brings Years Of Experience To Her New Local Practice, Knead Massage Therapy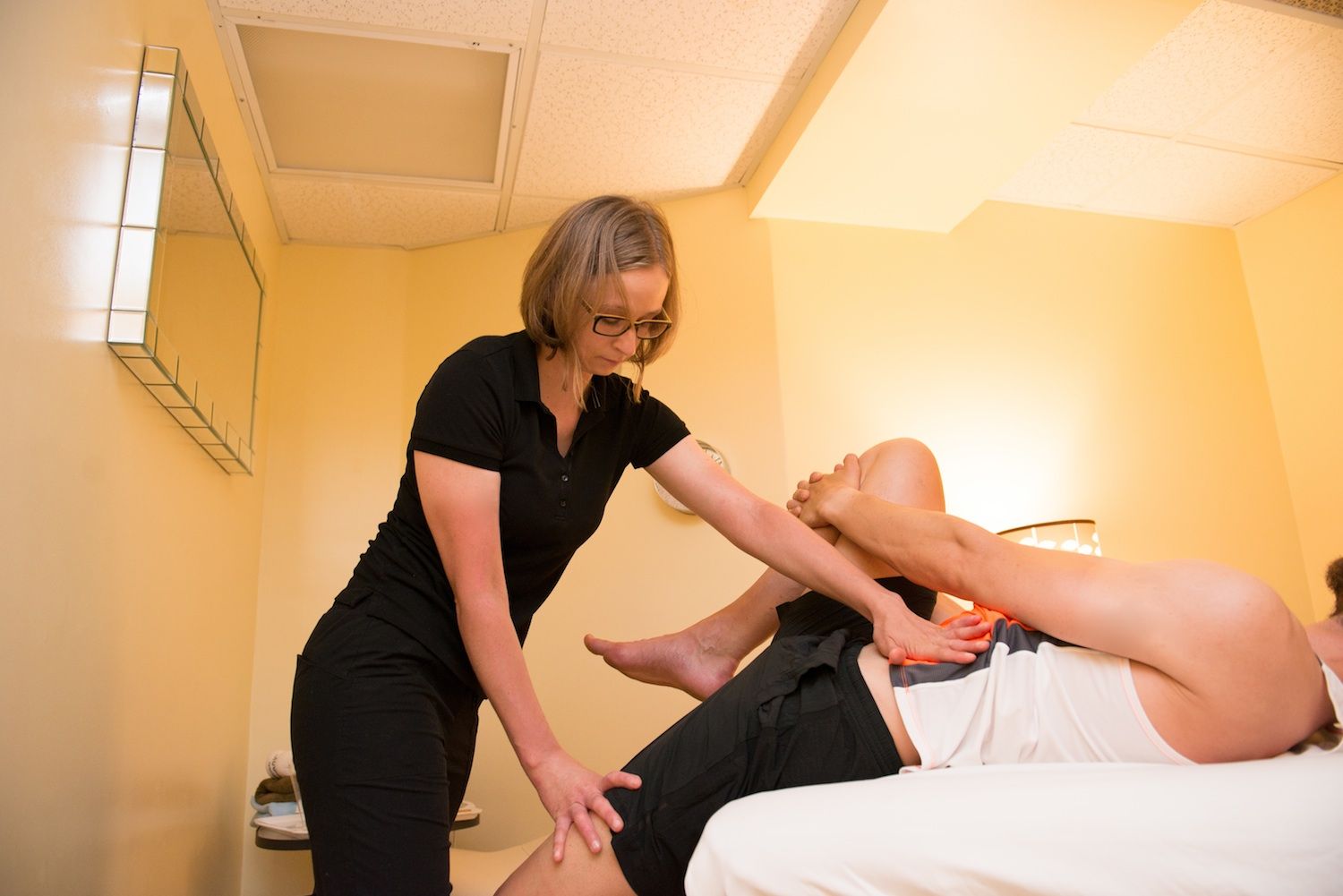 Jody Baty of Knead Massage Therapy first went to massage school in her native California on a whim 11 years ago, before realizing how much she truly enjoyed it. Two years ago, she started a private practice in Manhattan. Today, she's working out neighbors' injuries and aches in a quiet house just south of Beverley Road — but back at the beginning, her first gig was in San Francisco.
"My husband and I moved to the Bay Area from Sacramento after we got married," she says. "The first spot I worked there was an awesome little place. The price point was low, which brought a variety of people in. I got to work on different body types, and they also had a lot of people come in for couples massages.
"The benefit of that for me was, while other therapists were working, I could observe their styles — I was able to pick up a lot of stuff. It's no longer there, and it's really sad, because it was a great place to learn.
"People would probably think it was a parlor from the outside," she laughs, "but it was totally legitimate. I learned a lot from experience there."
Jody honed her skills there for a few years before moving back to Sacramento and then Manhattan, where she worked at Bliss and the Waldorf Astoria. That was when she began to consider going it alone.
"For a while, I decided to stay with spas because I liked working with other therapists and learning from them," she says. "But then I realized that I wasn't moving forward.
"I'm a perfectionist when it comes to my work, and I think I should be, but I didn't have enough control in a spa environment. I'd go to work, and the items I needed to do my job well and provide excellent service weren't there. Clients come in expecting a level of service, and I can't give it to them if I can't control the environment I'm working in.
"When you work in a spa," she says, "you have a particular kind of clientele. I wasn't getting to vary my skills. With a private practice, you get to develop a more intimate kind of relationship."
So she began taking clients at home in the East Village, before moving to our area two months ago. Since then, she's been working on developing a client base–and says she's felt welcomed in the neighborhood so far.
"People seem really community-oriented here, like they want to support local businesses," she says. "I'm not used to that, coming from the city. I didn't sense that sort of community where I was living."
Jody is still trying to figure out her own favorite places around Kensington and Ditmas Park, but says building her practice here (and continuing to see longtime clients in the city) has been dominating her time recently. So far, she likes Brooklyn Commune, Am Thai, and the Flatbush Food Co-op, but she's open to suggestions. Connecting to the area, and to members of it, is important to her.
"I'm a one-on-one person," she says, explaining how the personal affects her work, "and I'm also a very huggy, touchy person. It's very therapeutic for me, at times, to do massage."
Jody's family life even inspired her specialty — the wife of an avid cyclist, she's begun taking increasing numbers of clients with sports injuries. She enjoys the challenge of working on athletes, and says she finds helping their strains and areas of tension especially invigorating. She even teaches clients stretches learned through massage school and Pilates classes to help them maintain their individual problem spots. And, she says, athletes tend to be drawn to her techniques.
"Throughout my time doing massage, it seems like the clients who keep coming back are fairly active," she says. "I like injury-specific work. I like having something to fix."
But she says, since she has so many clients with sports injuries, it's still useful and interesting for her to take on others.
"I tailor my style depending on the client, and I think everyone should benefit from massage. I don't want anyone to be left out if they just want to feel better."
And Jody uses her hands, hot stones and towels, music, and personally-blended oils (the day I visited, there was an option of a relaxing lavender blend, an energizing citrus blend, and a muscle-soothing blend with eucalyptus) to help clients do just that. After an hour on her table, an old fracture in my L3 vertebra and the widespread soreness it causes most days was hugely relieved — which is exactly the type of thing Jody says makes her job so rewarding.
"Someone comes in and they're hurting or they're stressed out," she says, "and when they leave, their disposition changes, their facial expression, their breathing — it's immediate satisfaction.
"The best part is that sigh," she says, "just that, 'Ahhhh.'"
Interested in working with Jody, and suggesting some places she should visit in her new neighborhood? You can call her at 212-748-9888, email her at info@kneadmt.com, or book an appointment online.