Jimmy's Famous Celebrates 75 Years In The Bay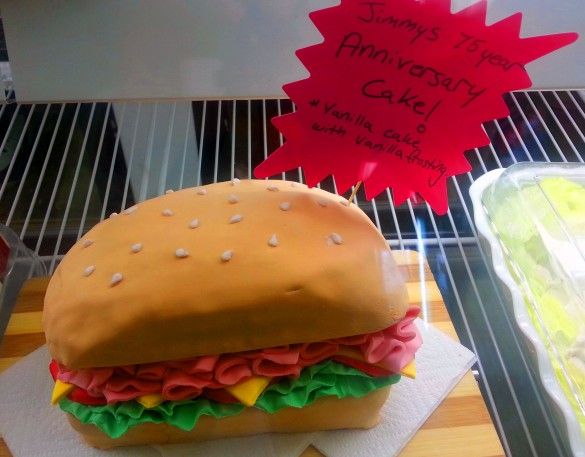 Wow, talk about a survivor. Jimmy's Famous Heros located at 1786 Sheepshead Bay Road (between Emmons Avenue and Shore Parkway) is celebrating its 75th anniversary all month long.
Opened on February 1, 1938, Jimmy's has survived the Great Depression, World War II, the massive inflation and oil embargoes of the  1970's and the Great Recession of our time. Bowed, but not defeated by Superstorm Sandy, Victor Spadaro and his crew turn out some of the best sandwiches in Brooklyn.
So, what do they do to celebrate? They bake a cake. Not just a cake, but a cake that looks just like one of Jimmy's famous heros, Nicole Bochen created this life size replica of a ham and cheese hero. Of course, it's with the works!
Congratulations Jimmy's. Here's to another 75 years of serving the Bay.