Where To Enjoy 'Chinese Food Christmas' In (And Around) Ditmas Park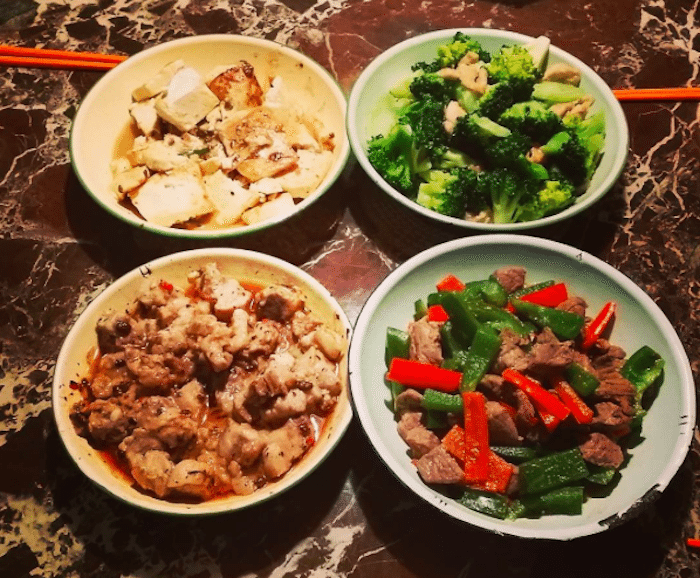 Whether you're seeking the nostalgia of family-style dining from your childhood or stumbling into the only thing open restaurant this Sunday, we hope this list helps with your "Jewish Christmas" feast, for those who make this an annual pilgrimage.
We've chosen a sampling of the most local, "no frills" take-out spots but since our neighborhood doesn't have much critically acclaimed Chinese fair, we listed some favorites in Sunset Park and Bensonhurst — where you can enjoy a family-style meal and sample less predictable dishes. We think that for good Christmas Day Chinese food, it's well worth the trip.
Of course, this year, Jews will be able to slurp wonton soup and munch General Tso's Chicken in front of the Chanukah candles since the Festival of Lights begins on December 24.
Wish you all a wonderful holiday filled with dumplings, general tsos, noodle soup, and only positive predictions on your fortune cookies.
Flatbush / Ditmas Park / Midwood
Most of these places have been described in reviews as 'no frills' but everyone has a favorite dish at their corner take-out spot.
Bo Bo
Where: 1601 Cortelyou Road at East 16th Street
Phone: 718-462-5363
Try the shrimp roll, chicken & broccoli or dumplings.
Green Lake Restaurant
Where: 795 Flatbush Avenue between Caton Avenue & Lenox Road
Phone: 718-284-0088
General Tsos is the winning dish, according to yelp reviewers.
Good Taste
Where: 1015 Avenue H at Coney Island Avenue — less than one block from the Kent Theater
Phone: 718-859-0010
Try the sesame chicken, served in small, crispy pieces. Best thing about this place could be its location to a good movie pairing.
Kensington:
Kam Hai Chinese Food
Where: 624 Caton Avenue between East 7th Street & Ocean Parkway
Phone: 718-768-1188
Great wonton soup, and other reviews like the chicken & broccoli
Asia Harbor
Where: 402 Church Avenue between East 4th and East 5th Street
Phone: 718-871-0635
This place replaced Yen Yen, reviewers love their hibachi. Slightly higher prices than other chinese food spots, but nice atmosphere and the menu includes sushi options.

Mr. Tong Restaurant
Where: 2926 Fort Hamilton Parkway at East 3rd Street
Phone: 718-851-6324
Reviewers recommend Peking duck and pork dumplings.
Sunset Park: Spoiler alert — these next few places aren't an easy walk away, but they're some staples of Brooklyn's Chinatown dining scene.
Pacificana
Where: 813 55th Street at 8th Avenue
Phone: 718-871-2880
Reach past your culinary comfort zone with favorites like crispy pig with jellyfish or classics like soup dumplings.  A favorite dim sum & Cantonese restaurants in a banquet-style palace with bustling crowds.
Kai Feng Fu Dumpling House
Where: 4801 8th Avenue at 48th Street
Phone: 718-437-3542
An amazing spot for expertly pan-fried, thin-wrapper dumplings for only $1–$2. For a deeper fry, try spring rolls, sesame pancakes, and heaping bowls of noodle soup. Pork & Chive is a classic dumpling choice, but if you're willing to wait an extra 5 minutes (and pay an extra couple bucks) try the steamed chicken & mushroom.
Yun Nan Flavour Garden
Where: 5121 8th Avenue at 52nd Street.
Phone: 718-633-3090
Try the signature 'Crossing the Bridge Noodles' a giant bowl of noodles and thinly sliced meat, egg & veggies that you add-in yourself.
Bensonhurst:
Good Day Seafood Restaurant
Where: 6202 18th Avenue between 62nd & 63rd Streets
Phone: 718-236-8118
Yelp reviewers recommend the stir-fried noodles and coconut pudding
Too crowded? head down the block for
Silver Star Restaurant
Where: 6221 18th Ave at 63rd Street.
Phone: 718-331-2799
Best dishes according to Yelp: Chicken chow mein and spare ribs
[Update 12/22: Based on reader requests, we've added Kosher Chinese food options closest to Kensington and Midwood] Kosher:
Glatt Kosher Family
Where: 4305 18th Avenue near East 2nd Street
Phone: 718-972-8085
Reviewers say "best and cheapest Kosher Chinese food around!" Have any readers been there — what do you think?
Glatt Coney
Where: 1558 Coney Island Avenue near Avenue L
Phone: 718-676-7781
Reviewers like the sweet and sour chicken and egg drop soup.
Where are your favorite Chinese restaurants in the area? Let us know in the comments.