Jewish Man Arrested For Recent Anti-Semitic Crimes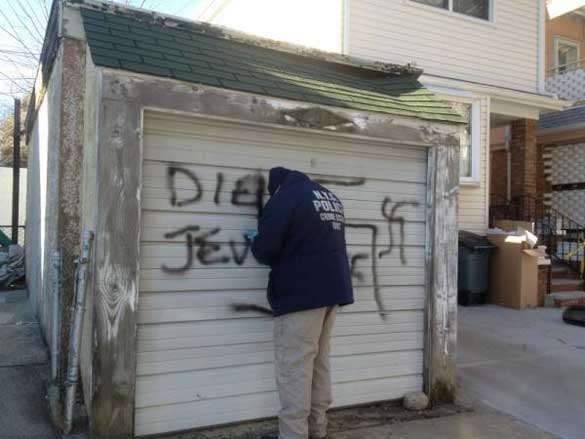 Authorities have arrested a Jewish man allegedly responsible for several recent anti-Semitic incidents, and who is suspected of perpetrating this weekend's "Die Jews" graffiti in Midwood.
The Daily News reports:
The NYPD Hate Crimes Task Force tracked down David Haddad, 56, after several complaints were made – one by a relative and at least one other by a person known to him – for harassing them by phone and scribbling anti-Semitic symbols on apartment doors.
"Knowing someone put swastikas and derogatory messages on my door makes me sick," said Susan Levin, who lives down the hall from Haddad, who allegedly wrote "All Jews Should Die" on her front door.
A neighbor called the cops after spotting five out of eight doors on the floor where Haddad lives scribbled with swastikas and anti-Semitic messages.
… Haddad, a building manager who lives on 8th Ave. in Chelsea, was arrested at his job Monday after the task force traced at least one of his phone calls, police said. He was charged with aggravated harassment as a hate crime, police said.
In addition to the graffiti in the Chelsea building, police say they believe him responsible for anti-Semitic death threats to an 80-year-old Brooklyn woman on December 11; a harassing phone call and graffiti on the door of an apartment owned by a Manhattan woman on January 10; and anti-Semitic threats via phone to an 87-year-old Chelsea woman and a 78-year-old Brooklyn woman.
Police also believe Haddad responsible for the anti-Semitic graffiti on East 5th Street in Midwood over the weekend, in which "Die Jews" and swastikas were painted on a garage, apartment building and yeshiva. He was not charged for those incidents.
The NY Post has a little more on Haddad's possible motives:
Haddad had worked for his family's business – the import/export of socks and underwear – in Linden, NJ, but left to start an off-shoot company, sources said.
That venture recently failed and Haddad began lashing out at family members and others, sources added.
His economic misfortune is being eyed as a possible motive, sources said.
As soon as he was taken into custody, Haddad secured a lawyer and made no statements or admissions to detectives, sources said.
In Midwood, the Daily News notes in a separate article that many of the victims didn't know Haddad, shedding a sliver of doubt on the NYPD's assertion that Haddad was responsible for the incidents locally. And, regardless, leaders of the heavily Jewish neighborhood point out that it's part of a citywide trend most certainly perpetrated by multiple individuals.
"This first arrest is an empowering development," City Councilman David Greenfield told the Daily News. But "it seems this is happening all over the city. All at the same time. It seems this individual is responsible for a section of it."