Jewish 'Black Lives Matter' Rally Electrifies Atlantic Avenue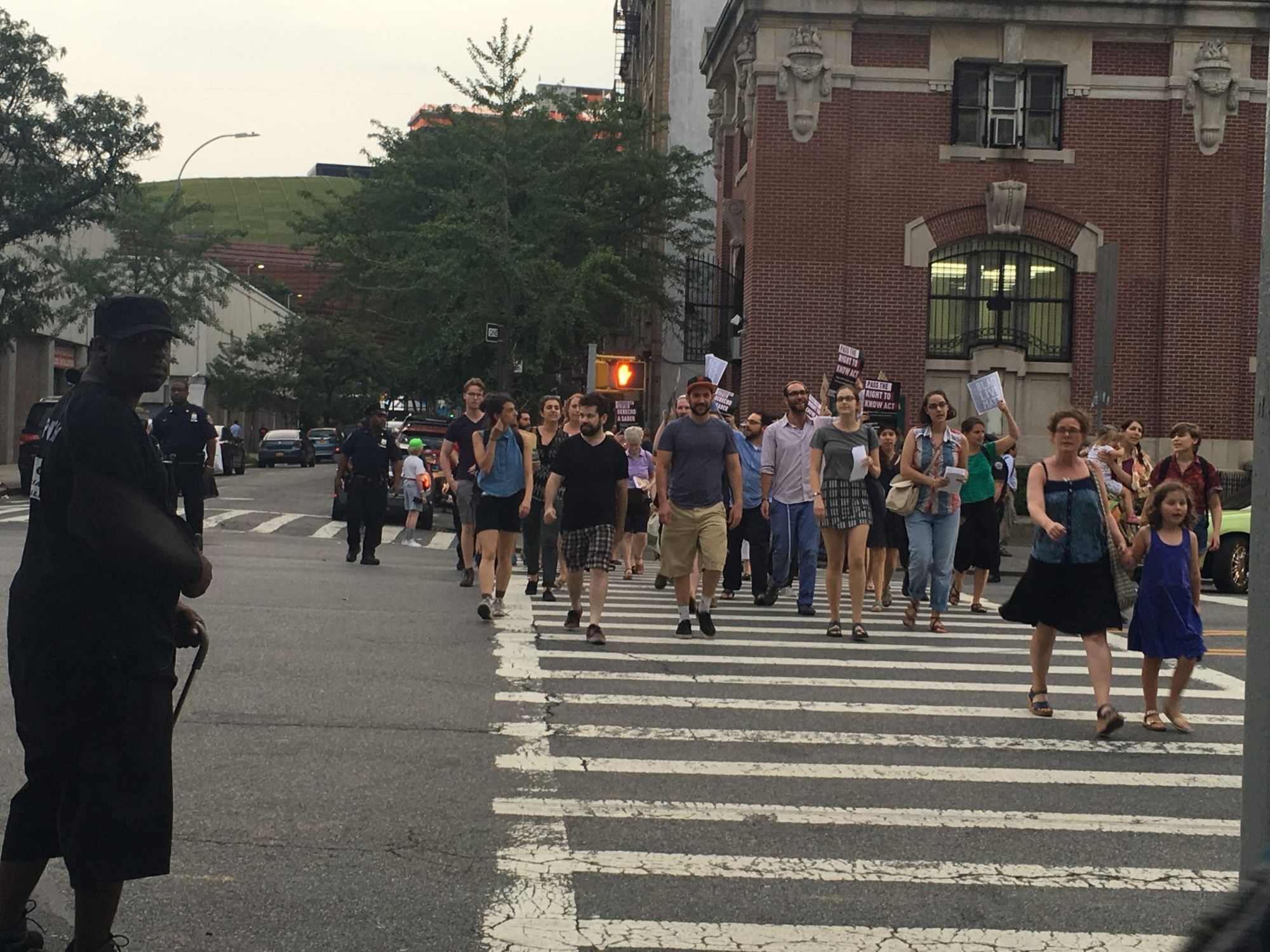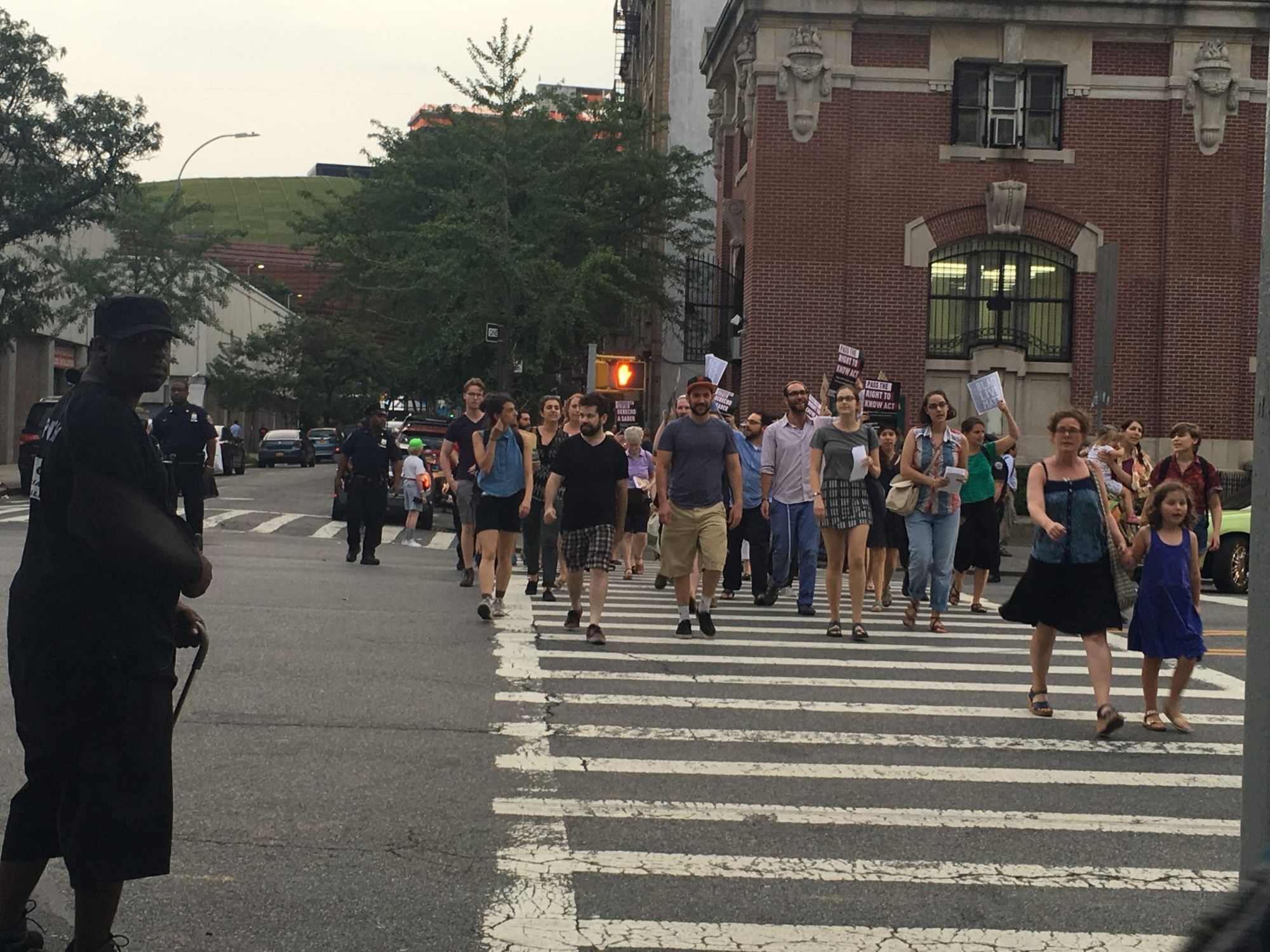 The organization Jews for Racial and Economic Justice (JFREJ) held a peaceful rally and march on Thursday, July 28, to protest police violence against people of color, and demand police accountability through the passage of the City Council's Right To Know Act.
"Jews say Black Lives Matter not only because we know what it is to be oppressed, but also because police violence against Black people is deeply personal for Black members of the Jewish community," writes JFREJ.
The initial crowd that gathered under the Barclays awning on Thursday was small but fiery, huddled together against the pelting rain and gray sky. To begin the evening, Yehudah Webster, JFREJ member and leader of Jews of Color, shouted "Mic check!" to signal a call-and-response chant, a courtesy that was repeated for every speaker throughout the event.
"Even though we are angry at the injustice of police brutality," chanted Webster, and echoed the crowd, "we gather here for love, for lost brothers and sisters, our communities and each other."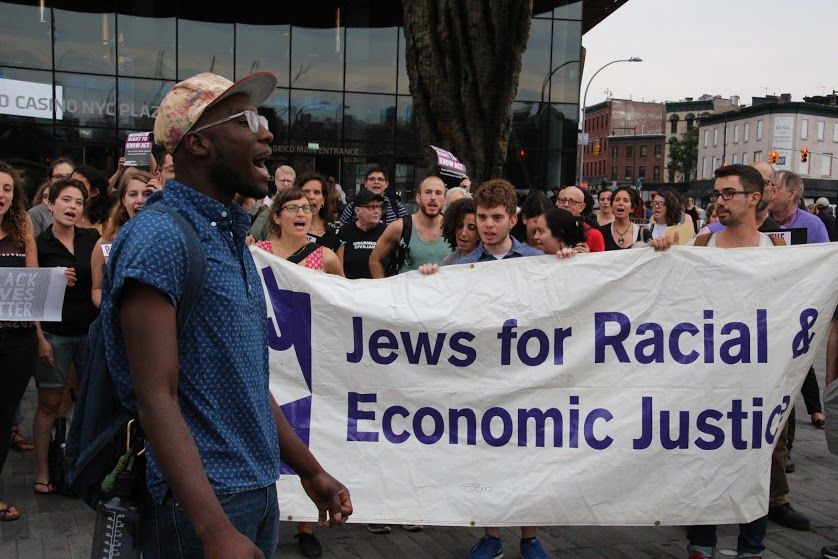 Along with demanding that "Black Jews Matter," the crowd also called for the fair passage of the Right to Know Act, which has two primary components: "Requiring NYPD officers to identify themselves" (Intro 182) and "Protecting New Yorkers against unconstitutional searches" (Intro 541). JFREJ, along with 200+ organizations that represent New Yorkers from across the city are demanding passage of the legislation, which has support from a majority of Council members.
As the rally paraded down Pacific Street, more people joined the chanting crowd as they wound through Bond Street and Atlantic Avenue toward Brooklyn Heights, stopping on a quiet block to regroup and burst into harmonious song.
NYPD Officers provided security detail as citizens exercised their constitutional right to protest, with lots of eyes and phone cameras watching the police —  including JFREJ liaisons and members of the National Lawyers Guild legal observer program, who were not affiliated with the jewish organization.
The amiable police detail that included community affairs officers circled the crowd, reminding protesters to stay on the sidewalk and away from traffic.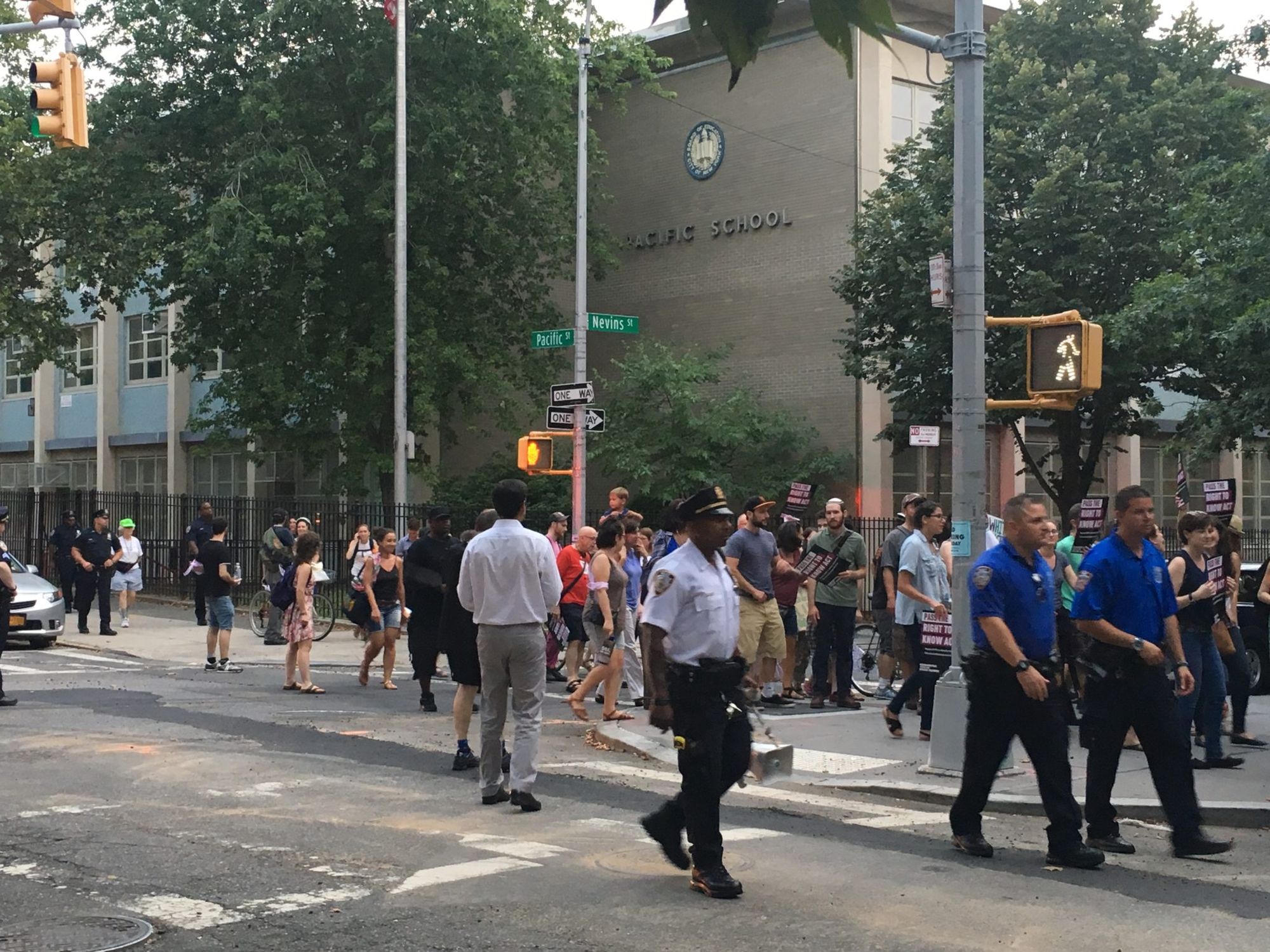 Among several other impassioned speakers, Council Member Brad Lander came out to express his solidarity with the movement and also gratitude for the NYPD officers in the crowd. "Thanks to the officers who helped keep this protest peaceful, democratic and safe," Landers said, pausing to let the crowd to echo that message.
The march culminated outside of the Brooklyn Detention Complex at 275 Atlantic Avenue, where mourners chanted, gave speeches, and lit Yarzheit candles for those lost to police violence.
JFREJ's Jews of Color Caucus members shouted their speeches up to the holding cells. "Let them hear that we care for their lives," said Shoshana Brown. "We are calling for immediate action to end the unrestricted cash flow into failed policing strategies," Brown continued. "Billions of dollars are spent on policing, while our education, health and housing suffer."
April Baskin, an outspoken member of the Jewish community, spoke passionately about the injustice she sees in her local and national community, and the crowd echoed her sentence by sentence.
"Almost every day I see our people getting shot like hunting ducks; in the street, in our cars, in our homes. When we are sober, when we have down syndrome, when we are little children. I have had enough," she shouted, her voice cracking. Her declaration echoed the peaceful but firm mission of the evening. "There is a place for diplomacy, for love and compassion," Baskin said, "and there is plenty of room within our enormous love to hold and honor righteous indignation."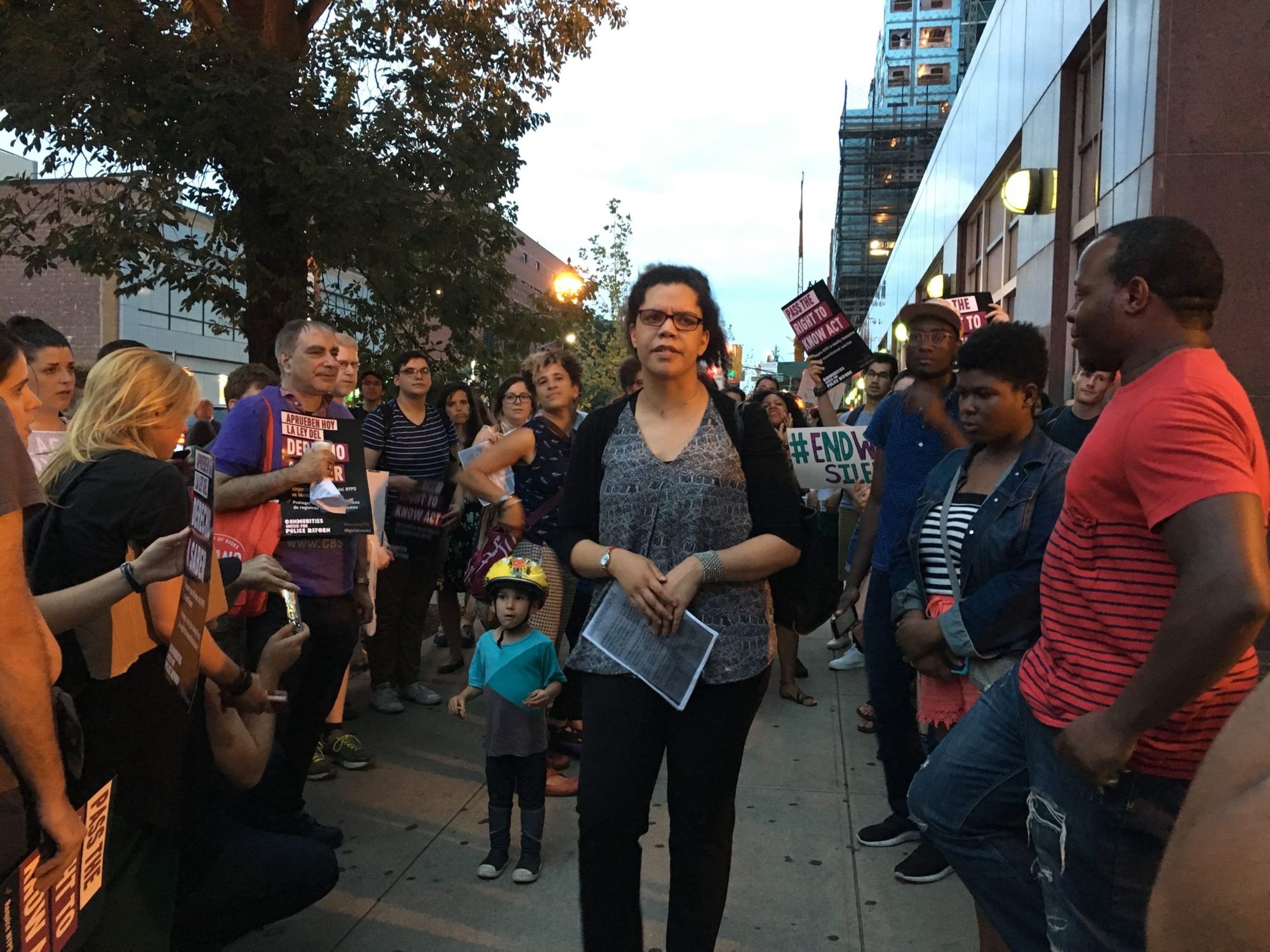 Giving her speech was a special moment for Baskin, a moment of shehecheyanu, she told FGF, the hebrew word spoken at sacred and special occasions.
Baskin has lived in Fort Greene for the past year. "I really love the neighborhood. I have deep connections to people who grew up here," she said. "And though the changes are hard for me to witness, I feel a real sense community in Fort Greene. There are different attitudes, but it feels like home and being grounded locally is really important to me."
Jason Salmon, JFREJ member and community liaison, grew up in Clinton Hill and plans to stay despite the rising tide of gentrification. "It's a different neighborhood than it was in 1986. Seventy five percent of my friends no longer live in the neighborhood because they rented instead of owned, and were pushed out," he told FGF. "And even though we are gentrified, we are historically a black neighborhood.," said Salmon.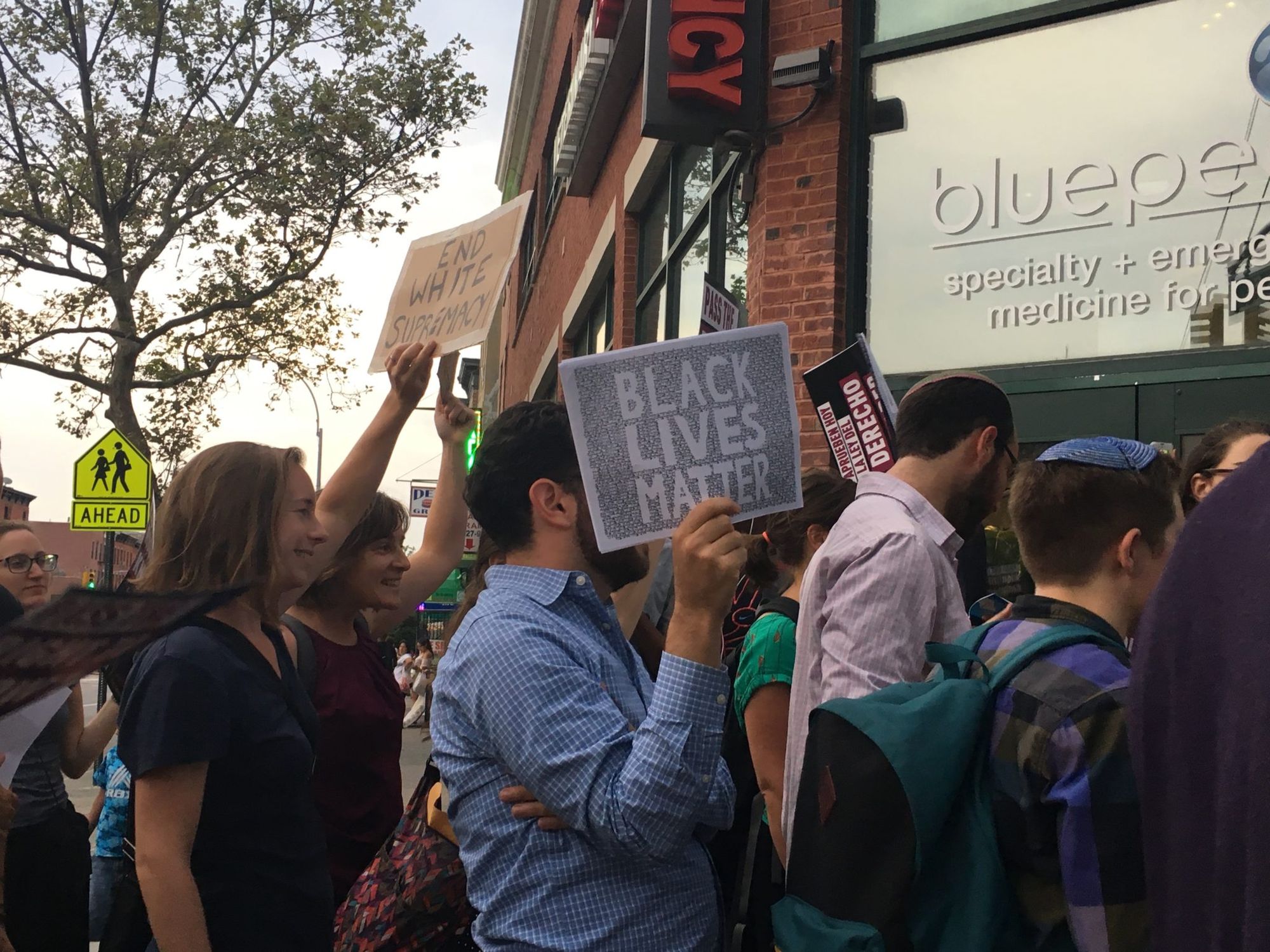 The night ended ceremoniously with the crowd chanting the mourners kaddish, the Jewish prayer reserved for mourners.
JFREJ plans to repeat this peaceful march for the next two Thursday nights – part of a "month of action" which will lead up to the Jewish holiday of Tisha B'av, an annual fast day commemorating tragedies to Jewish communities throughout history.