Jerome Avenue Repair Shop An "Eyesore"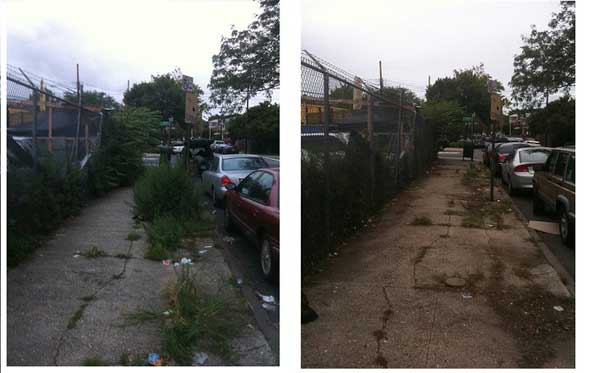 We receive a lot of complaints from readers about the auto repair shop on Jerome Avenue and East 21st Street. Some told us about the physical condition of the shop; others complained about cars without plates taking up parking spots on the streets around it (though no one could prove it came from this garage).
Reader David M. has had enough, and has started taking note of the conditions around the lot. He snapped the above before and after photo, and shot us a note via Facebook saying the following:
This vehicle repair shop on Jerome Ave between E21 St & E22nd St is truly an eyesore to our community. Cars without plates are always parked on the sidewalk and there are weeds that look like small trees sprouting from the sidewalk. They also don't seem to care that the sidewalk has become a dumping ground at night. In any event, after several complaints to the Sanitation Department, they've finally cut all the weeds and picked up all the garbage. Let's see if they keep it up. I'll keep you posted.
We hope you do, David. Thanks for keeping an eye out for the community.