Jay And Lloyd's Kosher Deli Featured In American Airline Mag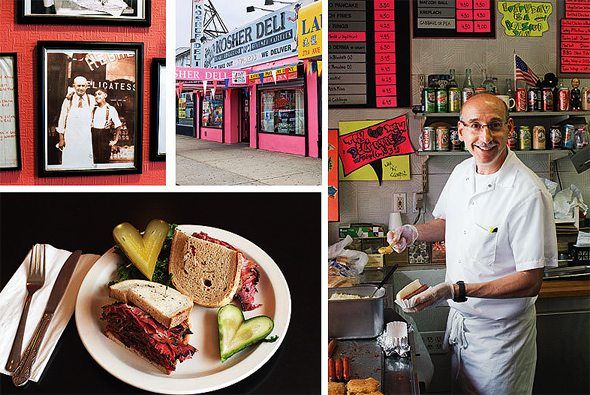 Lloyd Lederman (right) of Jay & Lloyd's Kosher Deli fame. Source: Jason Fulford for American Way
American Way — the official "award-winning" mag of American Airlines (who knew they had such a fancy website? Or that they even had a website at all?) — did a bang-up cover story on "The Disappearing Deli," highlighting the sumptuous offerings of our very own Jay and Lloyd's Kosher Deli (cue the comments war on whether they are kosher or "kosher-style"), alongside the likes of the Lower East Side's famous Katz's Delicatessen, and Mile End, the Montreal-style Jewish delicatessen in Downtown Brooklyn.
Opened in 1993, Jay & Lloyd's is operated by third-generation deli owner Lloyd Lederman and Jay Stern, boyhood friends who grew up down the street from each other in Brooklyn. "We saw the old ways going," Lederman says. "Most of the delis were becoming commercialized, and they didn't have that traditional deli atmosphere and flavor. We are using Grandma and Grandpa's recipes and holding true to form."
[…]
Lederman says that although kosher meats and products are more expensive, they offer superior quality. "Sure, you can get a sandwich at the local bagel deli counter for $5," he says. "But you are getting what you pay for."
But beyond the quality of the beef, part of what the customer is paying for is the deli experience. "We kibitz with our customers," Lederman says, referring to the Yiddish term for joking. "It's almost like a Catskills Mountains, Borscht Belt routine around here. That's what makes the New York deli unique."
If you are a Jewish deli aficionado, it's definitely worth a look see. As for myself, it's been said that the most dangerous spot in New York City is the space between myself and a Katz's pastrami on rye.
Fact.