Jackie Robinson Playground Officially Reopened Yesterday In Crown Heights
Around 3:30pm on an overcast Wednesday afternoon, NYC Parks Brooklyn Borough Commissioner Martin Maher, Deputy Borough President Diana Reyna and City Council Member Laurie Cumbo, cut the ribbon on the fully renovated Jackie Robinson Playground in Crown Heights.
Over the last year, the one-acre playground underwent an almost $900,000 renovation, transforming from this dated space (from an undated photo from the Parks Department website):
Into this beautiful new play area, with something for everyone: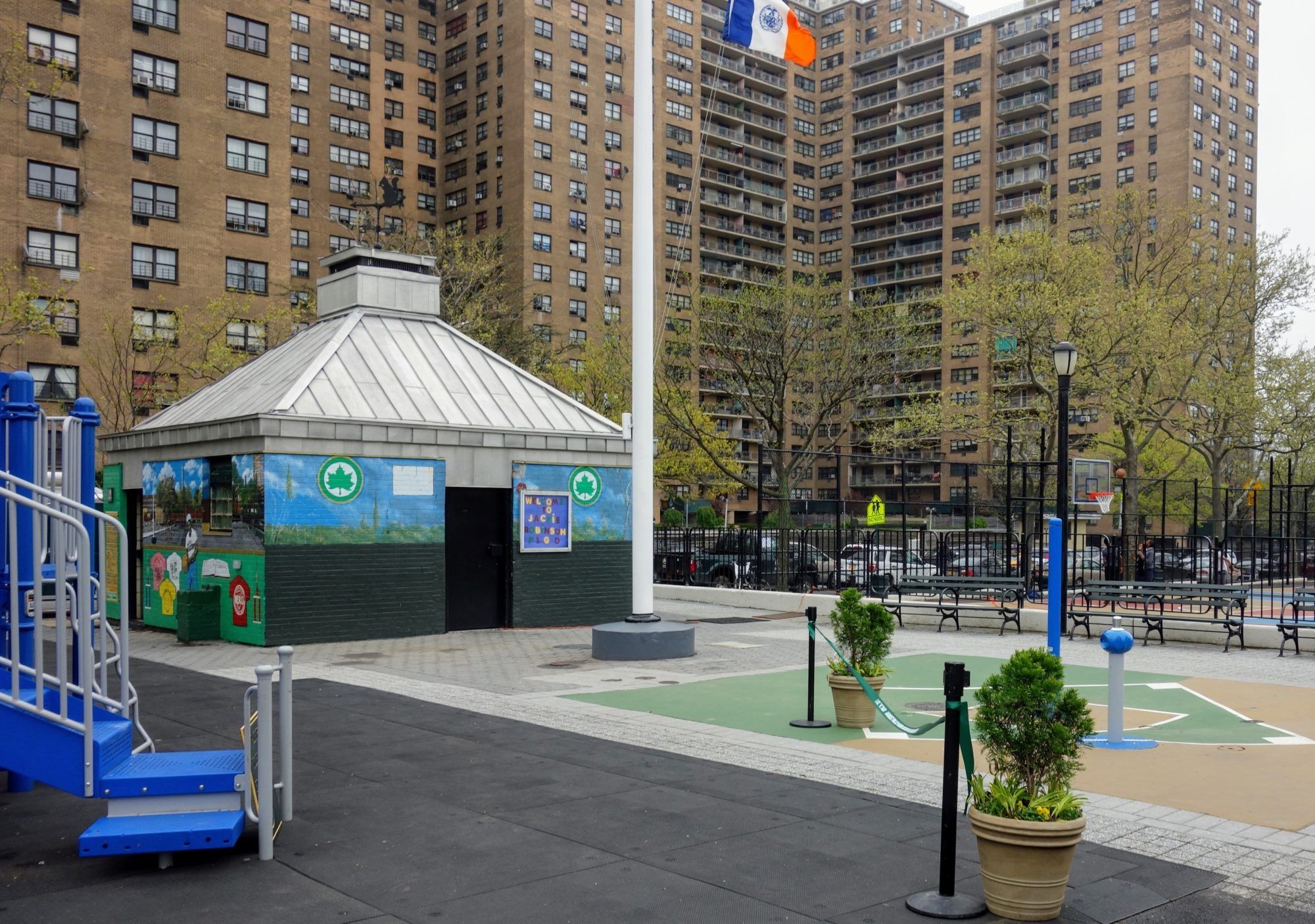 It all started with the comfort station. It was high on the list of necessary improvements for the residents of the surrounding area, Councilwoman Cumbo reminisced, and the project grew from there into a complete overhaul of the entire playground.
"When I ran four years ago, I promised the Crown Heights community that they would have a brand new Jackie Robinson Playground with brand new basketball and handball courts, sprinklers for the kids, new benches, chessboards, and play equipment.
It feels AWESOME to deliver on a promise, TO GET SOMETHING DONE! Jackie Robinson made history on April 15, 1947 as the first African-American to play Major League Baseball. Years from now, I cannot wait to read about children who will say they got their start at the Jackie Robinson Playground. I am proud to have secured $900,000 in partnership with Mayor Bill de Blasio and Brooklyn Borough President Eric Adams. TOGETHER, WE GOT IT DONE!," said Cumbo.
The improved Jackie Robinson Playground now includes:
Brand new play equipment, that's accessible to all children.
Safety surface and a spray shower were redone. The two bears that once used to provide spray showers in the summer, were relocated to keep their watch over the playground, and replaced by more modern equipment.
Perimeter planting was enlarged, and new benches installed.
The basketball courts got a complete overhaul, with new pavement, color seal coat, and glass backboards with hoops and nets:
Parks also installed ew game tables, new pavement and a historic sign commemorating Jackie Robinson who made baseball history nearby where Ebbets Field once stood.
And of course everyone wanted lots of photos with the kids:
This project was funded jointly by Mayor de Blasio and Borough President Adams in support of Council Member Laurie Cumbo.