It's The Dead Of Winter – The Best Time To Tour Aviator Sports' Summer Camp!
One of the shocks parents experience — certainly in Brooklyn but most likely all over – is how soon you need to start thinking about summer camp. The holidays are barely over and it's in the single digits outside. Time to start scrambling for something to do in June!
The choices can be daunting. There are interest-specific camps for almost any kind of kid. And general day-camp options abound. That's what happens when you have a city in which 1.1 million school children need something to do weekdays for two months.
In the middle of winter, it can be hard to get a real sense of what a particular summer camp might be like. Some, though, do offer tours of their facilities and meetings with staff to help guide parents and kids in their decision.
Take Aviator Sports. They offer the chance for families to book a private tour with a member of their Camps Staff. As theirs is a year-round facility (including some winter sports like ice skating), tours give a comprehensive look at what a child's day might look like over the summer.
You can easily book a tour here.
Aviator's Summer Day Camp is structured so that there's no lag between school and summer. The last day of NYC schools is June 26th and the first day of camp at Aviator is June 27th. Camp hours are 9am-5pm daily with early drop off and late stay available (7:30am-6:30pm). They also offer bus transportation to their site at Floyd Bennett Field in South Brooklyn.
Camp is for ages 3 to 14 and is broken up into four divisions: Junior Camp, Younger Division, Older Division. and Teen Division. All groups within the divisions are co-ed with 16 campers in each group. Each day, groups participate in five rotating activities from a (very long) menu of possibilities like:
Music
Improv/Acting
Dance
Photography/Videography
Yoga & Meditation Activity
Specialized Swim Instruction
Nature
Rock climbing
Fencing
STEM (Science, Technology, Engineering & Math)
Campers also take full advantage of their indoor facilities featuring basketball courts, synthetic turf fields, a gymnastics center, two ice skating rinks, rock climbing, and arcade.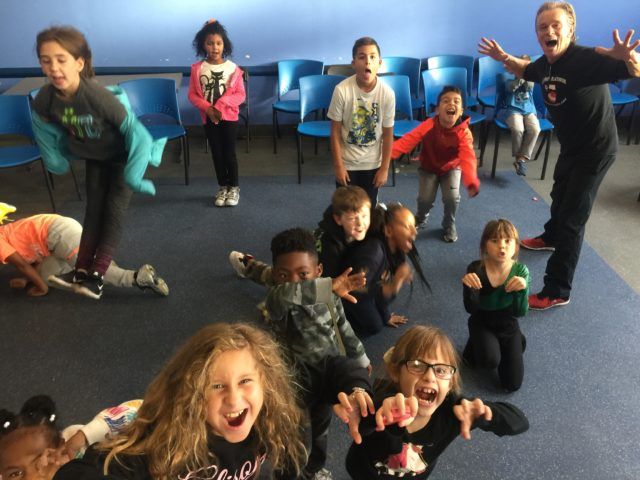 You might have noticed that not all activities are sports based. Aviator prides itself on being not only a world-class athletic facility but on creating a holistic experience in which campers also receive practice in artistic and cultural disciplines.
A week in the Younger Division might look something like this:
As one might expect, price varies depending on division and number of days, but lunch and snack are always included. More importantly, booking now can save you $200 for Full summer or $100 on Session enrollment.
So, yes, it's cold outside. Yes, there are many many school days between now and summer break. But you don't have as much time as you think. Someone else is contacting Aviator for a tour as you read this. There's no time to lose.
Reach out to them now and get your summer plans squared away.
This post was sponsored by Aviator Sports and Entertainment Center. If you would like to reach our readers, please contact us.