It's Actually Hot Today! Cool Off With The Kids At Playground Sprinklers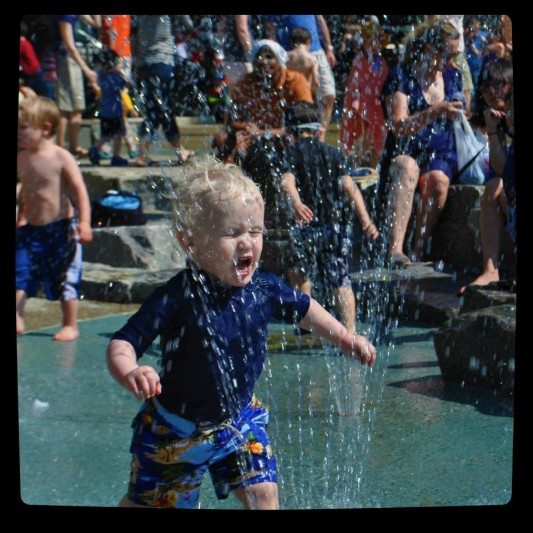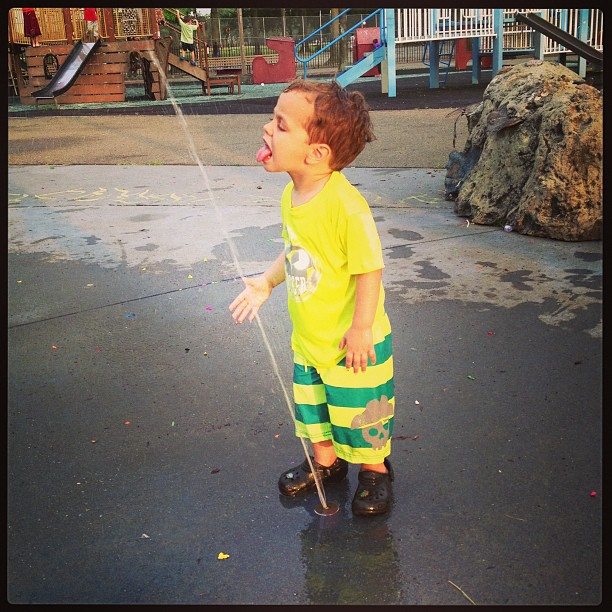 There is something magical about running through a sprinkler when you're a kid, and with temps finally on the rise even though summer is rapidly coming to a close, it's a great day to take advantage of the sprays that are flowing at parks across the five boroughs. To help you figure out the best places for kids in our area to get their splash on, we've put together a list of 12 sprinkler pads that are either in walking distance for those living in South Slope or are easily accessible by public transportation.
Looking for something a little further out? You can check out NYC Park's website for a gigantic list of sprinklers around the city.
Greenwood Playground
Where: Take the F train to Ft. Hamilton Parkway, and the playground is located on the corner of Ft Hamilton Parkway and E 5th Street.
What We Love: No water cannons or surprise geysers. Just a nice, old-school sprinkler spray.
Not So Great: The water area is great for the younger set, but you might discover that older kids will get a little bored.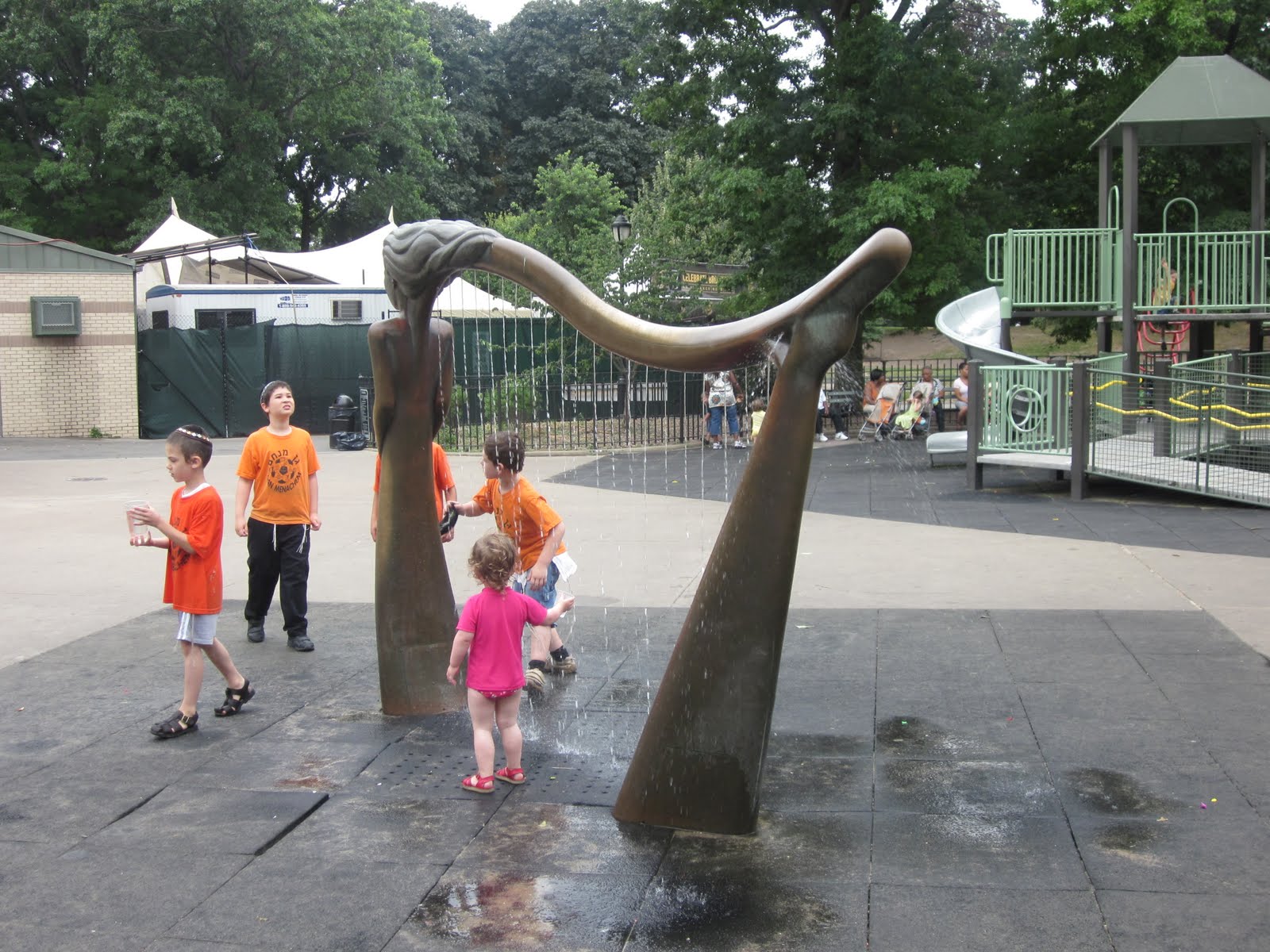 Harmony Playground
Where: Enter Prospect Park at 11th Street or 9th Street and Prospect Park West.
What We Love: The awesome harp shower. Make sure you have a few cups or buckets handy, and the kids will spend a ridiculous amount of time filling them up, dumping them and repeating the process.
Not So Great: The water areas of Harmony, which include the harp and the misting sprays that are located across from the toddler play area, are pretty far apart. You might want to consider teaming up with another adult if you've got more than one kiddo running around.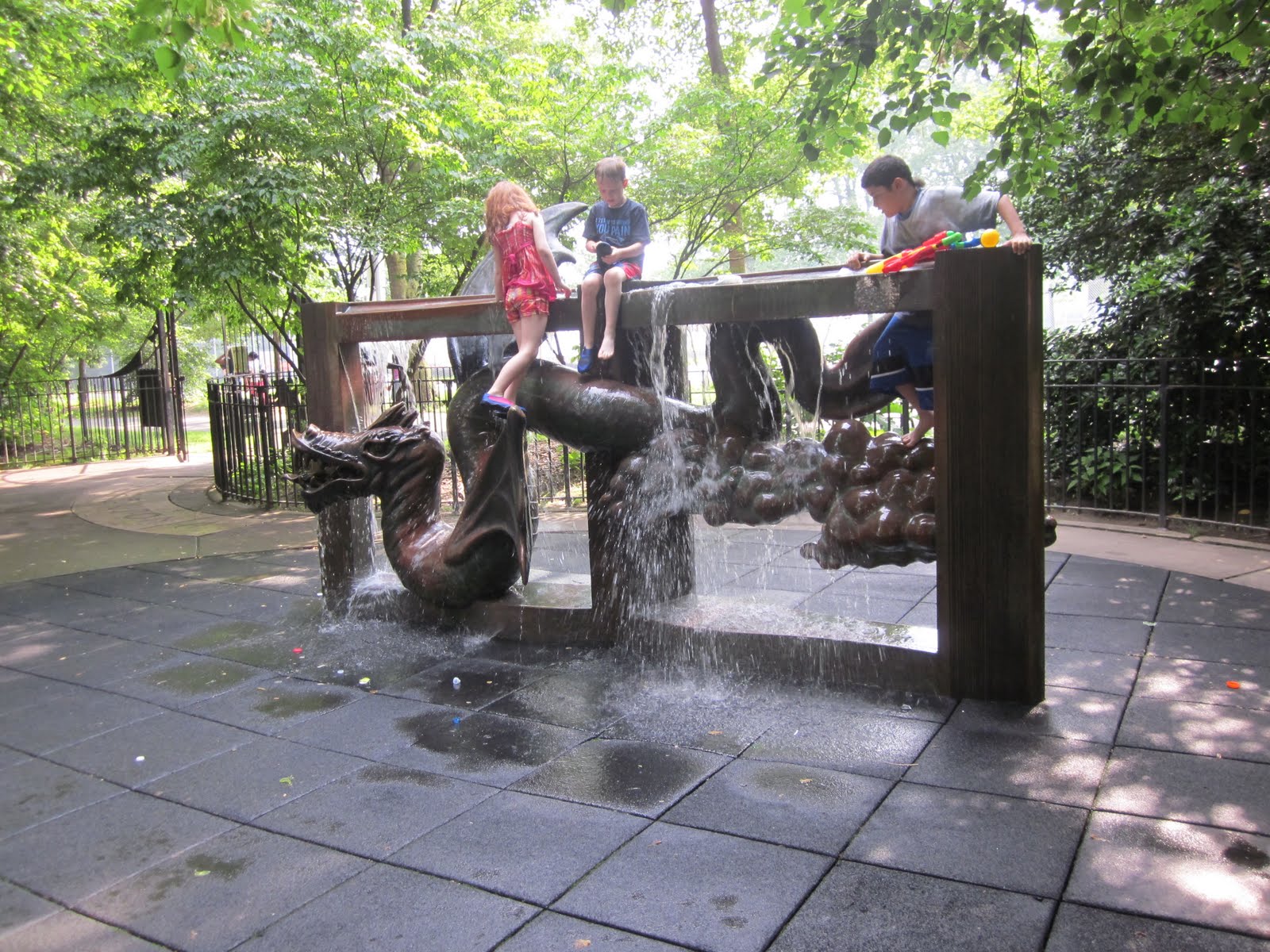 Imagination Playground
Where: In Prospect Park near Ocean Avenue between the Parkside Avenue and Lincoln Road entrances.
What We Love: It's cool and shady (something that's going to become increasingly important as the temps keep rising) and there's a water squirting dragon. We've named him George.
Not So Great: The dragon isn't huge, and we've seen him get pretty bogged down with climbing kids. You'll want to keep a close eye on your smaller splashers to make sure they're not accidentally squished.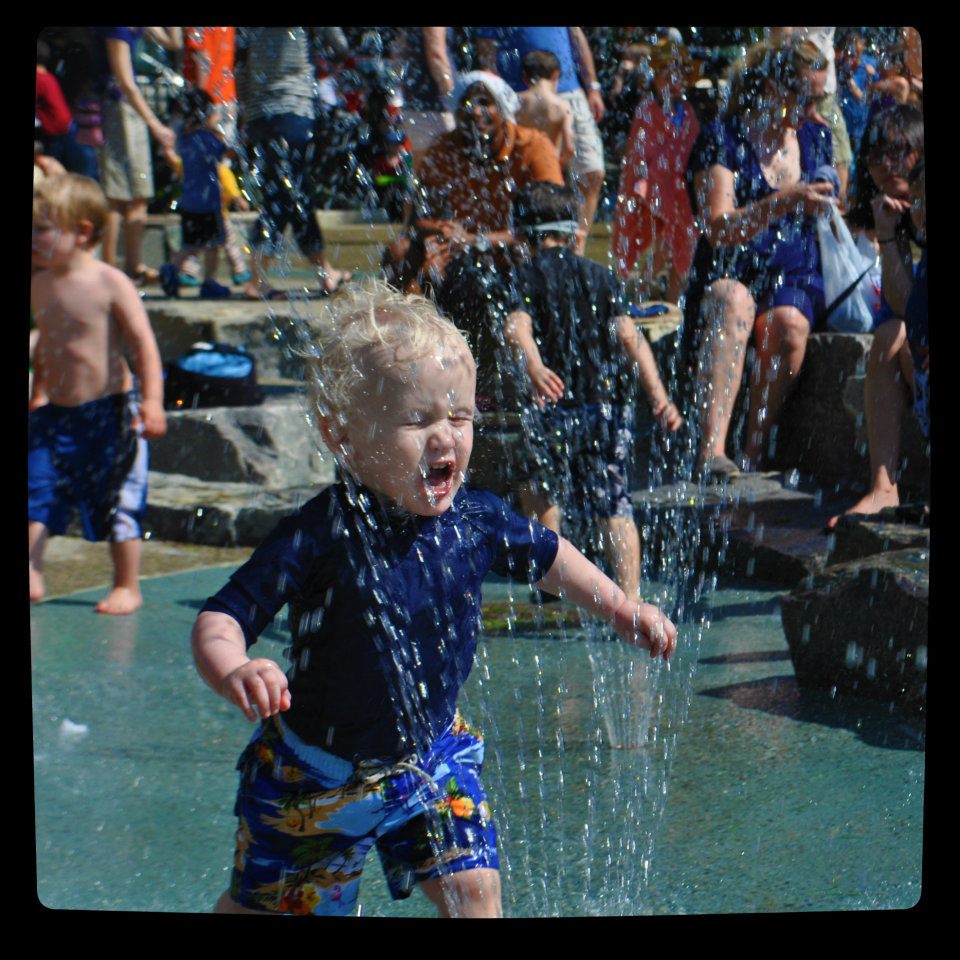 J.J. Byrne
Where: 5th Avenue between 3rd and 4th Street.
What We Love: Just about everything. There are a number of different spray sequences that blast up from the ground, a small wading area, water cannons for the older kids, and plenty of places for parents to sit on the rocks surrounding the water area.
Not So Great: It can get REALLY crowded, especially on the weekends. Dress the kids in something bright and you'll have an easier time finding them in the masses.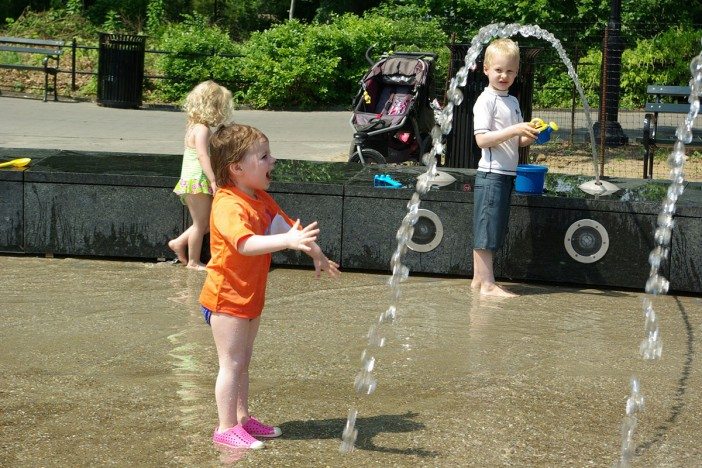 Lakeside
Where: Prospect Park, closest entrance is Lincoln Road.
What We Love: It's a vast area to play in, with some steady jets to run under, perfect for smaller children to enjoy.
Not So Great: Even though it's big, it can get crowded during peak hours, and there is no shade, so bring hats and lots of sunscreen!
Lincoln Road Playground
Where: Just inside the Lincoln Road/Ocean Avenue entrance to Prospect Park
What We Love: THE FROGS! They're too cute for words, and the kids think it's an absolute hoot when they spit water. The playground's location is also a huge plus if you spent the earlier part of the day at the Prospect Park Zoo, carousel, or Lefferts Historic House.
Not So Great: There's not a lot of shade in the sprinkler area, so (in addition to sunscreen) you'll want to make sure the kids have a hat.
Park Slope Playground (Lincoln-Berkeley)
Where: Between Lincoln Place and Berkeley Place and between 5th and 6th Avenues.
What We Love: Another simple neighborhood spray pad, similar to the one at Greenwood Playground, and is a great place to stop and reward the youngsters for being such angels while you were taking in some of the shops on 5th Avenue.
Not So Great: You'll want to watch out for speeding kids, because the spray area is right in the middle of a popular scooter spot.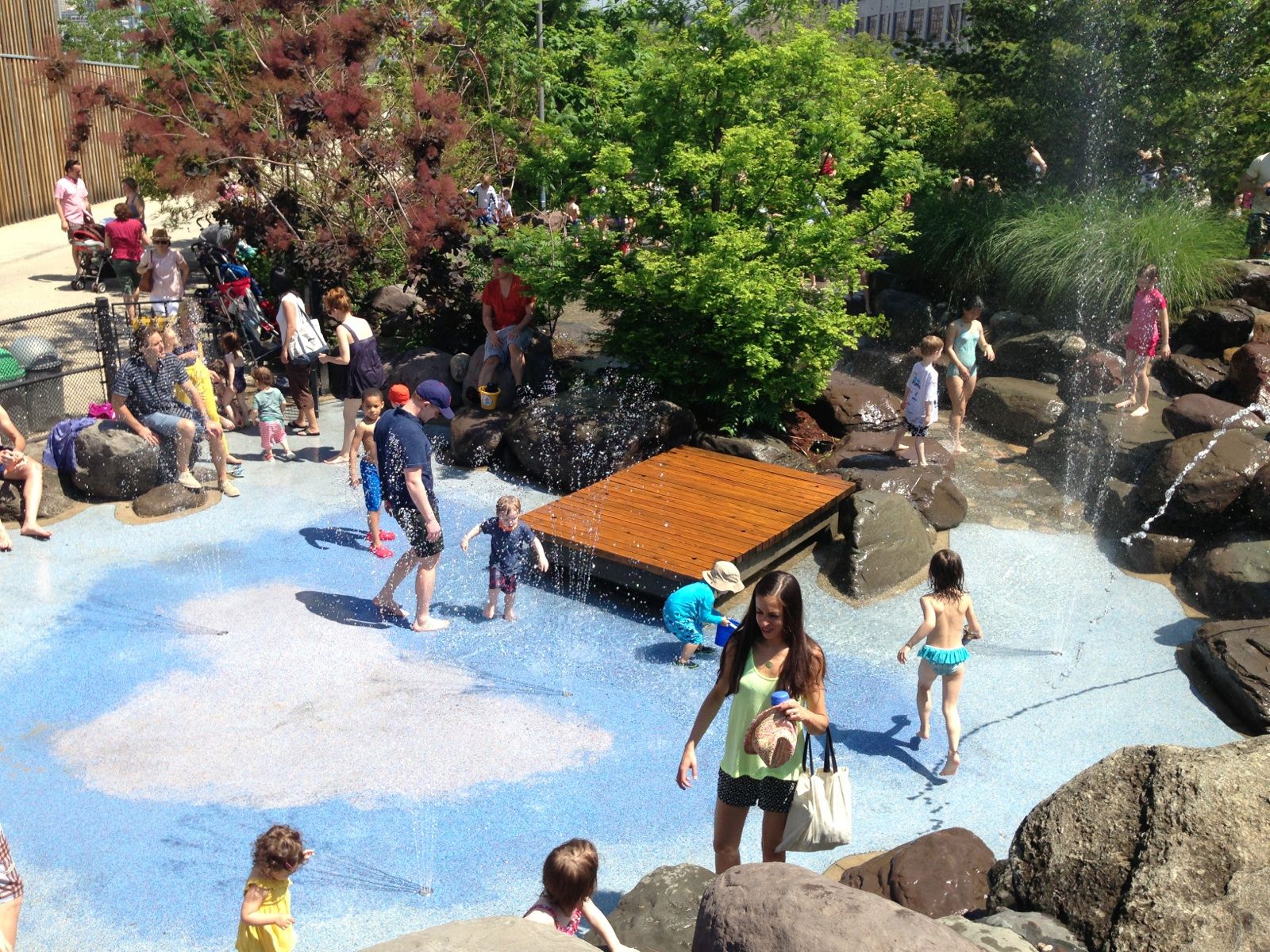 Pier 6 Water Lab (Brooklyn Bridge Park)
Where: Hop on the trusty old B63. The last stop is Pier 6 – Brooklyn Bridge Park, and the bus drops you off right at the playground entrance. The Water Lab is located near the back of Pier 6, next to Sandbox Village.
What We Love: The Water Lab is truly the king of Brooklyn splash pads. The upper area is like a huge water table complete with spinning wheels, a giant drill looking thing, a water pump and sloped pooled that cascades down into the lower areas, which include a water jet field and babbling brook.
Not So Great: Gigantic crowds, a slippery staircase leading down to the water jet field, and several tall rock cliffs can make this area of Pier 6 a little intimidating for some visitors. That said, it is posted on the gate that the water lab is for ages 5-12, so if you're in there with younger children (which a majority of the visitors are) just be very mindful that the space was not designed for the preschool set.
Sandbox Village next door also has a small spray area, and tends to be a bit less manic than the lab, but you'll definitely want to rock the sunhat and sunscreen because it's like the Sahara in there on a sunny day.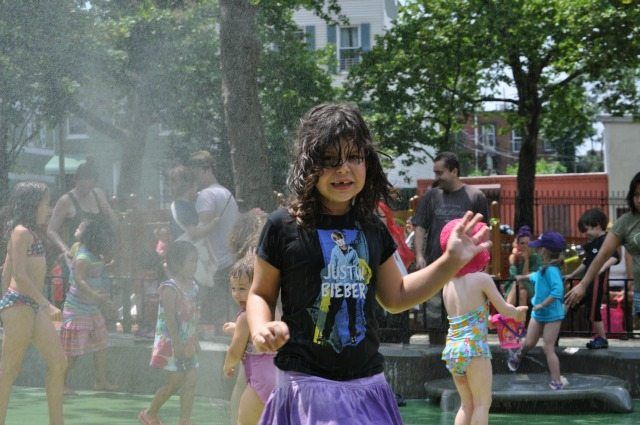 Slope Park
Where: 6th Avenue between 18th and 19th Streets.
What We Love: The park, which only just reopened last summer, is one of the best places to meet neighbors, hang out, and cool off at the straightforward splash pad. Plus, the large trees help keep the whole playground pretty shady.
Not So Great: Another one where the water area is great for the little kids, though older ones may get a little bored.
Sunset Park
Where: The park is located from 41st Street to 44th Street, and between 5th Avenue and 7th Avenue. Depending on where you are in the neighborhood, you can walk, hop on the B63 (to 42nd Street) or take the Bay Ridge bound R (to 45th Street).
What We Love: Amazing views, a playground sun sprinkler that you should see in person at least once in your lifetime, and (starting on June 28) a huge spray area outside the pool (closer to the 7th Avenue end of the park).
Not So Great: The park can get really trashed out, but with the large spray zone and those views of the NYC skyline (did we mention that Sunset Park has amazing views), it's worth a visit.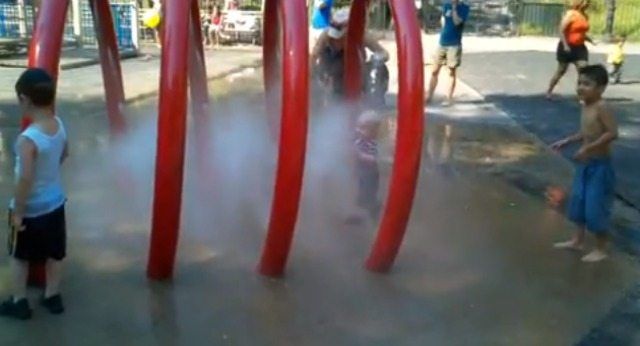 Third Street Playground
Where: 3rd Street and Prospect Park West.
What We Love: We love, love, love the big red kid wash! There is also a smaller sprinkler area for little kids over by the sandbox.
Not So Great: Although it's nothing like what the playground experienced on June 8, the overflow from the sprinklers has a tendency to pool up in certain areas causing several large and muddy lakes.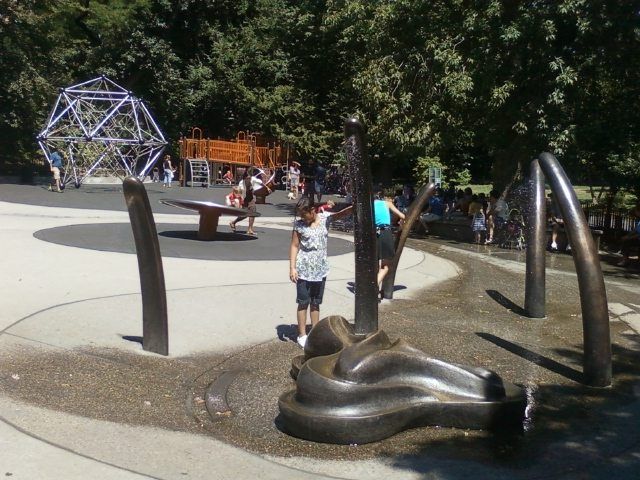 Vanderbilt Playground
Where: Vanderbilt Street and Prospect Park Southwest.
What We Love: The modern water sculptures. Very. Very. Cool.
Not So Great: There is a cement ditch filled with sprinkler runoff that cuts through the middle of the playground. We've seen many a running tot get tripped up as they cross paths with the ditch, so you might want to bring a couple of bandages…just in case.
Did we miss a favorite? Share your go-to sprinkler destinations in the comments below.