It's A Tie! Fidler And Storobin Both Declare Victory In Race For Kruger's Seat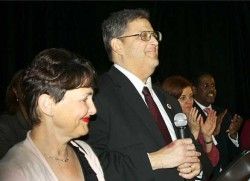 After a long day marred with allegations of campaign shenanigans, the special election for the 27th District of the State Senate ended with no definitive winner. So, naturally, in a move befitting the Kafka-esque landscape of Southern Brooklyn politics, both candidates gave victory speeches and left it to the political press to figure out.
The election was too close to call, with the Associated Press reporting Republican David Storobin narrowly leading Democrat Lew Fidler by 120 votes out of more than 20,000 cast – essentially a 50-50 split.
Late yesterday, Fidler, who has served on the City Council for a decade, sounded like the winner as he spoke to hundreds of supporters who had gathered at the Kings Bay Y on Nostrand Avenue to await the results and the arrival of their candidate.
After he arrived to cheers and applause, shortly after 11 p.m., Fidler announced he led Storobin, a Russian-born lawyer and Republican neophyte from Brighton Beach, albeit the margin at the time was just over 200 votes – far less than what he and his supporters expected against a candidate with a scant political resume.
Despite the narrow lead he said he had at the time, Fidler told his audience, "Nevertheless, the final tally won't be known for several weeks until the write-in ballots are counted."
There are more than 700 absentee and paper ballots to be counted. The Board of Elections said they will begin reviewing the machine counts today, and the paper ballots next week. The official results will take approximately two weeks.
Just moment's after Fidler's victory speech, Storobin appeared before his supporters at OPM Restaurant and Ultra Lounge and declared himself the victor.
"The good won. We won," Storobin said in his victory speech, caught on video by Yeshiva World News. "When nobody outside believed that we had a shot to compete … we won!"
Storobin, though, noted that it was close and that official results wouldn't be known for "days or even weeks."
Regardless, whoever is declared the winner will only serve until the end of the year when the district will be eliminated by redistricting, forcing the winner to campaign anew in a different district. Most observers believe Storobin will campaign for the so-called "Super Jewish" district, designed by Republican State Senate members to cater to the conservative Orthodox Jewish community.