Island Pops Serves Up Caribbean Ice Cream and Community in Crown Heights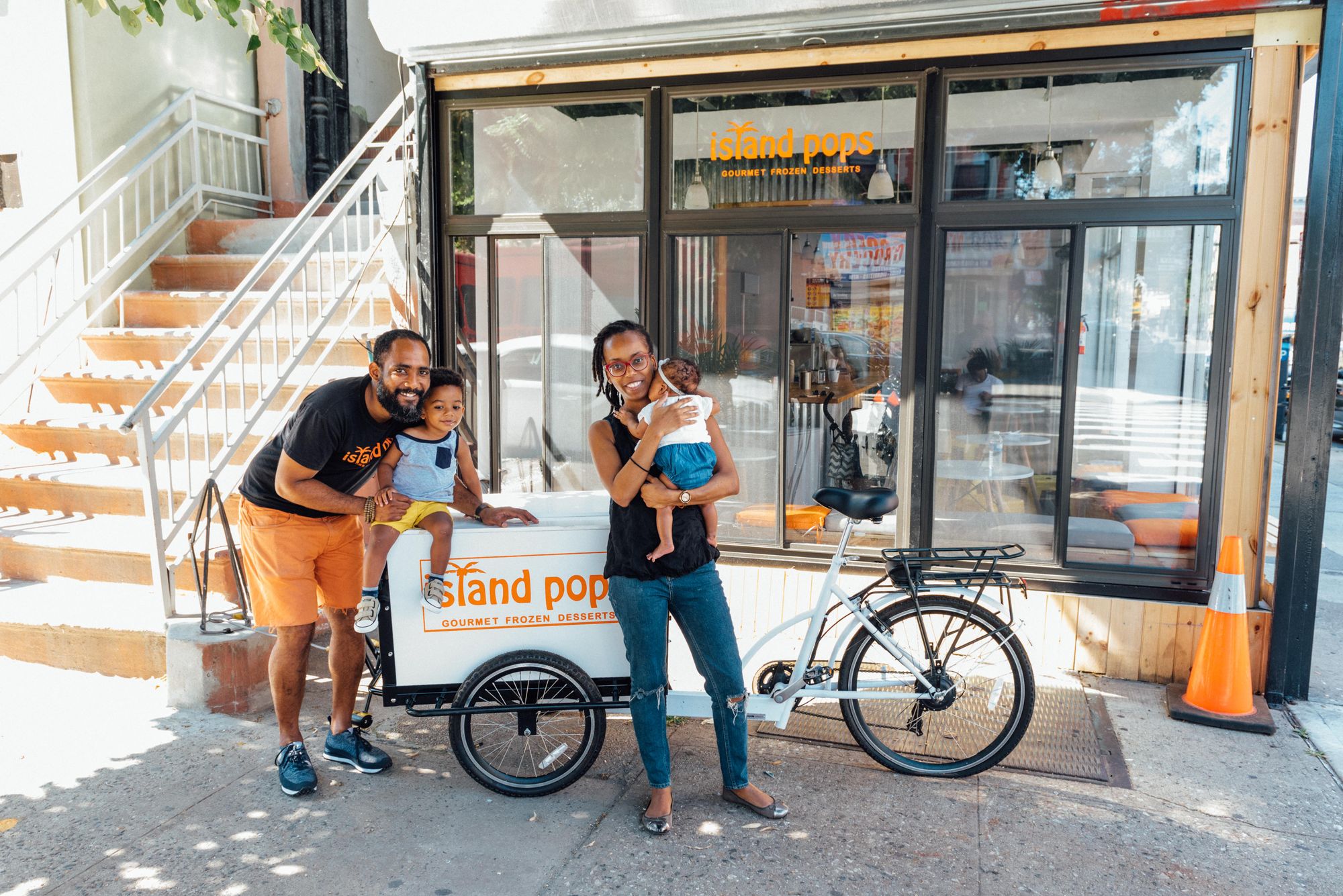 Island Pops started with a fever. Shelly Marshall was back from a vacation to her childhood home of Trinidad and was sick, craving the tastes of her childhood—specifically, soursop ice cream. After an unsuccessful search of their neighborhood for the tropical treat, Shelly's husband, Khalid Hamid, figured he was up to the task of making some at home. Or so he thought…
The first batch of ice cream ever produced, well before Island Pops, was a bit of a flop, he admits. But the couple realized that if there wasn't any good, local ice cream with the flavors of the Caribbean in Brooklyn, there was certainly room for opportunity…
"Everything we do are memories from childhood or things we remember growing up," Khalid says.
Born in Trinidad and Tobago, Shelly and Khalid actually attended the same high school as teenagers, but never crossed paths on the island. Both eventually moved to the States for university, Khalid becoming a psychologist and Shelly earning her MBA before working as a consultant. It was a fortuitous high school reunion in New York with mutual friends that eventually brought the pair together.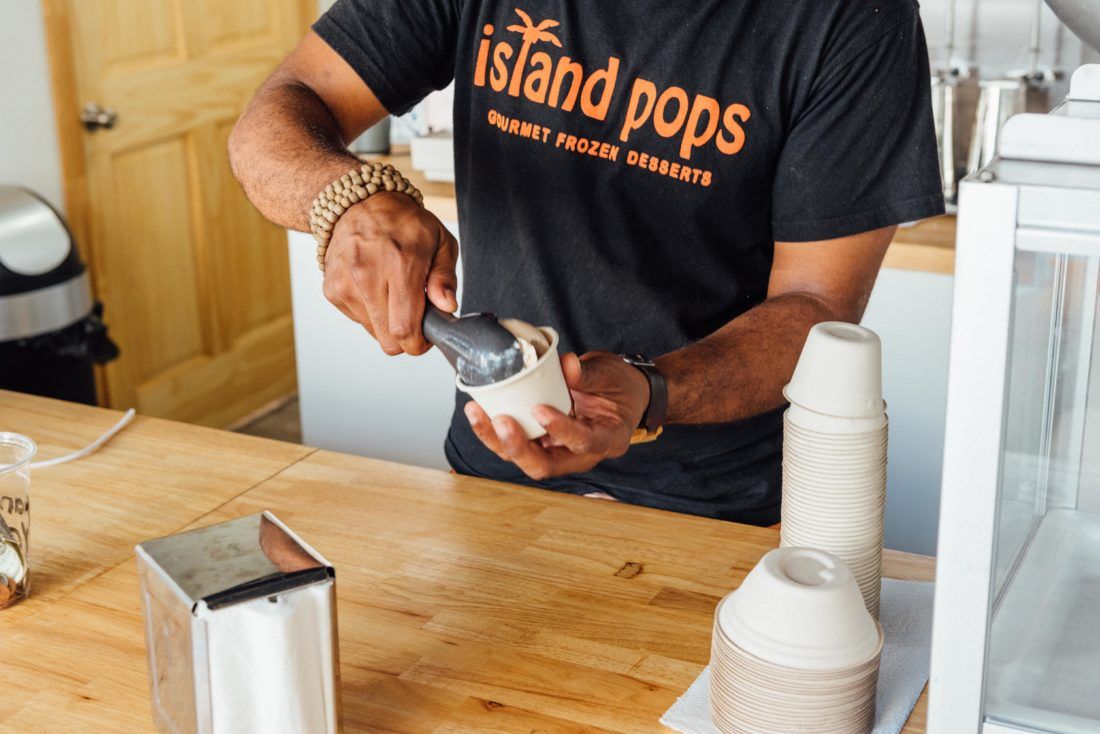 After the couple's first attempt at ice cream, Shelly enrolled in the renowned Penn State Ice Cream short course, learning the ins and outs of ice cream and popsicle production and the science behind the sweet. But if their technical skills were gained in the kitchen, the duo's creative flavors were honed through trial and error as the two recreated memories and tastes they'd missed from their upbringing.
As the two gained confidence and skills in ice cream and popsicle making, they also built the business side of their dream, winning the Brooklyn Public Library's PowerUp! business plan competition in 2015. They used the prize money to launch Island Pops, certifying their business and buying equipment to chase the dream—somewhere in there, they found time to get married, too!
Working out of the Brooklyn FoodWorks production space, they delivered products throughout Brooklyn, free of charge, with Khalid putting in the miles on his bicycle to rush frozen treats to a growing number of loyal customers. Things really got rolling as Island Pops began catering parties, concocting boozy frozen popsicles in unique flavors—the reception was huge.
The two kept building their clientele and their menu, enlisting cousins and family members to keep up with demand. And first, they couldn't offer payment, repaying their assistance with food and drink as they poured their time and money into their dream.
Now, three years, two kids, and very little sleep later, Shelly and Khalid are celebrating a major milestone for Island Pops: they've just opened their first storefront! Located at the corner of St. Marks and Nostrand in Crown Heights, the airy, cheerful shop with big windows is quickly becoming a go-to summer stop for neighborhood residents.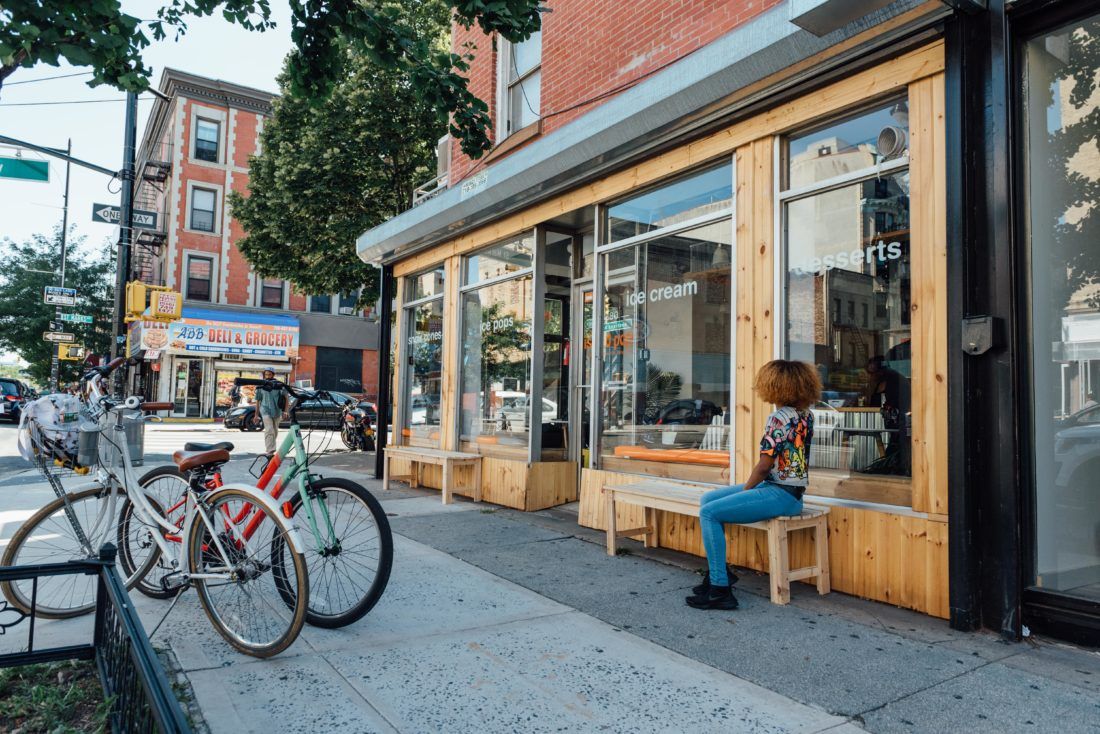 "We love Crown Heights because it's home for us," Khalid said. "It's familiar, there's West Indian food and people—the culture is very vibrant… We've had a very warm reception, both inside and outside our culture—they see our grind, and the island vibe, the positivity."
During the soft-opening period leading up to their big opening on National Ice Cream Day, foot traffic was steady, with passers-by peeking in the windows and the bold few who ventured inside buying scoops of whatever ice cream was on hand. Building momentum through social media and word of mouth, the two launched the shop to great success, with customers driving down from well outside the city to visit the brand new shop.
Khalid admits that the make-up of the neighborhood is quite different from when he and Shelly lived there a few years back (with two young kids, the couple has decamped to East Flatbush, paying less money for more space, he says). With the Crown Heights demographics shifting a bit with gentrification, Island Pops is in a perfect position to serve all comers: the established Caribbean community looking for familiar flavors from island childhoods and family cooking, as well as recent transplants to the neighborhood in search of something new and delicious.
The recent rise in consciousness for supporting local and black-owned businesses can't hurt either.
On a hot Thursday afternoon following the successful grand opening, traffic at Island Pops was steady, the bright, clean space lending itself to a familial vibe. Both Shelly and Khalid were in the store, juggling their two young kids as they scooped ice cream and handed out popsicles, aided by a rotating cast of relatives. The store had been officially open for a week and repeat customers were already showing up.
"I don't eat ice cream and I died for your ice cream," said one, debating between flavors for his second go 'round.
A police officer, his partner waiting in the patrol car outside, stopped in for a popsicle and to check how late the store would be open—apprently planning a night-shift stop at the ice cream shop.
While Khalid and Shelly are happy to explain flavor and hand out samples, many customers already know what they want. "I hope you have my flavor," announced one older woman as soon as she was through the door, "That soursop!"
And of course they did, Shelly assured her, scooping a double serving of the store's flagship ice cream.
Flavors at Island Pops rotate, though stalwarts like soursop, Guinness-caramel, orange-blossom bitters and vanilla staying in steady rotation. The debut of a new flavor, Ovaltine, caused a sensation when posted to Instagram last week—and the nostalgic, malty flavor lives up to the hype.
Fruit for the ice cream is imported weekly from Grenada to ensure freshness and flavor, while cream is sourced from dairies in Upstate New York. There isn't too much sugar added, says Khalid, but it's definitely not health food—it's ice cream. The focus is on fresh, natural ingredients.
While some customers—especially kids—come in asking after classic flavors like cookies and cream or pistachio, almost everyone is quickly converted to the Caribbean-inspired creations, even if they've never seen sorrel or cut open a star-apple before.
But exotic fruits aren't the only flavors on offer, as Shelly and Khalid mine a diverse array of experiences for their inspiration: a roasted peanut ice cream was inspired by snacks at soccer matches, while a subtle, spicy nutmeg ice cream took cues from tropical bakeries—and both are delicious.
The store offers scoops for $3 and doubles for $5.50, plus popsicles. As things get settled after the opening, they'll be adding sno-cones and milkshakes into the mix. Customers can also pick up pints of ice cream to enjoy back home. The shop is open from 2:00 – 10:00 pm Tuesday through Friday, and from 1:00 – 11:00 pm on Saturday and Sunday.