Irwin & Sons Dry Cleaners Is Closed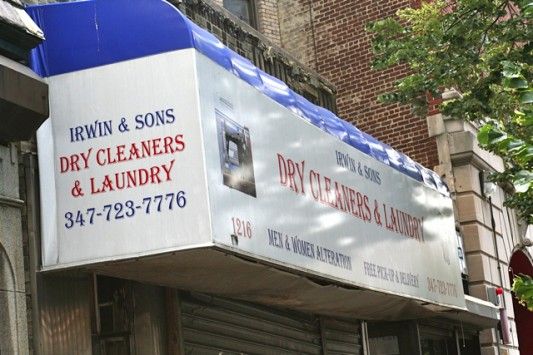 The gate is down on Irwin & Sons Dry Cleaners at 1216 Cortelyou Road, and hopefully you picked up your clothes before today, because it seems they're closed for good.
No one is picking up the phone there, but if you used them, you may have had some notice, as a neighbor mentioned yesterday on our Facebook page that they'd be moving. Futhermore, Irwin & Sons has known for some time that they'd have to move out.
The building was sold last July to the same people who own the building that houses Purple Yam, and according to Rebekah Carver of Brooklyn Hearth, who handled the closing, it probably won't stay empty for long.
"We have lots of people/businesses interested in the space," she said. "First off, they're going to renovate the building and get it in good shape."
As for your clothes, we've heard Irwin's may have another location, so there should be a way for you to pick them up. Anyone who used them know any more details?
And can anyone recommend some other nearby dry cleaners for those now looking for a new one?