Playground Versus Dog Run, or Old Bushwick Versus New Bushwick?
BUSHWICK – More than half a million dollars in government money for a park project is just waiting for the Bushwick community—if only it could decide on how to spend it.
Back in 2015, it appeared that the local residents had found a use for $650,000 that Councilmember Rafael Espinal had earmarked for a project in Irving Square Park: they wanted a dog run. A meeting was even planned for community input with Espinal and representatives from the Parks Department.
Then, it all fell apart.
Some neighbors near the park opposed the idea of a dog run. Claims of competing interests arose, specifically promises of funding for a playground for young children that predated interest in the dog run, possibly a holdover from the previous Councilmember. Others worried about the of safety children at nearby schools that used the park for recess.
Without community consensus, the project stalled for years.
Then, in April 2018, representatives from the Friends of Irving Square Park made a presentation to the Parks and Recreation committee for Community Board 4 (CB4) about moving forward with a dog run.
The Friends of Irving Square Park, an informal neighborhood group geared around holiday events and park beautification, mainly wanted to see progress made at their park—whether it ended up a dog run or a playground. A new petition had been circulated, garnering about 800 signatures in favor of the dog run, which they considered a significant amount.
A map of the petition, showing support from many of the neighbors directly adjacent to the park, can be seen below: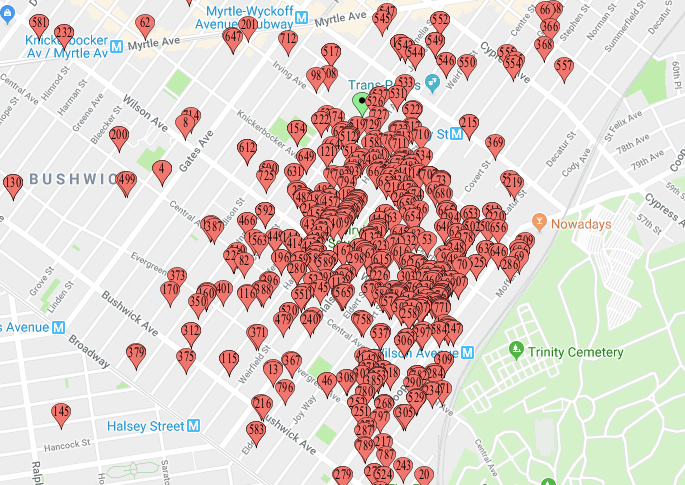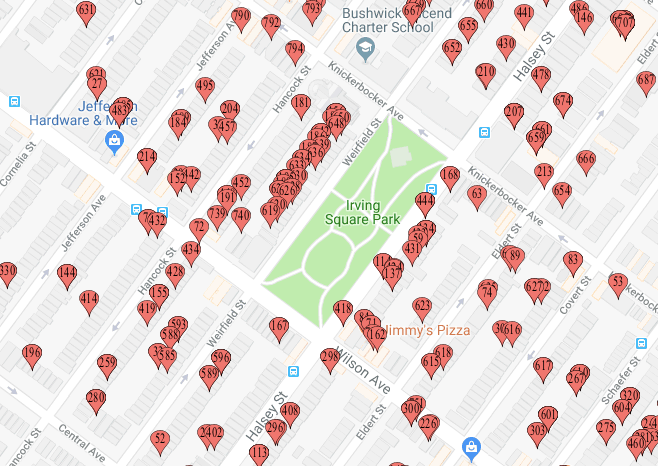 Instead of progress, the presentation was met with "a lot of negative feelings" from the committee, said one member of the group, who did not want to be identified. When the committee meeting was recounted at the general Community Board meeting a few nights later, a member of the Friends of Irving Square Park reported that they "felt things were recapped inaccurately."
Members of CB4 advocated strongly against the dog run at the park, citing the children's playground as taking precedence. They said that neighbors along the Wilson Avenue end of the park, where the run would be located, were opposed. One member explained a scenario where dog run would spoil family picnics in the park. Another cited the proximity of P.S. 151 and the Bushwick Ascend Charter School, both located at the far end of the park.
And yet, on a given morning, off-leash dogs can already be seen all across Irving Square Park—which takes up a full city block—as their owners play fetch and chat with each other on the grass. Proponents belive a dog run located at the far end of the park would provide an additional degree of containment for pets in an otherwise open public space.
But if project proponents feel that a dog run would help enclose the park and keep children and dogs separate, opponents of the dog run still think the run is a safety concern.
Currently, there is a playground at Irving Square Park, though not one specifically designed for small children. It's located at the north end of the park, at the furthest extremity from where a potential dog run would go.
And yet, aside from the safety concerns and the logistics of the park, the issue has been repeatedly framed as a question of who gets to decide what projects take place in Bushwick: long-term residents or those who have arrived in the last decade.
"The residents of Bushwick, I don't know how many have been here for 20 years like me," said Mr. Martinez at the CB4 meeting earlier this year. "We couldn't use the park before, because there was a lot of stuff, bad stuff. But now that the community is getting better, we need playgrounds."
Wrapping up the discussion at that same meeting, then Parks and Recreation Committee Co-Chair Robert Camacho (now CB4 Chairperson) closed the issue by promising progress on a playground and essentially slamming the door on the idea of a dog run:
"At the next meeting I guess there's gonna be recommendations and we're gonna work hard to try and solve this problem that we had no knowledge of. But there is no dog park in Irving Square Park—just a reminder," he said.
Video from the live stream of that meeting can be seen below (starting at 1:26:00):
Following that meeting, a spokesperson for Councilmember Espinal confirmed that the money had originally been allocated to create a dog park, but the project was put on hold due to community opposition.
When years passed without consensus, the money was drawn down to fund other projects. Still, the spokesperson promised that when the community came to an agreement, the funds would be reallocated.
That discussion was in May of this year. And since then? A newly elected Community Board executive, a protest, a summer break, and a few more meetings—but little progress on either a dog run or a playground at the park.
In the interim, the Friends of Irving Square Park has lost some of its most active members to either retirement or work-based relocation out of the neighborhood. Other members have stepped back, focusing on work or responsibilities at home instead of the contentious proposal.
A neighbor, speaking anonymously due to the local divisiveness of the issue, agreed that the issue seemed split between long-term residents of Bushwick and those that have arrived in the last decade, but felt that members of the Community Board were using their positions of power to unilaterally push through their vision for the park.
Moreover, they have been more effective at blocking what they didn't want then enacting anything else to replace it.
With some of the dog park's leading proponents moving from the neighborhood within a year of advocating for such a lasting change, though, long-term residents may have a point.
Still, neighbors want something to be done with the park—more than a few have both dogs and children—but no concrete proposal for a playground has been made, nor designs drawn up for comment, despite the money waiting to be spent.
Ahead of the December meeting for CB4, District Manager Celeste Leon confirmed that a letter "expressing the committee's feedback on prioritizing funding for children, especially given previous commitments to install a toddler playground" was sent to Councilmember Espinal's office in October.
The Councilmember's office did acknowledge receipt of the letter, but a spokesperson said it had arrived too late to be included in recently concluded budget cycle. The issue may be up for consideration in the coming year for the next budget cycle.
That would mean April or May, twelve months from the Friends of Irving Square Park's presentation and petitions, which came years after the project originally stalled out, notching yet another year onto a project that still hasn't been decided on.