Introducing Bensonhurst Bean: Bensonhurst's Premiere News Blog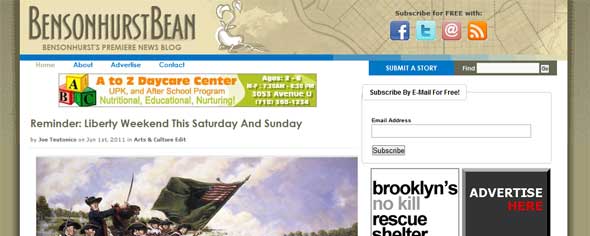 "Hey Ned, when are you going to start a site to cover Bensonhurst?" Today! Check out Bensonhurst Bean: Bensonhurst's Premiere News Blog.
Believe it or not, we got asked that question a lot. Many of our readers live there, following Sheepshead Bites because it's the closest place they can turn to for online coverage of things going on in the region. Bensonhurst is a hugely diverse and populous neighborhood so totally under-reported and under-represented by media – with almost no coverage in the city press and only one weekly paper with small circulation – Bensonhurst and the surrounding areas need news just like Sheepshead Bay did before we launched Sheepshead Bites.
We're proud to introduce Bensonhurst Bean, our first expansion into another neighborhood.
Bensonhurst Bean will follow a similar blend of original reporting and features, reader contributions and cultivated online content that Sheepshead Bites is now known for. But it'll have a uniquely Bensonhurst voice, led by our resident blogger Joe Teutonico (and with contributions from BKSouthie.com's Brian Hedden). Joe, Brian and a handful of other contributors will be exploring all the issues relevant to Bensonhurst residents, from politics and news to crime, business and real estate. This is a community steeped in history, and full of complex, colorful characters. It's of similar size and demographics as Sheepshead Bay, and faces similar issues of development, congestion and challenges to small businesses, but has its own unique twists that we will flesh out and explore in our coverage.
It's a truly proud moment for us to announce this launch, and we hope you'll show your support by following the Bean on Facebook, Twitter and by e-mail (and don't forget to share it with your friends!)