A Push to Integrate Brooklyn Middle Schools Is Starting to Show Results, According to New Data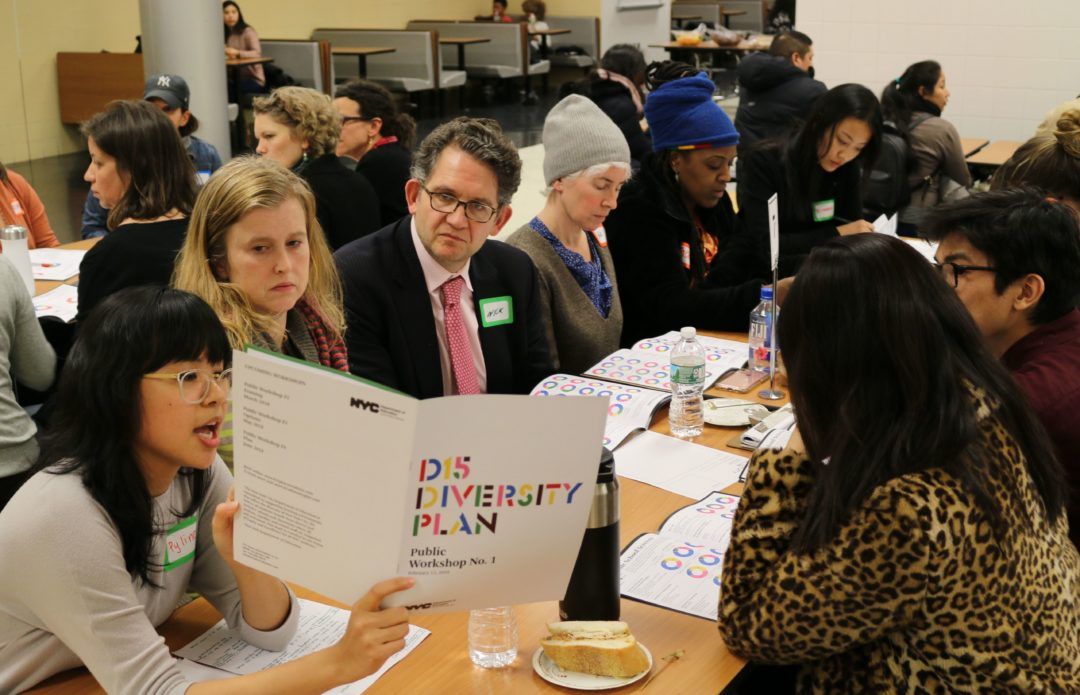 By Christina Veiga, Amy Zimmer,  Chalkbeat
A pioneering diversity plan is starting to shift racial demographics of schools in one corner of Brooklyn, according to preliminary 2019-20 enrollment data released Thursday by the education department.
By moving to a lottery-based admission system and getting rid of competitive screens, the new policy aims to integrate middle schools so they reflect the demographics of District 15 — which includes affluent brownstone neighborhoods, such as Cobble Hill, Carroll Gardens and Park Slope, as well lower-income areas, such as Red Hook and Sunset Park.
This year's enrollment numbers show that disproportionately white and affluent schools saw some of the most dramatic changes. Schools serving mostly Hispanic students also experienced notable shifts — but in some cases the changes were less pronounced, suggesting there is still work to be done to convince families to consider a wider range of options for their children.
"It's hard work, and there's a lot more to do. But the [District 15] diversity plan is working," tweeted Brad Lander, a City Council member representing a large swath of the district.
City leaders hope that District 15's efforts can be a model for the city's other school districts — all of which must now develop integration plans of their own.
Dire warnings that white and more affluent families would flee the public school system largely did not come to pass. In fact, the district's share of white sixth graders — 31 % — remained unchanged compared to last year.
Claire McNamara, who is white, enrolled her son at Sunset Park Prep this year, a school where there were virtually no white students the prior year. Her family hadn't previously considered the school but decided it was a good option after taking a tour and being impressed with the engaged students and friendly teachers.
"We came in with an open mind, and we're pretty happy," she said. "I feel kind of lucky that we ended up here."
South Slope's New Voices, a performing arts school coveted by white families in the district, saw Hispanic student enrollment climb by almost 20 percentage points, to 41% of the sixth-grade class. At M.S. 51, which has billed itself as a school for gifted students, Hispanic enrollment jumped by 13 percentage points, to 36%.
Meanwhile at the southern end of the district in Sunset Park, the incoming classes remained overwhelmingly Hispanic, though the number of white students is slowly ticking upward. At Sunset Park Prep and Charles O. Dewey, for instance, the number of white sixth graders was negligible last year. This year, 9 and 10% of the students were white, respectively.
In a sign of the challenges that remain, many more white students received offers to both schools than those who ultimately enrolled. The disparity was especially stark at Dewey, where 27% of offers went to white students, according to an analysis by WXY, the firm that helped lead the community-driven plan to overhaul the admission policy.
That said, there did not appear to be a mass exodus students from the district's public schools. Roughly 76% of fifth graders from District 15 elementary schools ended staying in the district for sixth grade, according to education department data. The year before about 80% enrolled in the district's middle schools. Those numbers reveal that many students who applied to middle schools in previous years also ended up going to schools beyond the district, whether they went to private schools, charters or selective public schools elsewhere.
Before this year, most middle schools in the district had used their own selective criteria, such as test scores and attendance records, to admit students. Integration advocates say the city's widespread use of competitive admissions standards helps drive New York City's status as the most segregated school system in the country. And parents complained about their 10-year-olds feeling rejected when they didn't get into their schools of choice.
For this year's incoming sixth graders, the uniquely diverse district eliminated screens. Instead, students were admitted by lottery, with preference given to students who are low-income, in temporary housing, or learning English as a new language. The aim is for all of the district's middle schools to enroll 40 to 75% of students who fall under those categories. In this first year of the initiative, all but three schools met those benchmarks.  (The year before only three schools reflected those targets.)

"Our schools are stronger when they reflect the diversity of our city," schools Chancellor Richard Carranza said in a statement. "I am grateful to the community for their partnership in building a more equitable future for our students, and look forward to the many positive impacts of this plan in the coming years."
Chalkbeat is a nonprofit news site covering educational change in public schools.