Insa Brings Convivial Korean BBQ And Karaoke Lounge To Gowanus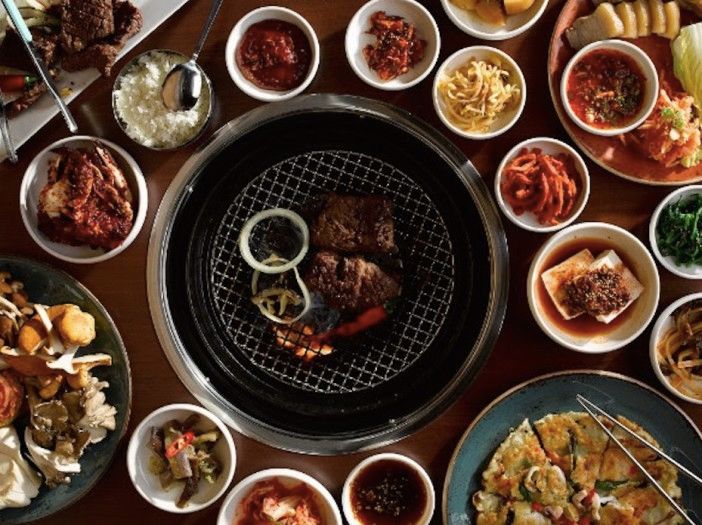 Are you interested in Korean BBQ, a swanky bar, and belting out some Journey — all under one roof? You'll be able to head to Gowanus and do just that next week.
Tuesday, December 15 to be exact. That's when Insa (328 Douglass Street between 3rd and 4th Avenues), a brand new Korean BBQ restaurant, bar, and karaoke lounge will start serving Korean favorites, pouring drinks — and flipping on those microphone switches.
Those already familiar with The Good Fork in Red Hook (391 Van Brunt Street, between Coffey and Van Dyke Streets) have already enjoyed Chef Sohui Kim's dishes. She and her husband and designer Ben Schneider opened Good Fork in 2006, featuring an eclectic menu that includes "Steak & Eggs" Korean Style, a solid burger, homemade dumplings, and roasted free-range chicken.
And now for something completely different. While Good Fork is intimate, Insa is 4,600 square feet — including a 100-seat restaurant, a full bar that features "Korean-Tiki cocktails" (all are named for Korean folk tales, and feature Korean spices, teas, and milks), and five karaoke rooms.
"When we began there 10 years ago [The Good Fork], I went in with the idea that I'll make whatever I feel like making, and hope that people will come," Chef Sohui Kim tells us. "When we started to think about a new idea, we knew we didn't want to do another Good Fork in a different location."
So how did Insa come about? "We have two small children, and we were cooking Korean food at home for them," says Kim. "We started seeking out authentic flavors. We began taking them to Flushing a lot. And then the idea came to us — let's bring Flushing to Gowanus."
The custom grills have been built onto tables that will hold 2-16 people. But there will also be 12-15 banchan on the menu — traditional Korean side dishes. The banchan will include three types of kimchee, watercress namul, pickled beef and peppers, salted whiting, soybean sprouts, savory steamed eggs, and roasted and glazed kabocha squash.
"It hits all the notes," says Kim of the menu. "We'll have the top 20 Korean dishes that people really like. And some which people don't know about."
Kim's husband and co-owner Ben Schneider designed The Good Fork and is doing the same at Insa. Inspiration comes from traditional Korean design elements, with simplistic, clean lines, and curved wood corners.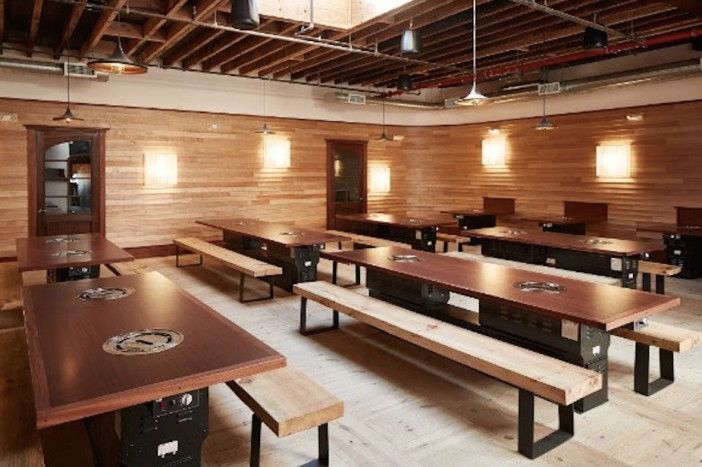 But Schneider brings design whimsy as well. The karaoke rooms have their own themes, including psychedelic, jungle, deep sea, and space.
When we asked how Korean BBQ and karaoke connect, she quickly responded. "Conviviality. We want this to be communal, jovial…it's about celebrating with people that you love and who you want to hang out with."
So how about kids? "We'll have high chairs and booster seats," says Kim. "I have two little ones myself. Families can come in and dine early before it gets a little crazy. That's what we like to do with our kids."
We were tipped off that Kim's favorite karaoke song is "We Belong" by Pat Benatar. We asked her if there was any chance we'd hear a rendition from her. She paused for a moment.
"You could convince me."
So start getting your banchan crave on. And do some vocal warm-ups!
Insa is located at 328 Douglass Street (between 3rd and 4th Avenues). The restaurant will open to the public for dining (and drinking and singing) on Tuesday, December 15. Dinner is served daily from 5pm-12am. The bar and karaoke rooms are open daily between 5pm-2am.
They accept reservations for parties of 4 to 16 people for the main dining room. Reservations can be made daily from noon until 5pm at 718-855-2620.
Insa has five private karaoke rooms. Their largest room holds up to 22 people and the smaller rooms hold up to 8 people. To reserve a private karaoke room, call between noon until 5pm at 718-855-2620.
Insa will have a strict no-tipping policy, instead instituting a 20% administration fee.