Inmates In The Dark And Cold At Brooklyn Federal Prison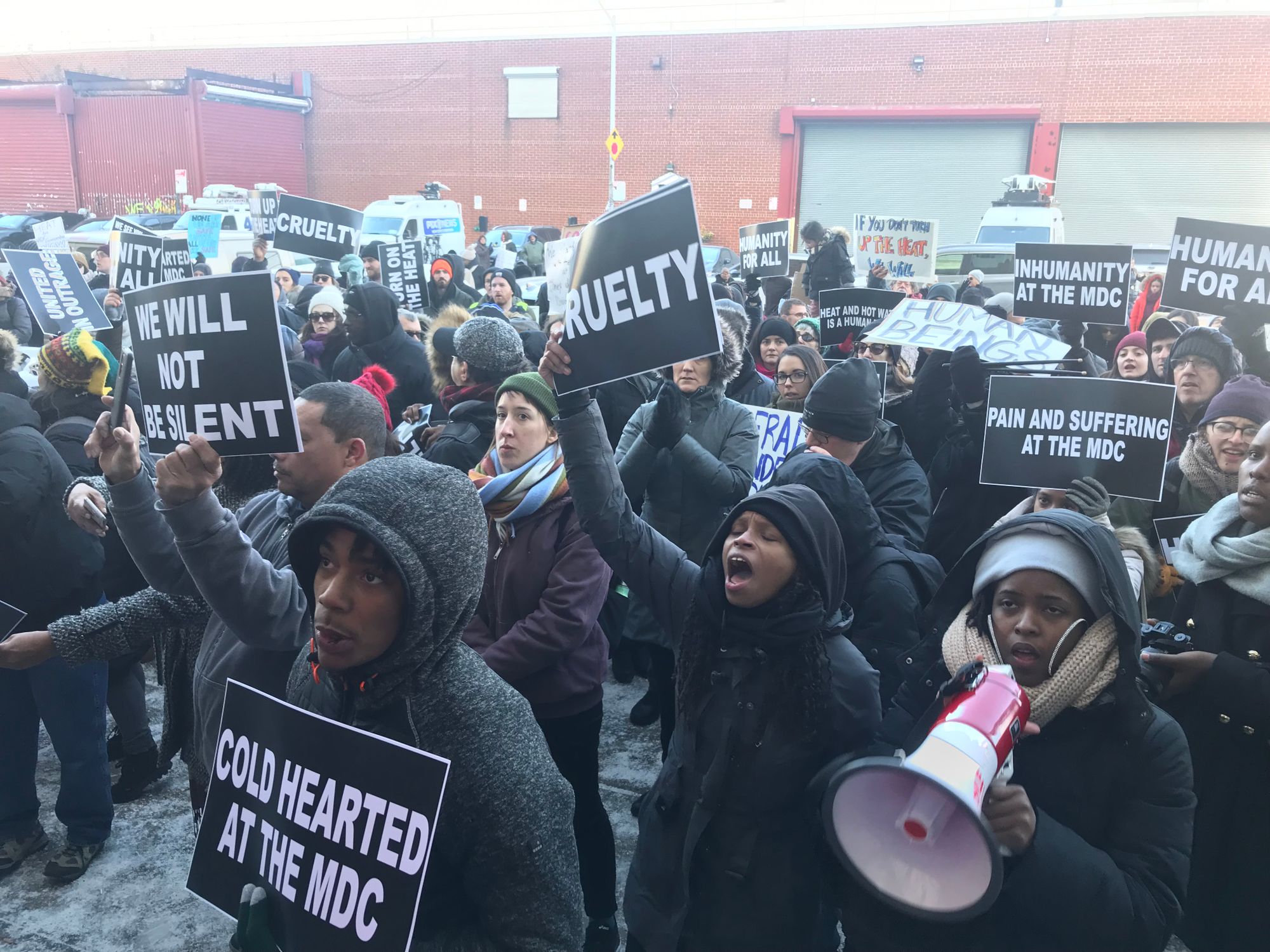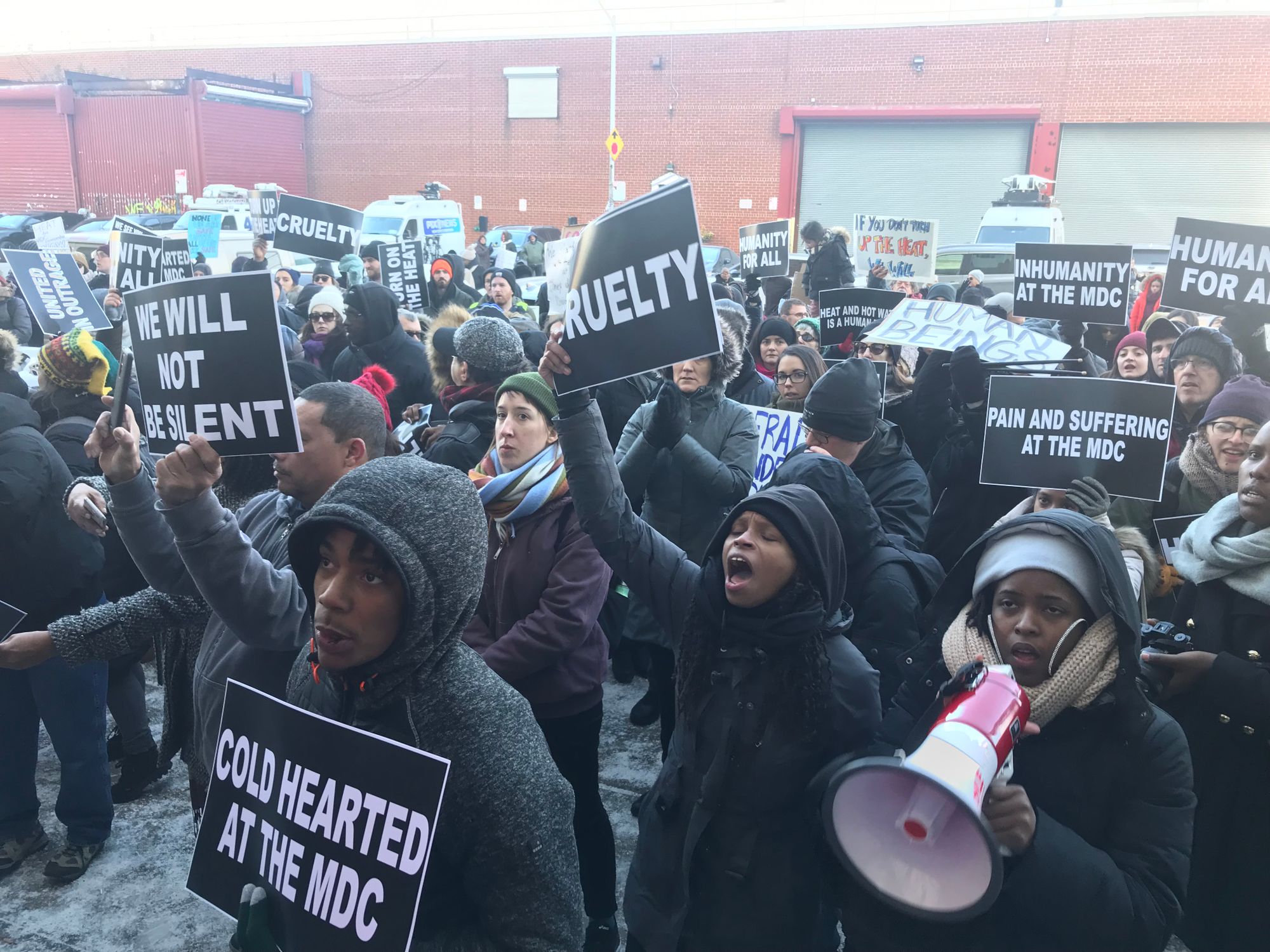 SUNSET PARK – A heat and electricity-deprived federal facility set off rolling protests outside of the Sunset Park prison this weekend. After several days, the Bureau of Prisons (BOP) finally released a statement Saturday confirming services would be restored Monday, but the angst of some inmates' family members lingers as they wait to hear from their loved ones.
Thelma Ojedis came to visit her brother at the Metropolitan Detention Center (MDC) last Tuesday but was turned away with no explanation. Ojedis, 36, called the next day and prison officials told her the phones lines were down and there was no new information. It wasn't until Friday that she learned the facility was on lockdown, without heat or electricity, but not from federal officials, from a friend's Instagram post.
"It's inhumane," she said. "You can't treat people like this."
Her brother Daniel Ojedis, 40, has been at the Brooklyn facility for three years awaiting sentencing. On Saturday, Thelma Ojedis, of Long Island, got a glimpse of him as he waved what looked like a white towel from his cell window overlooking 29th Street. It's the same way the siblings say goodbye after Thelma Ojedis' weekly visits.
The "harrowing" sounds of inmates banging prison windows came to light Thursday evening after a tweet from City Councilman Justin Brannan alerted many, including the press, about the troubling scene.
The news brought protesters to the front steps of the federal prison all weekend, including Akeem Brower whose bother Kalief Browder committed suicide two years after a three year stay on Rikers — two of which he spent in solitary confinement.
"This is in direct relation to what happened to my brother," he told Bklyner. "They tortured him in jail. They starved him in jail. They held these kids in solitary confinement, seven days, no heat, no hot water, no care."
Since the news of "poor heating and little to no hot water" at the facility broke, three rounds of elected officials have visited the site led by U.S. Congress members Nydia Velazquez, Jerry Nadler and Catherine Maloney. Reports from the inside were described as "very uneven conditions," according to Nadler who said some of the cells were too hot while others were too cold. As for the administration, the congressman described the top prison feds as having a "total lack of urgency," with regards to restoring services.
According to the BOP release, contractors— who left before full powered was restored on Saturday — installed a new electrical panel which will be used to restore power. This after BOP released a statement that the "partial outage" was due to a fire in the switchgear room, a contrast of what prison honchos first told the New York Times initially.
State Sen. Zellnor Myrie, who visited the federal facility on Saturday, described the outside of some cells as nauseating, some dark, while the frigidness of other cells was apparent even from the outside.
"Some cells were so cold that you could feel it just by touching the door," said Myrie.
Mario Torres stood outside of MDC in 40° F weather with no coat on in solidarity of his 23-year-old son. They hadn't spoken since Wed., Jan 30. Like his son, Torres spent three years in the facility awaiting sentencing.
"A lot of people [asked] me why I don't put a coat," said Torres, 53, who first learned of the goings-on from Facebook. I'm not going to put my coat [on] because my son is freezing inside. As soon as he [gets] heat then I'll put my coat, but right now, I'm not."
The facility houses more than 1600 inmates. According to the New York Times article, the inconsistencies in electricity started on Jan. 5. The BOP press released confirmed the West building of the facility has limited power while the East was unaffected.
With no word as to when visitation would be restored, Saturday's press release instructed visitors to check the BOP's website for updates.