Infographic: NY Voters' Bill Of Rights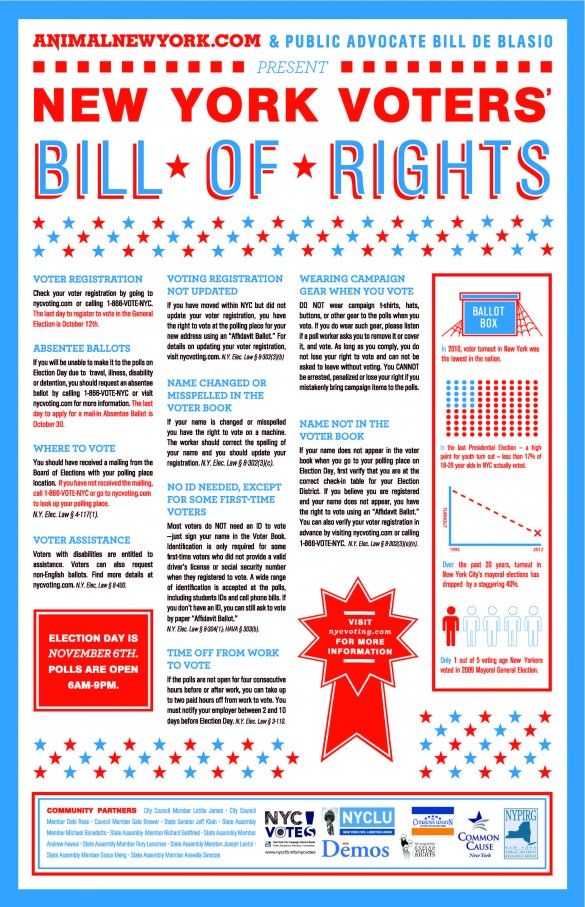 Ever since the city switched to new electronic voting machines, with their newfangled technology, Scantron-style ballots, and itty-bitty font, local voters have flooded our inbox every election day with complaints about the process. And it's not all about the tech – some are fed up with the long lines and seemingly clueless poll workers, and the voters themselves are confused about what to do.
Well, Public Advocate Bill De Blasio and Animal New York to the rescue! The city pol and web magazine have teamed up to help end the confusion, and raise New York's paltry voting rates.
According to De Blasio, New York had the lowest voter turnout rate in the nation in 2010, and, in 2008, when youth voters across the country voted heavily in the presidential elections, New Yorker's young adults turned out at only 17 percent.
To make the jumble of online resources (and the city's own archaic website) a little easier to navigate, De Blasio and Animal have created the above infographic with some need-to-know info about voting regulations, and put together NYCVoting.com, a site that presents links to some of the best voting tools around – and they do it in a very visually appealing, easy to understand way.
NYCVoting.com may just become our go-to link when our election day reminders come around.