Infamous Chili Cook-Off Returns to Bushwick: Do You Have What it Takes to Win?
BUSHWICK — The 17-year-old Brooklyn-based cooking competition, The Takedowns, returns with its flagship challenge — the Chili Takedown. On November 17, 20-30 amateur cooks will bring on their own twist of the dish to woo the judges, audience, and win prizes, at Bushwick's Lot 45.
These scrappy challenges are the work of Matt Timms, a Bushwick-based artist and actor, best known for painting minimalist portraits of people's pet cats, called All the Bad Cats. The Takedowns began with the original chili competition, but Timms has had all sorts of star dishes as the challenge: breakfast, mac n cheese, ice cream, and even cookies.
Amanda Reece, a baker and recipe developer, and has competed in many of the takedowns, and a previous chili one. While cooking is most of the fun, Reece speaks highly of the organizer.
"Timms is a very quirky and goofy person and has a unique way of thinking about things," she told Bklyner. "His events are consistently well-organized and smoothly run."
Reece has won a Breakfast Takedown with a biscuit and white sausage gravy recipe she created with her contest partner at the time. The prize was a food processor, Wüsthof steel cooking utensils, and a heavy anodized sauce pan.
The pastry chef laughs how the chili cook-offs are often Texan territory, "Everybody gets so creative with their chili, but Matt gets a lot of Texans who participate and sweep the crowds of their feet." Herself and her partner made a Michelada-inspired chili–Michelada is a Mexican beer flavored with tomato sauce, lime, chili and salt– that didn't place.
Timms is known for keeping the contest democratic and places more weight on the audience vote rather than the judges' choice. It helps the crowds feel more involved and makes an emphasis on the flavor, rather than technique. Prizes range from home appliances, to Anolon cast iron pans, to instant read thermometers–the home cook's dream.
The event is community-based, but with a flair of seriousness. All cooks are celebrated and treated as restaurant professionals, yielding high amounts of samples for an average of 200 hungry guests.
"He is very encouraging of even the least experienced cooks present," said Reece. "Everyone walks away feeling like a winner."
Do you have what it takes to add enough pizazz to your chili from watching all of the "Chopped" re-runs? Then this home cook competition is right for you.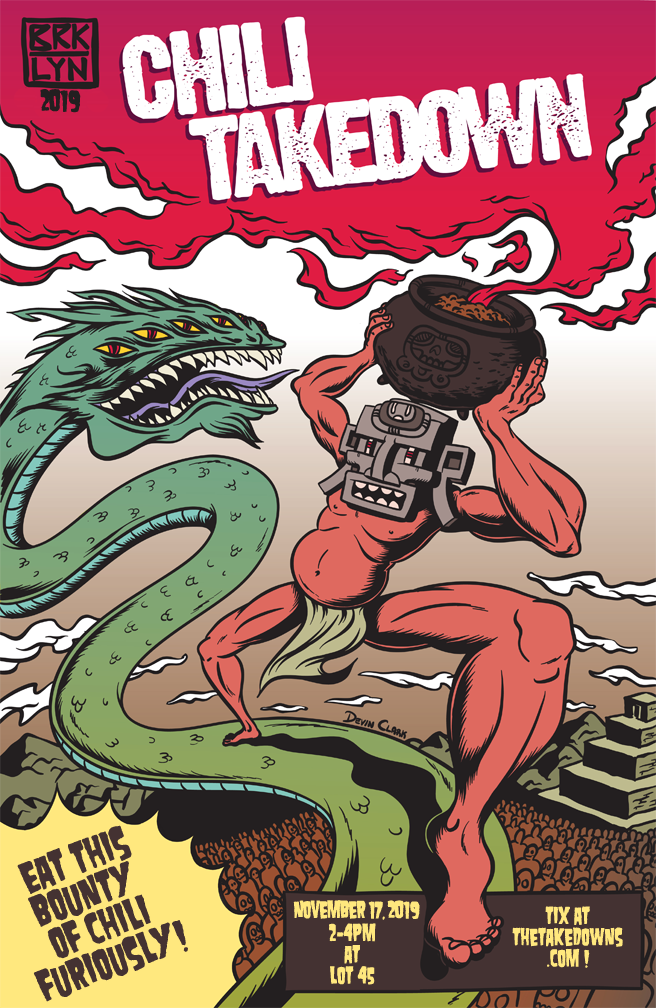 Chili Takedown at Lot 45
411 Troutman St
November 17
2 p.m. to 4 p.m.