Industry City Spotlight: Brooklyn Oyster Dory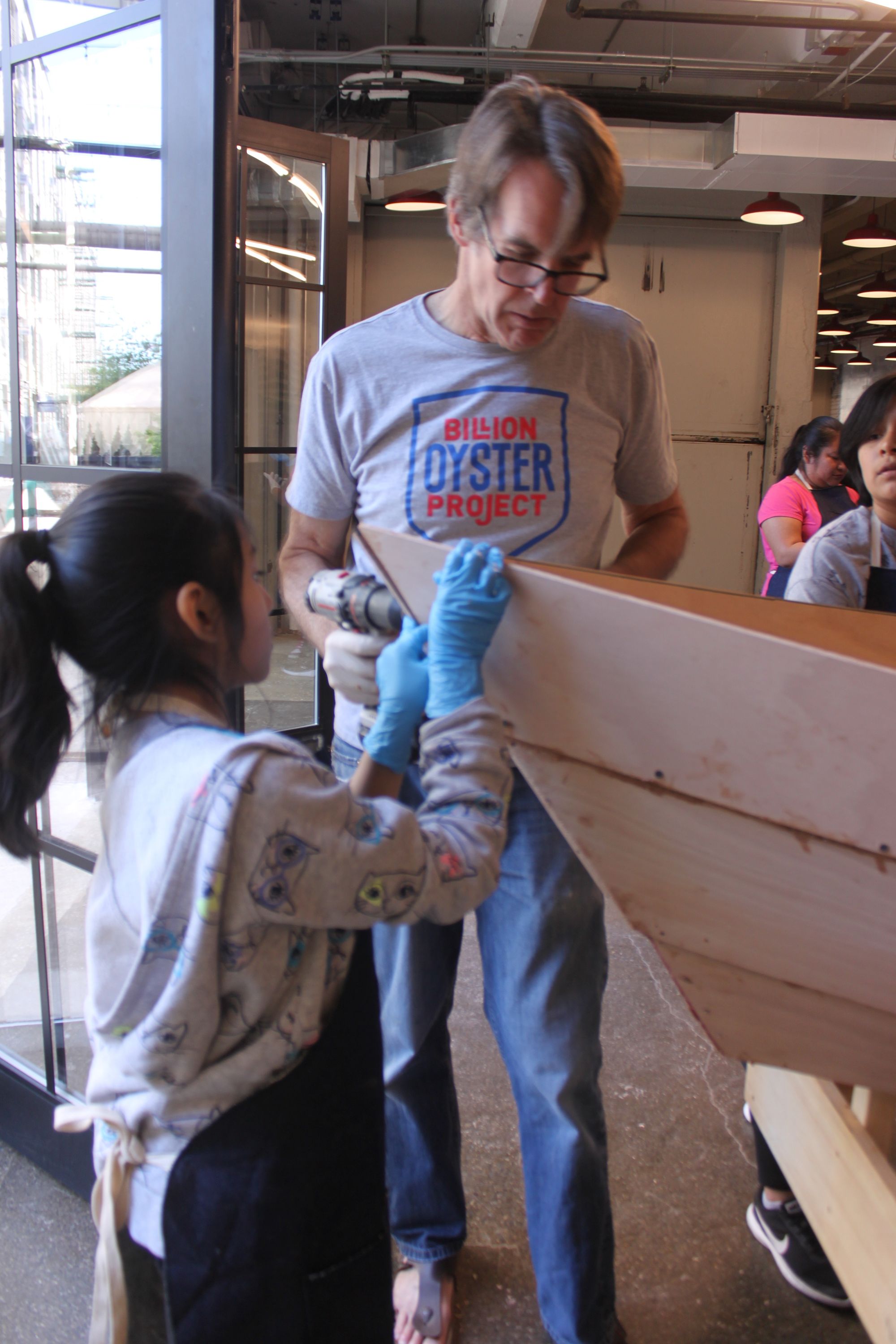 On a recent Saturday afternoon in mid-May, the corridor in Industry City's Building 6 connecting 34th and 35th Streets was abuzz with activity. Fueled by a table full of homemade tamales, a group of Sunset Park middle school students were in the midst of their final push to finish a 12-week project: constructing a traditional wooden workboat (called a dory) for launch in the harbor at nearby Bush Terminal Park – one of Brooklyn's spectacular hidden green gems. It was an impressive sight to say the least.
The students, or "builders" as they're called here, are part of an after-school program called Brooklyn Oyster Dory, which is a partnership between Billion Oyster Project, ¡Sunset Spark!, Brooklyn Boatworks, and Industry City. This is the second year of the program, which teaches students boatbuilding skills while also fostering teamwork and community. The Saturday event was a family day aimed at allowing the builders' families to help put finishing touches on the boat's structure so it can be painted and completed in the coming weeks.
Leading the builders is Rob Buchanan of Billion Oyster Project and Shifa Quraeshi of Brooklyn Boatworks. According to Rob, Billion Oyster Project is "a restoration and education effort to restore the indigenous oyster population to [New York Harbor] and to link that with educational initiatives to put people in touch with the harbor and make them care about it."
While Billion Oyster Project is headquartered on Governor's Island, the dory build is one of their educational initiatives designed, Rob says, "to get kids interested in the harbor and get the community interested in public access [to the harbor]." To that end, they'll be using the boats that the students construct to monitor the oysters in the harbor as well as create community boating in Bush Terminal Park.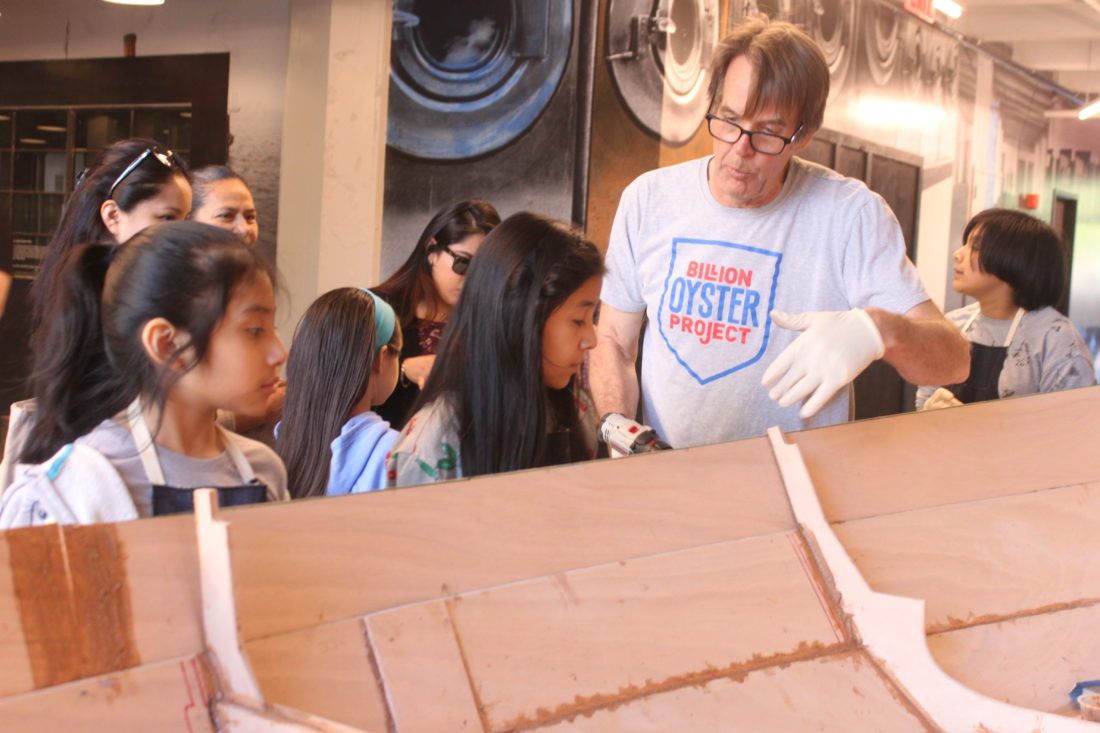 And this is no prefab "build-your-own boat" kit they're working with. Using a design from Brooklyn Boatworks, they are measuring, cutting, fastening with watertight epoxy, clamping, painting, and more to build their dory from scratch.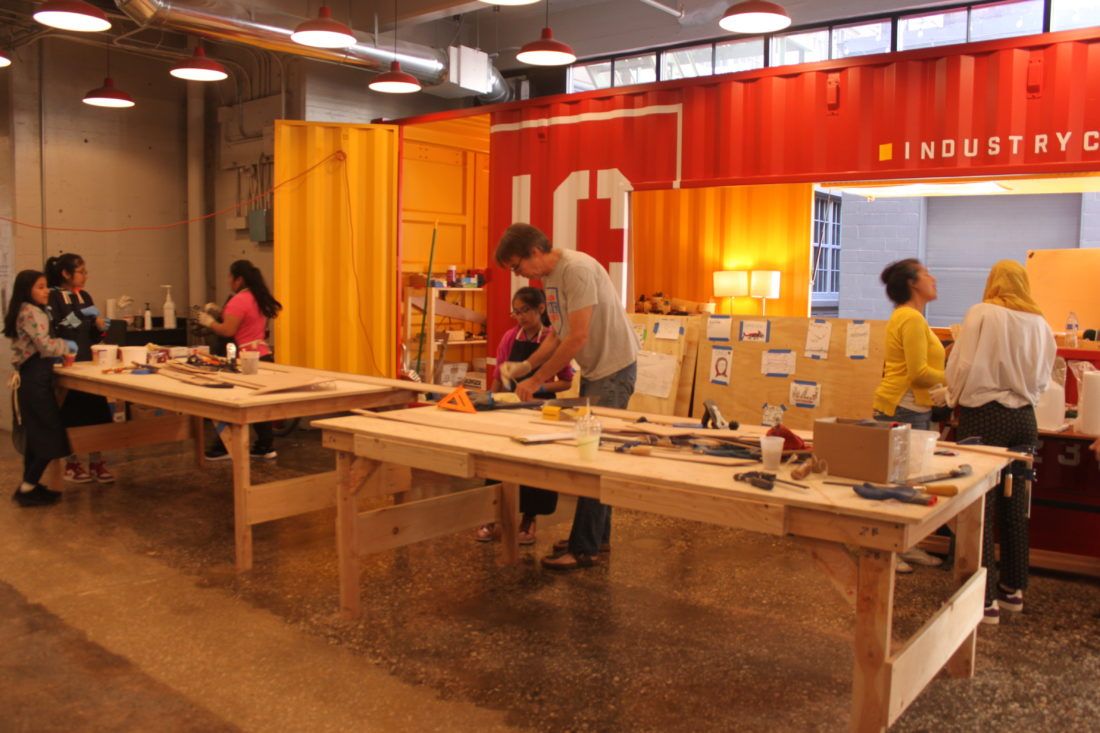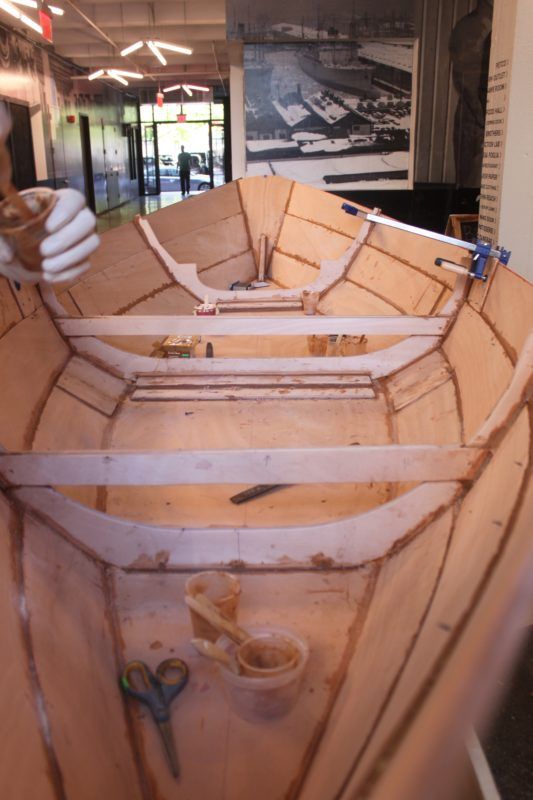 All of the builders in the program come from Sunset Park schools, mostly Dewey and Sunset Park Prep. Last year, the 20-member team was composed entirely of girls while this year's team is coed. One of them, Joselin, and her mother Guadalupe were working together on Saturday. Asked what her favorite part of the program is, Joselin highlighted one of the things that makes it about more than boatbuilding.
"When you circle up," she says. "We all gather around and talk about what we're going to do and who is going to be captain."
Shifa clarifies the ritual. "At the beginning of each class we have a circle. We'll sit and we'll ask everyone how their week was or how their day is going. After everyone has had a chance to say something we choose a captain of the day, which is done by random choice." The captain of the week – they meet weekly – wears a hat and if someone has been captain, they're out of the running for the next week so everyone gets a chance to lead.
¡Sunset Spark! co-founder Yadira Hadlett was also helping out that Saturday. Her company partners with neighborhood schools to provide in-class creative technology instruction. Explaining why they got involved, she said, "With some of our students, we were building an underwater robot and we thought this is another way to bring in creative tech. The core focus here is traditional boatbuilding. We love the idea of working with kids who don't typically have access to the water and that's where our passion came in."
The dory is scheduled to be finished in time for a Thursday, June 13th, launch from Bush Terminal Park. It will look something along the lines of this:
The launch event is 3:30-7pm and is open to the public. So if you're free, come check out these young builders sail joyously toward the horizon in a craft of their own making.
This post was sponsored by Industry City. If you would like to reach our readers, please contact us.