Industry City Maker Spotlight: Malia Mills
Four years ago, fashion designer Malia Mills moved her studio from the garment center in Manhattan to Industry City in Sunset Park, Brooklyn. She'd been in Manhattan since beginning the business in her apartment in 1993 in between nights waitressing at the Odeon.
The move certainly wasn't something she saw coming.
"I was definitely that person who thought the world ended at the Brooklyn Bridge," she told us on a recent visit to her studio. "A friend of mine had a studio on one of the other buildings on 34th Street. And it was his holiday party and we roll up and I was like, 'Where am I? This is the most incredible space I've ever been in!' Our lease was coming due and we were basically looking at second-floor backside. Suddenly, I came out here and it was another eureka moment."
That eureka moment has resulted in a daylight-bathed studio that, to an outside observer, appears filled corner to corner with quiet productivity.
"You caught us on a really crazy day!" Mills exclaimed in greeting. Despite this, the tone of the space – mostly a single, cavernous room with a few individual rooms along the periphery – resembled a Buddhist monastery (if you ignore the ever-present '80s rock playing on their Sonos, the fridge stocked with prosecco, and intermittent laughter). Silent devotion by a skilled team to a slew of exacting tasks.
And, in fact, she's added five employees to that team since coming to Industry City.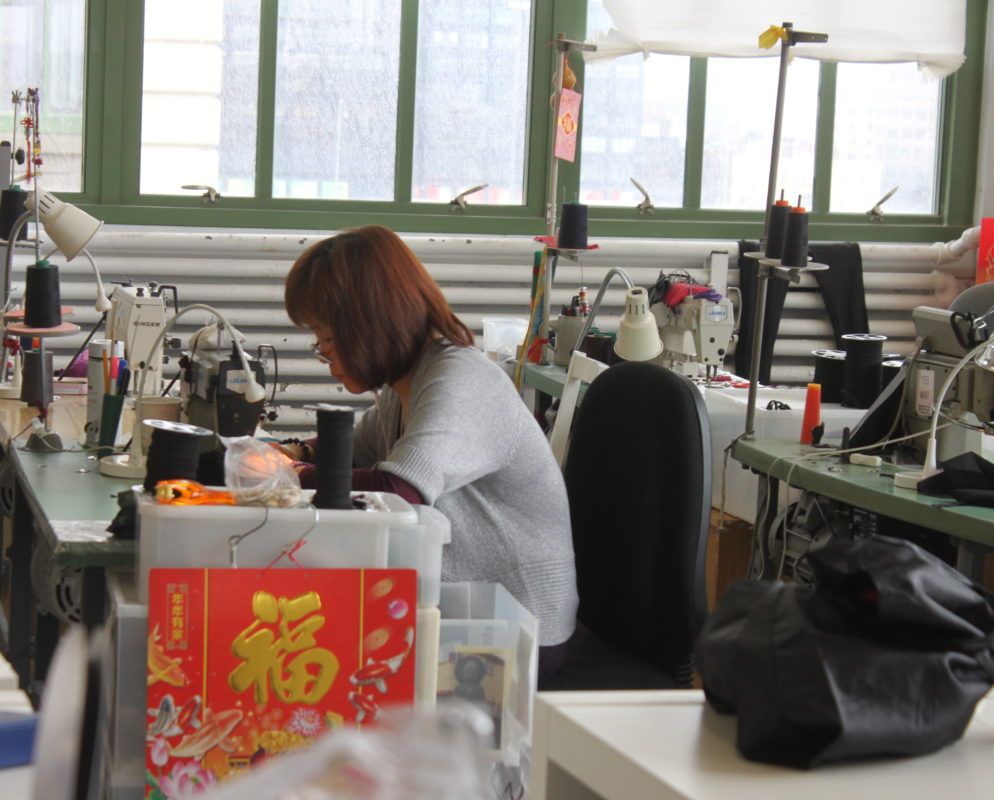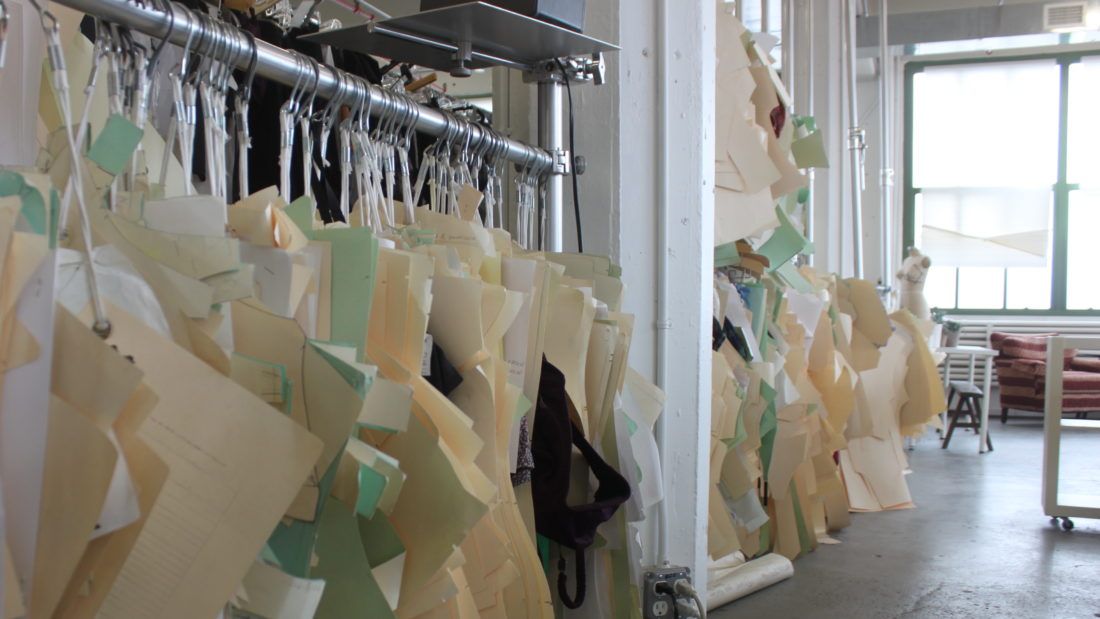 Impermanence also seemed to reign supreme with giant inspiration boards covered with printouts of images and text that could very well be gone upon a subsequent visit.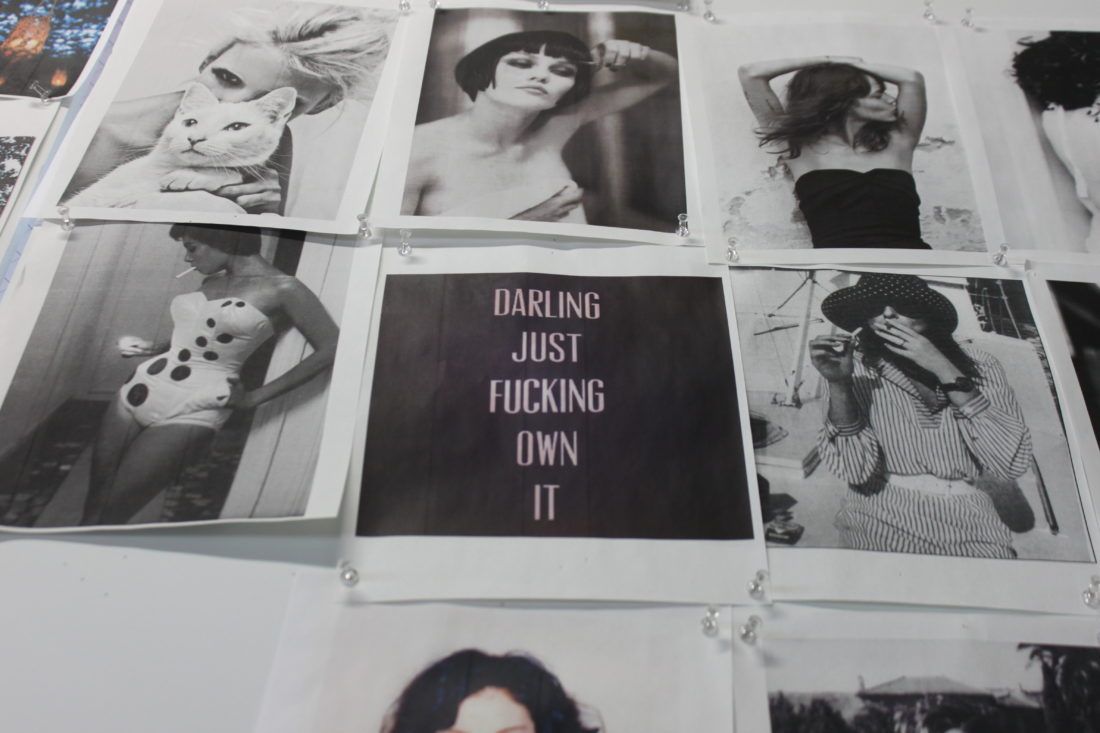 Mills pointed out her "Wall of Hell Yes" along the entrance corridor that is constantly changing.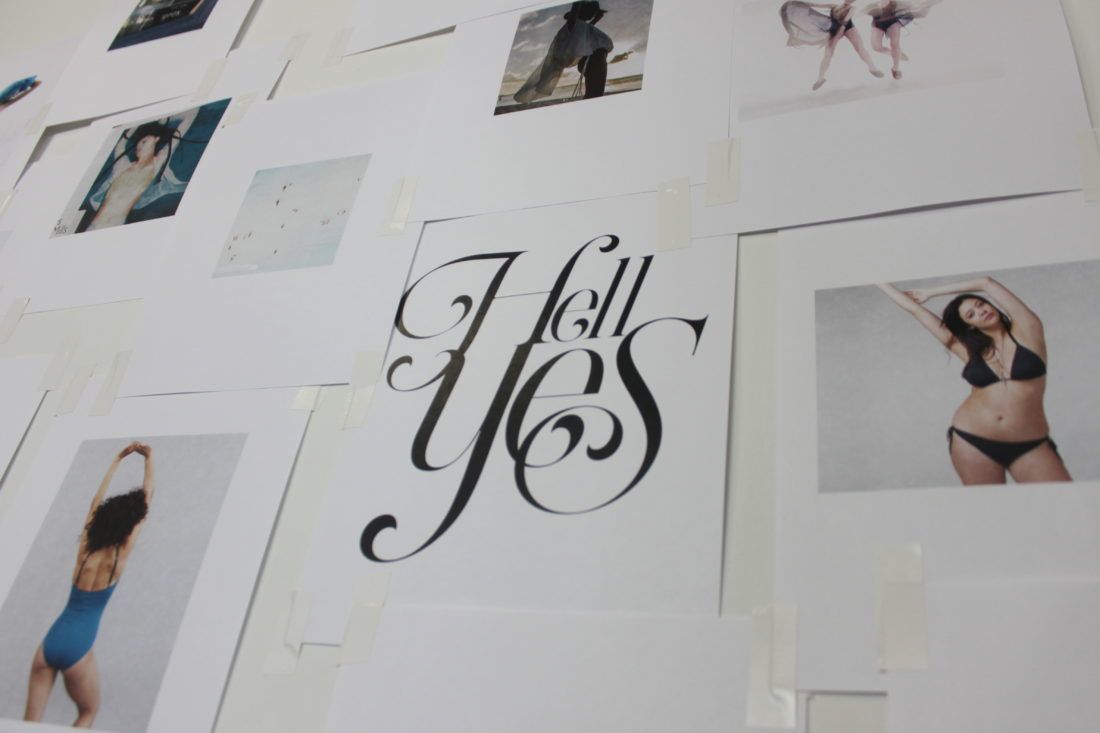 For this designer, "life is about change."
Mills is primarily known for her swimwear (although she's expanded with a ready-to-wear collection and accessories line), but she's far from a typical swimwear designer.
From the very beginning, when a friend of hers who worked at the Sports Illustrated Swimwear Issue asked her to design some suits, she looked at swimwear differently.
"I left my job that day and…went to all the stores in San Francisco that were selling swimsuits and had epiphany after epiphany. I thought, 'it's crazy that the same size top and the same size bottom were clipped to one hanger since nobody's built that way and nobody dresses that way.' Imagine if you had to buy that sweatshirt and you had to buy the sweatpants. That would seem a little weird to you."
Those epiphanies became the foundation for her business – bra-sized swimwear sold as separates using colors and fabrics that were "more like the clothes in our closet and less like the place you were going to go visit.
And long before Dove launched its Real Beauty campaign, she was committed to having real women be the face of her company.
"When I first started, visually, there was ZERO diversity in the media at that time. None of this diverse, incredible group of friends and family and people I went to school with and women I would see walking down the street were being represented. When we first started showing the images of all these different women, there was incredible positive reaction and quite a lot of negative reaction too. There were definitely people who said, 'I don't want to see scars and I don't want to see curves and I definitely don't want to see cellulite.' And there were lots of people who said, 'Wow, I see myself. I feel incredible. I feel celebrated.'"
Throughout her career, Mills has continued to express her values and celebrate real women, not only through her designs but through her company's social-action initiatives. Along with some of the events and seminars her stores host and her commitment to making her products in the USA, she's generously partnered with Libby Mattern, her Production Director, who launched and manages a nonprofit called Course of Trade.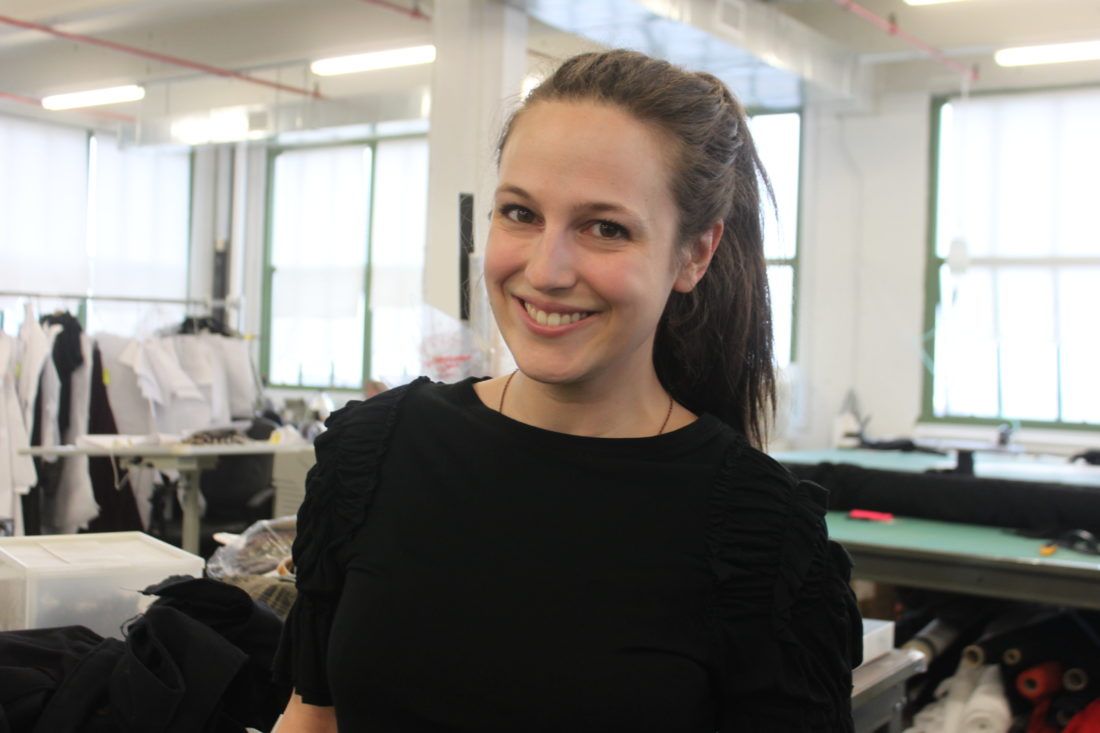 "Essentially, it trains anyone, regardless of whether or not they've ever sat behind a machine, to sew with all the skills they would need to set foot in a factory. Over half of the sewing workforce is over the age of 45 and there's no one that going to come up to take those positions unless we train the next generation."
With grant money from NY Fashion Made, Course of Trade steps in to fill that gap. Through partners like the Women's Prison Association and Brooklyn Workforce Innovations, they connect with potential students (mostly women) and pay them to attend daily classes for 2-3 weeks using a trilingual manual and to work with Libby and the Malia Mills team of in-house master sewers.
Their current fundraiser, The First 100 Bag, has trainees making bags that encompass a host of basic skills – single needle, marrow stitch, double needle, etc. Shanique, the program's first graduate and Mills' most recent hire, recently completed a perfect bag that Mattern insists Shanique keep for her portfolio rather than sell. 100% of the proceeds of the bags goes toward the training costs and wages of future trainees.
Like Mills, Mattern is new to Brooklyn. She actually moved to Park Slope from the Upper East Side when they relocated. And just like Mills was when she began, Mattern has big ambitions.
"Ideally, my long-term plan is to have a teaching factory, where people could come in and learn how to sew in a factory environment. I can teach so much here on machines that are not super fast, but it's all about speed when you get to a factory. There is a certain level of skill that needs to be taught on the factory floor."
And she's hoping to keep the program in Industry City. She met with Andrew Kimball, CEO of Industry City, who she said was "super supportive." She points out that half of Sunset Park's residents are Hispanic, the second largest are Chinese, and the program doesn't require knowing English. So she really feels like it's something that can help increase employment for the surrounding area.
In addition to encouraging her employees, Mills invited a young jewelry designer, Katie deGuzman of K/LLER COLLECTION, to work out of the studio's conference room. She moved in last June. Mills was already selling deGuzman's jewelry in her stores, and collocating has only furthered their collaboration. With an in-house photo studio footsteps away from deGuzman, Mills now also uses her work in photo shoots.
"It's nice to have this sort of collective happening of creatives doing all sorts of groovy things and all the good, creative chi that goes with it."
Mills may have not seen the move to Brooklyn coming, but she's fully on board now.
"I take great pride in recognizing that I was a latecomer to understanding all the great possibilities happening out here. Just the strength of the communities is very cool. It is with my tail between my legs that I am a very passionate Brooklynite."
There's so much more we could tell you about Mills, but this sums it up nicely:
Malia Mills is one of hundreds of companies repowering Industry City. Over the past five years, the businesses based at Industry City have collectively grown by an average of 100 jobs per month, more than tripling from 1,900 jobs in 2013 to nearly 7,000 jobs today.
This post was sponsored by Industry City. If you would like to reach our readers, please contact us.